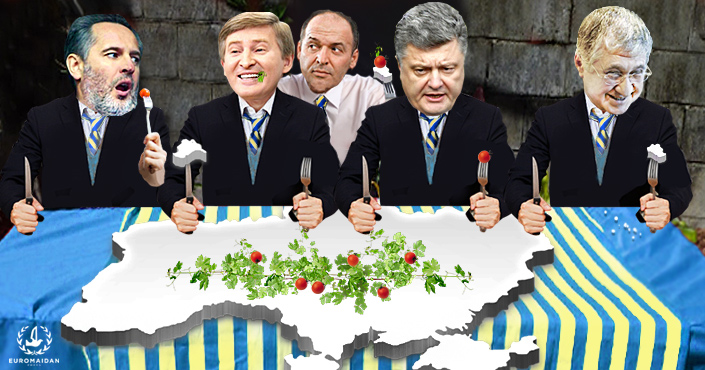 The richest Ukrainain oligarchs, from left to right: Dmytro Firtash, Rinat Akhmetov, Viktor Pinchuk, Petro Poroshenko, Ihor Kolomoyskyi. Graphics by: Ganna Naronina, Euromaidan Press 
There exists a wide consensus amongst Ukraine watchers that, notwithstanding a full-scale Russian invasion, corruption is the country's greatest threat. Oligarchs buy representatives in various political parties and this process of vote selling is so transparent that it is 'openly discussed in the Ukrainian media'.
An analysis by Novoye Vremya journalist Kristina Berdynskykh found that the oligarch Dmytro Firtash had political representatives in four different parties, while Ihor Kolomoyskyi had proxies in five. This creates a cyclical web of entanglement whereby whichever party one votes for, the threads of patronage lead right back to the same place. Indeed, much of the recent pressure for reform has come from international donors and civil society groups, not from within the Rada.
Initiatives to create a free and transparent economy run completely counter to the entrenched interests of Ukraine's oligarchs and have consequently foundered on the shoals of vested interest.
The majority of oligarchs accumulated their wealth by appropriating (or stealing) state funds and they have reinvested part of their wealth in shaping a political system favorable to them.
Unlike in Russia, their political rise has been unchecked and many now have private fiefdoms in different regions, hired political representation and their own media holdings. As Timothy Ash writes, 'the country's political system is still dominated in effect by 10-15 oligarchic families' but extirpating their influence is so difficult because they still control 'the strategic heights of the economy' and account for large numbers of jobs and much of the country's exports.
An article in Newsweek recently estimated that the country's oligarchs control as much as 70% of Ukraine's economy. Moreover, the ranks of this kleptocracy close up whenever it is assaulted – Ash refers to this as the 'kum or godfather code', a perverse 'all for one and one for all' mentality. To make the situation even more squalid, many of the 'good old boys' or have "kompromat" (compromising information) on one another, binding them tightly together through the threat of mutually assured destruction.
Thus, we see that the oligarchs are the 'Gordian knot' whose webs of influence enmesh and entangle any attempts to dismantle what Judy Dempsey of Carnegie has termed Ukraine's 'Deep State'.
Amongst the key players are Rinat Akhmetov, Ihor Kolomoyskyi, Dmytro Firtash, Victor Pinchuk and, of course, President Petro Poroshenko.
Akhmetov is Ukraine's richest man and made much of his money in iron, steel and coal mining in eastern Ukraine. He was a supporter of Yanukovych and although he has lost a great deal in the recent conflict, he still retains a significant powerbase in the Donbas. His ties to the Party of the Regions create concern that he may be used as a tool for Russian influence.
Ihor Kolomoyski is a fiery businessman from Dnipropetrovsk and was made governor of the region by Poroshenko. He funded defense battalions to fight the separatists but was subsequently removed from the position as it was feared that he was using his influence to expand his business interests and turn the defense units into a private army.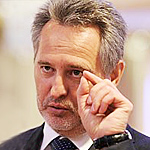 Gas tycoon Dmytro Firtash is wanted for extradition to the US on corruption and bribery charges and has been unable to return to Ukraine.
Victor Pinchuk made much of his money through selling steel pipelines and is the country's second wealthiest man – he is also former president Kuchma's son-in-law.
Finally, Petro Poroshenko is one of the country's most successful businessmen. Although he made his money by building up a successful confectionary company, rather than traditional oligarchic tactics, he is 'one of the only business leaders in the nation to increase his business assets in 2015'. Moreover, the President has refused to sell Roshen, despite an election pledge to the contrary, and is now implicated in a real estate scandal, along with Ihor Kononenko who faces allegations of money laundering.
Poroshenko has claimed that 274 instances in which the police brutalized or murdered protesters during the Euromaidan are being investigated, while over 2702 former officials have been convicted of corruption during his tenure. Yet both claims later turned out to be false and no evidence has yet been provided to support either assertion.
One prominent analyst, Taras Kuzio, asserts that Poroshenko struck a deal with Firtash and the rest of the 'gas lobby', granting them immunity from prosecution in return for financial and media support in the upcoming presidential elections. Firtash later bragged to a Viennese court, "we got what we wanted – Poroshenko as president". Irrespective of the veracity of such claims, the incident demonstrates the extent to which Poroshenko is a product of the system and how difficult it is for an insider to purge the old guard without himself falling victim.
Furthermore, the broken nature of the system makes it even more difficult to change.
Anders Aslund has highlighted that running for election in Ukraine is extremely expensive, with the 2010 presidential election campaign costing $1 billion. In relation to GDP, that is 1000 times more than a US election campaign and the same is true at the parliamentary level.
Many MPs who are elected in single mandate districts (half the parliament) finance their own campaigns and are therefore either wealthy businessmen in their own right or political proxies for particular vested interests. This problem is exacerbated by the fact that a great deal of the media is owned and controlled by oligarchs.
Of the top ten television channels, three are controlled by Viktor Pinchuk, three by Ihor Kolomoisky, three by Dmytro Firtash, and one by Rinat Akhmetov. Many Ukrainians receive most of their news through TV broadcasts and all of the oligarchs have been accused of using their media outlets to attack rivals and advance their own interests.
President Poroshenko himself owns Channel 5 which has been accused of providing partisan coverage and being nothing more than the President's press office. However, in spite of all this, it should be noted that the oligarchs have lost both wealth and influence since Euromaidan. As Balázs Jarábik and Yuliya Bila point out, the total net worth of the five richest and most influential Ukrainians (Akhmetov, Pinchuk, Kolomoyskyi, Boholyubov and Kosiuk) has dropped from $21.6 billion in 2014 to $11.85 billion as of June 2015.
Through closing loopholes and stripping the oligarchs of political power it should eventually be possible to tame and transform these individuals into 'normal businessmen' who must make money by providing good competitive services in a free market.
Joss Meakins is a graduate student studying Russian and International Politics at Columbia University in New York. His research interests include Russian and Ukrainian politics and history, security studies and the post-Soviet space. Joss graduated from Cambridge University with a bachelor's degree in Modern and Medieval Languages, majoring in Russian and French. In his third year at Cambridge he spent eight months living and working in Russia.
Related:
Tags: #UAreforms, corruption in Ukraine, International, Ukraine, Ukrainian oligarchs