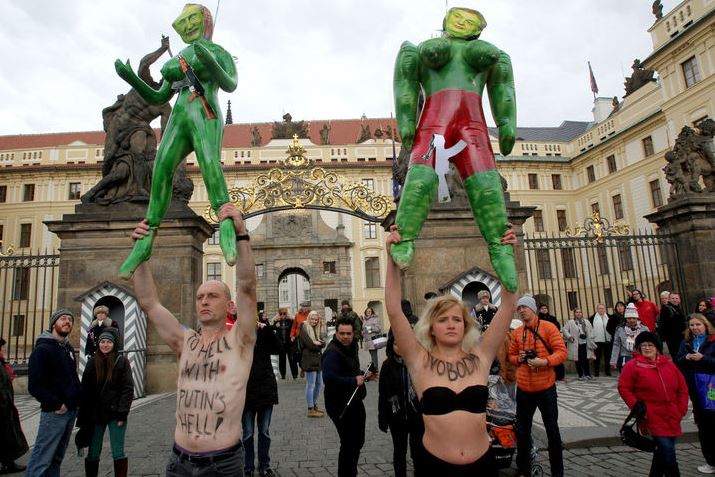 Photo: Ludvík Hradilek 
On 21 March 2016 in Prague, the conceptualist think tank and action group oMen held a protest in support of Nadiya Savchenko, as part of its wider campaign highlighting the insidious advance of the Kremlin's "little green men."
"It has been two years since Putin's Russia started his crusade against Europe with the illegitimate annexation of Crimea. That annexation was conducted by so-called 'llittle green men' – Russian troops without insignia. These little green men became a symbol of resurgent Russian aggression and expansionism. Today, we wish to draw your attention to the fact that these little green men do not necessarily have to be green. These Putin operatives without insignia have dispersed themselves across Europe, threatening the safety and stability of the continent. They are not only soldiers, propagandists or secret agents: they also act in the guise of journalists, media people, lobbyists and politicians," the activists said in their statement.
They released green inflatable dolls with masks of Russian President Vladimir Putin and Czech President Miloš Zeman into the air near the residence of Zeman.
Read also: Here resides Putin's puppet: "Kaputin" targets pro-Russian Czech president
According to the activists, Putin's men even include the Czech president Miloš Zeman. "Don't be misled by the fact that it is not so much in the news these days. Putin's hybrid war against Europe is in full swing. The trench war in Ukraine is continuing. Crimea is still being occupied by Russia. And innocent Ukrainians still languish in Russian prisons. The best known of them is Nadiya Savchenko, the Ukrainian service woman who was illegally abducted to Russia and put on show trial there."
On 21 March 2016, kidnapped Ukrainian pilot Nadiya Savchenko was receiving an unlawful verdict in a Russian court (the next day, she was sentenced to 22 years of prison on trumped-up charges) and against Russian imperial aggression and expansionism, commemorating the second anniversary of the occupation of Crimea.
Read more: Why the world calls to Free Savchenko
At least 24 other Ukrainians are also being unlawfully imprisoned in the Russian Federation and occupied Crimea.
Tags: Act!, Czech, News, Oleh Sentsov, Prague, Protest, Protests, Savchenko, Zeman