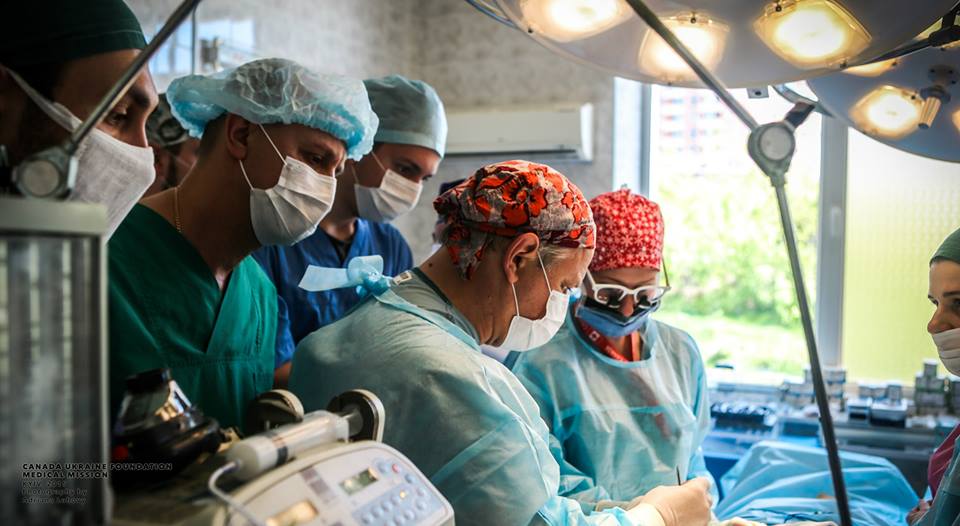 The Canadian medical mission on its previous trips to Ukraine. Photo: Adriana Luhovy 
A fourth team of Canadian medical professionals will travel to Ukraine to conduct a Master Class for Ukrainian Military surgeons and to perform reconstructive surgeries on victims of violence from Vladimir Putin's invasion into Eastern Ukraine. The mission will run February 19 – 28, 2016. This is following three successful medical missions in November 2014, May 2015 and October 2015, all headed by by Dr. Oleh Antonyshyn, Head of the Adult Craniofacial Program at Sunnybrook Health Sciences Centre and Professor of Plastic Surgery, University of Toronto. Since we began these medical missions, Dr. Antonyshyn and his team of Canadian medical volunteers have completed 183 procedures on 97 patients, and have consulted on a total of 232 cases.
The medical mission is organized by the Canada-Ukraine Foundation under the patronage of the Ukrainian Canadian Congress. Like the previous mission, this fourth mission is made possible in large part by funding from a contribution from the Government of Canada under the Global Peace and Security program.
"We are very grateful to our Canadian Government that they saw fit to fund this important initiative," said Victor Hetmanczuk, President of the Canada-Ukraine Foundation. "Funding programs such as this demonstrates the Government's commitment and support to the people of Ukraine. These surgeries change lives".
This contribution also includes funding for equipment the medical team will leave in Kyiv at the National Ukrainian Military Hospital. The Canada-Ukraine Foundation is also thankful for the support of Stryker Canada, which once again awarded the medical mission with a grant which provides for virtually all surgical hardware and implant materials for the medical procedures.
The medical team of more than 22 professionals is comprised entirely of volunteers and includes surgeons, anesthetists, and nurses. The team is assembled from across Canada and will treat facial and upper extremity trauma, post-traumatic craniofacial deformities, soft tissue defects, and scars. The team is headed, once again, by Dr. Antonyshyn.
This mission will continue building the learning relationships between the Canadian medical professionals and their Ukrainian counterparts. The medical team will be training their Ukrainian counterparts on the new medical equipment and best practices; and will be implementing a tele-surgical program to provide support remotely from Canada to Ukraine. Dr. Antonyshyn will also be welcoming a Ukrainian medical resident at Sunnybrook in the coming months.
"Building on the third medical mission, a major focus of this fourth medical mission will be continuing a learning partnership for years to come," said Dr. Antonyshyn. "Our goal is to provide our Ukrainian doctors with the tools they need to treat patients."
The Third Medical Mission was featured on a CTV documentary 'Helping Hands' on W5, airing in January 2016. The program also highlighted the plight of 11 yr old Mykola Nizhikovsky, who lost both legs and his arm when he and his brother came upon an undetonated grenade. Mykola was the first paediatric patient the doctors saw. He is now in Montreal for additional treatment of his injuries. More information about Mykola is available at www.HelpMykola.com
Funding for the first two medical missions came largely from "United for Ukraine", a fundraiser which took place in September 2014, attended by Wayne Gretzky.  The Canada-Ukraine Foundation is grateful to the sponsors of United for Ukraine. They include: Eugene Melnyk, Canadian Tire, Molson Coors Canada, the Temerty Family, the Ihnatowycz Family, Bell Canada, the Globe and Mail, the National Post, the Jacyk Foundation, the Ukrainian Credit Union, Buduchnist Credit Union, Caravan Logistics, Yarcia Huculak and Family, CIBC, Manulife, and Community Trust Credit Union.
The Canada-Ukraine Foundation is also grateful to the Holiday Inn Kyiv and Sunnybrook Hospital for their continued support.
The Canada-Ukraine Foundation was established by the Ukrainian Canadian Congress to coordinate, develop, organize and deliver assistance projects generated by Canadians and directed to Ukraine. It is a registered charitable foundation.  Donations for the mission and other projects may be made at
http://www.cufoundation.ca
Tags: Canada, International, Medics, News