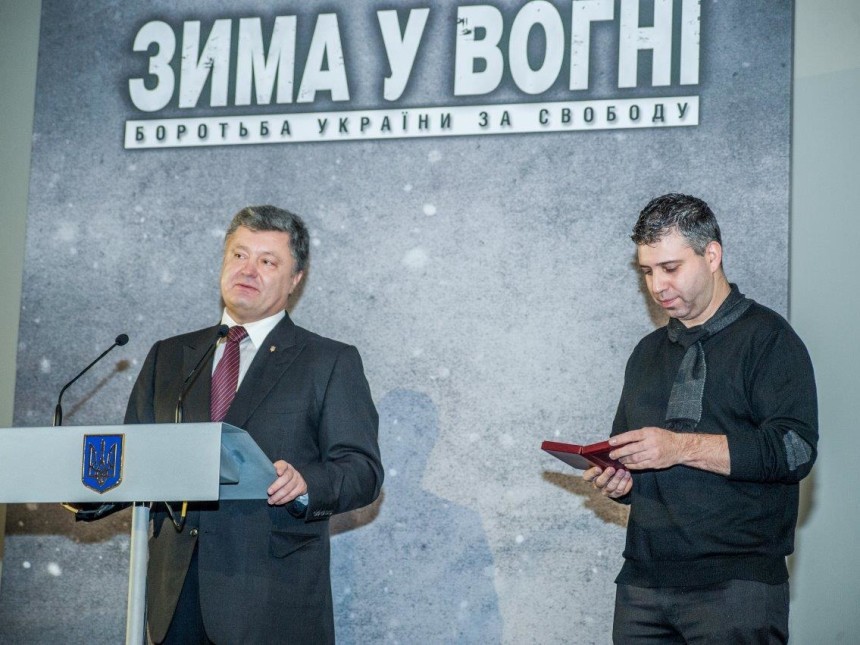 Evgeny Afineevsky, the director of the Oscar-nominated film Winter on Fire, speaks of his experience making the documentary film on the Maidan revolution in Ukraine.
On January 14 in California the American Film Academy selected the films that will compete for this year's Oscar. Winter on Fire: Ukraine's Fight for Freedom, a film about the massive protests that took place on Maidan (central square) in Kyiv during the winter of 2013-14 was one of the five films selected in the documentary films category. The winner will be announced at the 88th Academy Awards ceremony on February 28 in Los Angeles. Winter on Fire is a chronicle of events that took place during the 2013-14 winter with comments by participants. It includes footage from 28 Ukrainian cinematographers, including public TV channels Spilnobachennia, Ukrstream TV, Channel 5, Radio Liberty, Espreso TV, Channel 24, as well as amateur footage of Maidan volunteers. The production of the film was supported by the American company Netflix. On the eve of the film premiere in Kyiv (November 21, 2015), director Eugene Afineevsky gave two interviews to Radio Svoboda where he explained his objectives and experiences in producing the film.
– From the very beginning I did not try to make a political film because this film is about people, about their fate. I tried to stay away from politics. I myself don't like politics. There are no politicians in the film. There are people in the film. The film describes what forced people to come out on the square and to stand there. They continued to stand there despite the cold weather, under police batons, under bullets. This is why the film is about people's fate, the fate of people who were there.
You say you don't like politicians, but they like you. President Petro Poroshenko gave you Ukraine's state award and he stated that your film absolutely must be seen as the best film of last year. How do you feel about that?
– There is a difference between politicians in the film and the reaction of politicians to the film. There are no politicians in the film because this film is not about them. The fact that President Poroshenko saw this film as an individual, as president, even as father of children — because his children are the same age as the students in the film — is not surprising, and that the film touched him on a personal level. This does not apply to him as a politician.
President Poroshenko recommended two works: your film and the book Airport by journalist Sergei Loiko, who is also of Russian origin. Do you feel that you are contributing to the creation of some new mythology?
– I don't think I'm creating some kind of mythology. I think that it was important for (Poroshenko) to emphasize that these are two independent views. The fact that we are not Ukrainians stresses that this is an outside view. It is the perspective of a person who is not taking a particular side. I did not side with the Ukrainians. I'm an American who was born in Russia. I'm a person from the outside, which proves this is neutral. The same is true for Loiko. It was important that he was an independent party.
In your presentation you said that Maidan, where the first victims were an Armenian, Serhiy Nigoyan, and a Belarusian, Mikhail Zhyznevsky, demonstrated that people who are not of Ukrainian origin can be patriots of Ukraine. Do you feel a patriot of Ukraine to any extent?
– I don't think I'm a patriot of Ukraine. I'm not a patriot of Russia and I don't think I'm a patriot of Israel. I'm a person who is engaged in films, who lives in America. I'm an American. I don't think I have feelings of patriotism to any of these countries. Well, perhaps to America because I have lived there for a long time and my life is connected to it. My obligation is to the viewer no matter where he lives. I serve the global audience. I serve the country that is called "cinema." It is universal; it has no borders.
Where did the idea of making this film come from?
– The proposal to film Maidan came from producer Den Tolmor with whom I had worked before. He introduced me to the Spilnobachennia team, which then joined us in making the film. Den got me to come here (Ukraine) from Los Angeles. At first I was there incognito because I am a former Russian and an American. During the first days this was something of a festival. Nobody knew what would happen next. I observed and then, after November 30, we already understood that history was being made here. We began to expand our team with volunteers who were filming on Maidan — Spilnobachennia, Ukrstream TV, and other operators, Radio Liberty in particular.
Everyone wanted to bring this story to the West. So that people could see and understand that people here are fighting for their independence. After the beating of the students, the issue was no longer about integration with Europe but about the accumulated pain. Different segments of society rebelled against the state apparatus and corruption.
Therefore, this project is also dedicated to the unity of the real documentarians — professionals and amateurs. They are the real heroes who helped create this film. At that time nobody thought that bullets were flying, that the Berkut (police forces) were raging. All wanted to tell this story. This film is a grand memorial made with the hands an eyes of all those who were on Maidan.
How did you experience this story after its completion?
– I remember in the morning after everything was over and it had to be completed I had a real emotional cataclysm. It was as if you were in a completely different, warlike situation, and you had lost someone. Things were also very difficult during the three months of editing abroad. I still weep when I watch this film. I ache for all these who stood on Maidan, for all those nights when Berkut poured cold water on the protesters. I have asthma from that period and some of my friends who sang professionally have lost their voices.
But I persevered. I promised people that the film would be released. The international premiere was held in Venice and the response was amazing. Then it was Toronto, where we received the People's Choice Award. And now the film is being shown in more than 50 countries where Netflix operates. I was born in Russia, grew up in Israel, and have been living in the US for more than 15 years. For me it was very important to see this big Maidan family. I have never seen anything like it.
I have never seen, for example, where religion was with the individual. A classic example: In Russia religion is an instrument of control. In Ukraine, Jews and Muslims were united. I grew up in the Middle East and there is no such thing there. Serhiy Nigoyan was not born in Ukraine but he was a patriot of this country. The world needs this film in order to understand that patriotism is not dependent on the place of birth. For example, this Syrian migration. The migrants are also members of society.
What audience were you targeting when you filmed this movie?
– I was targeting the Western world because that is where I live and also because events in Ukraine were not really being covered in the media. I think this film is about people behind the headlines. I'm frequently asked why I didn't interview the Berkut or the politicians. But why would I want to do that? After all, the politicians did not go out on the square. I tried to aim my camera in the direction of the security forces, but they were silent. And the politicians were promoting themselves.
What didn't make it into the film?
– Some materials were removed by the Security Service of Ukraine to investigate the snipers. Unfortunately, we weren't able to get them back. I hope this will help bring about the punishment of those responsible.
Is Russian propaganda present in the US? And taking that into account, how understandable is the film for Americans?
– Russian propaganda is everywhere where there is Russian television. My objectivity is ensured by the fact that I came here (to Ukraine), I experienced everything, and I have my own views on events. The propaganda factor exists and will exist. Right now I'm reading some things about how I was paid, that Klitschko paid me because there is some footage with him in the film. I was not trying to counter Russian propaganda. For me it was important to remain true to the moment I was living. My hair turned gray here. I had to reexamine my values.
Will this film be seen in Russia?
– Pirated copies have been distributed very quickly. Netflix is fighting this, but it appears we are not lagging behind the Hollywood blockbusters. I have already read several ugly things that have been written about the film in Russia. It will be seen. It's the same as with Mel Gibson's The Passion of the Christ — the greater the restriction, the greater the interest.
Evgeny Afineevsky, 43, was born in Russia. He is an Israeli producer, film director, actor, screenwriter and the president of New Generation Films in Hollywood, California. Netflix is an American multinational provider of on-demand online streaming media for more than 60 million clients.
Tags: Featured, Maidan, oscar, Ukraine, Winter on Fire