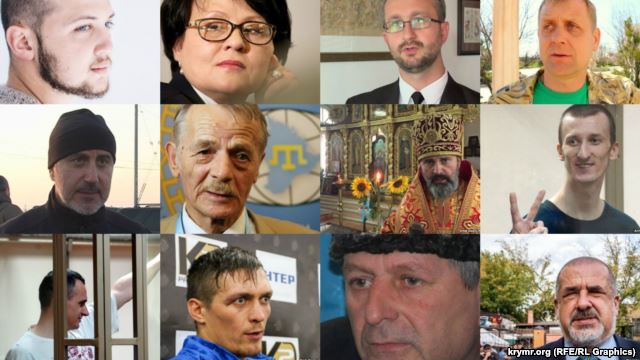 A heated debate broke out among Krym.Realii staff when we decided to draw up a list of the most famous Crimeans of 2015. Who should be on the list, what selection criteria should be used, etc. In the end, we decided that our rating should include people who demonstrated personal and human qualities throughout 2015. We conducted a secret vote among the editorial staff, and drew up a list of the twelve Crimeans who were mentioned most often by members of our staff.
Hennadiy Afanasyev. We believe that the 25-year-old photographer from Simferopol demonstrated the most unexpected and courageous action of the year. Hennadiy is one of four Crimeans arrested by Russian security forces in the case against "Crimean terrorists". At first, he made a deal with the investigation team, pleaded guilty, and was sentenced to seven years in prison. However, at Oleh Sentsov and Oleksandr Kolchenko's trial on July 31, Afanasyev suddenly retracted his statement and stated that he had accused his friends under torture. His lawyer claims that he was harassed and threatened by the FSB in prison and in the high-security penal colony. Many Krym.Realii employees also mentioned Olha Afanasyeva, Hennadiy's mother, who lives in Crimea and is actively involved in the solidarity campaign for the "Crimean hostages".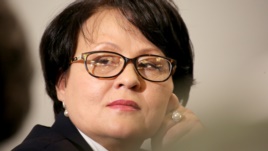 Lilya Budzhurova is a renowned Crimean journalist who lives and works in Simferopol. When Lenur Islyamov,  owner of ATR decided to transfer the editorial staff of the channel to Kyiv, Lilya refused to move and founded a production studio called QaraDeniz Production in Simferopol. She also continues to organize the Crimean Tatar children's competition Tatli Ses. In December, Sergei Aksionov, the Russian "president of Crimea" invited contest organizers and finalists to the Crimean Council of Ministers. When Budzhurova was personally presented with an award, many pro-Ukrainian social network users criticized the journalist. She responded by saying that her top priority was to preserve and help develop the culture of the Crimean people, for whose sake she is willing to compromise with the authorities. However, relations between Lilya Budzhurova and the Russian authorities in Crimea are very strained. On November 2, the FSB knocked at her door with a search warrant…
Nariman Dzhelyal. On March 21, Dzhelyal was elected first deputy of the Mejlis of the Crimean Tatar people, two months after the arrest of one of their leaders, Akhtem Chiygoz. According to Refat Chubarov, leader of the Mejlis, the fact that Dzhelyal agreed to take this post puts him in a very vulnerable and precarious situation. However, Dzhelyal did not hesitate to preside the Mejlis in Crimea and at the moment, he is the public representative of the Crimean Tatar national movement, continues to reside on the peninsula, and has no intention of leaving.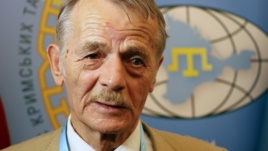 Mustafa Dzhemilev. National leader of the Crimean Tatars and charged by the President of Ukraine in matters concerning the Crimean Tatar people, Dzhemilev has remained true to his principles and has always advocated the return of Crimea to Ukraine. This year he attended tens, if not hundreds, of meetings with different diplomats, informing them of the situation on the peninsula, and urged his country to help restore territorial integrity and support the Crimean Tatar people.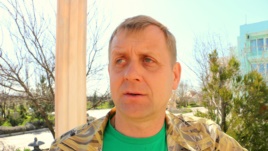 Oleh Zubkov is the owner of Yalta Skazky Zoo and Taigan Safari park. He was an active supporter of the "Crimean Spring", and even suggested naming a street in Simferopol after Putin, but this did not save him from subsequent harassment and pressure by the Russian security services. Throughout the entire year, he has fought off attacks initiated by Russian inspection bodies. In spring, Rosselkhoznadzor accused him of smuggling animals into the zoo, and in December, Russian prosecutors opened a case against him for beating up a Taigan employee. On December 11, he was sentenced to three years' imprisonment. However, the Crimean "King of the Beasts" did not give up and stated that the criminal proceedings were just an attempt to take away his business. In protest, he closed the Skazka Zoo and Taigan Park and announced that he would not reopen unless Nataliya Poklonskaya, Russian Prosecutor of Crimea, resigned from office.
Lenur Islyamov. The Crimean Tatar businessman has been trying to stay afloat since March 2014 and even accepted the post of deputy prime minister in the "government" of Sergei Aksionov for a few months. However, after the Russian authorities closed his most important creation – TV ATR – he became a radical opponent of Russia's actions in Crimea. Islyamov is actually the main initiator and leader of the Civil Blockade of Crimea. Due to his participation in this major protest, Islyamov has lost many assets in Crimea and Russia. However, this has not stopped him, and he recently declared that he and his colleagues are preparing "a naval blockade of Crimea", which has yet to be elaborated.
Archbishop Klement. According to human rights organizations, most religious confessions and communities in Crimea were not able to re-register and have been repeatedly persecuted by Russian security services. Despite these difficult conditions, Archbishop Klement of Simferopol and Crimea continues to live and serve on the peninsula. By trying to save the Kyiv Patriarchate and the religious community in Crimea, Archbishop Klement has exposed himself to numerous risks.
Oleksandr Kolchenko. On August 25, the North Caucasian District Military Court in Rostov accused the Simferopol activist of being involved with Pravy Sektor, and issued a harsh sentence – ten years' imprisonment in a high-security penal colony. When the judge read out the decision, Kolchenko smiled, and when the verdict was announced he and his friend Oleh Sentsov sang the national anthem of Ukraine. In his final statement Kolchenko stated that by throwing him and other political activists in prison the Kremlin regime is nearing its end. He added that the 85 percent of Russia's population currently supporting Putin will eventually see through the ongoing injustice and overthrow the president of the Russian Federation.
Oleh Sentsov. The sentence handed down to the Crimean film director stunned the world with its cruelty. According to the decision of the North Caucasus District Military Court, Sentsov was sentenced to a high-security colony for 20 years. However, the activist took a stoic stance, and has since become a symbol of courage and invincibility in Ukraine. Before the verdict was pronounced, he announced that he was not afraid of what was coming. "I'm not afraid of these threats or a 20-year term. I know that the bloody dwarf's reign in your country will soon come to an end." said Sentsov from behind bars.
Oleksandr Usik. The 27-year-old boxer from Simferopol can be called the most successful Crimean athlete of the year. In 2015, he took part in three major fights, all of which ended in victory. He last appeared in the boxing ring on December 12, when he knocked out the Cuban Pedro Rodriguez. He also defended his Intercontinental WBO Champion title for the fourth time. Oleksandr Usik is proud to represent Ukraine and never fails to refer to his Ukrainian identity.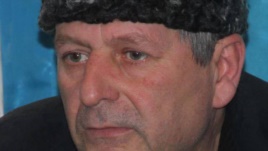 Akhtem Chiygoz, Deputy Chairman of the Mejlis, has spent almost a year behind bars. On January 29 he was questioned by the Investigative Committee, was arrested and sent to a detention center. Russian investigative authorities accused Chiygoz of organizing mass disturbances, which, according to their version, took place on February 26, 2014, when Crimea was still part of Ukraine. Members of the Mejlis claim that their leader was sent into custody because the Crimean "government" and Sergei Aksionov himself ("president" of occupied Crimea) are afraid of Chiygoz, an authoritative and influential politician. Chiygoz has repeatedly stated in court that he does not believe in the judicial system and believes that the judges and investigators are carrying out political orders. Two other Crimean Tatars – Hasan Aliyev and Mustafa Degermendzhi – were also arrested for their participation in the "February 26 affair". Krym.Realii journalists included them on the list of personalities of the year.
Refat Chubarov. The chairman of the Mejlis of the Crimean Tatar people has consistently advocated the return of Crimea to Ukraine. On April 2, he was elected national deputy of the Verkhovna Rada of Ukraine and in August, he was re-elected president of the World Congress of the Crimean Tatars. Chubarov has repeatedly spoken from the parliamentary rostrum in Kyiv, urging his colleagues in parliament to pay more attention to Crimea.
In addition to the fore-mentioned Crimeans who gathered the most votes, we at Krym.Realii would also like to mention human rights defenders Olha Skripnik, Serhiy Zayats, Dariya Sviridov, economist Andriy Klimenko, social activists Andriy Shchekun, Veldar Shukurdzhiev and Oleksiy Chirniy, journalists Valentyna Samar, Sevgil Musayev-Borovik, Kateryna Serhatskova, cultural activists Akhtem Seytablaev and Halyna Dzhikaeva, member of the National Council of Ukraine for Television and Radio Serhiy Kostinsky, adviser to the Minister of Agrarian Policy of Ukraine Oleksandr Liev, lawyer Dzhemil Temishev, and many others…
Tags: Crimea, News, personalities, Russian occupation, Torture, Treatment of Ukrainian prisoners