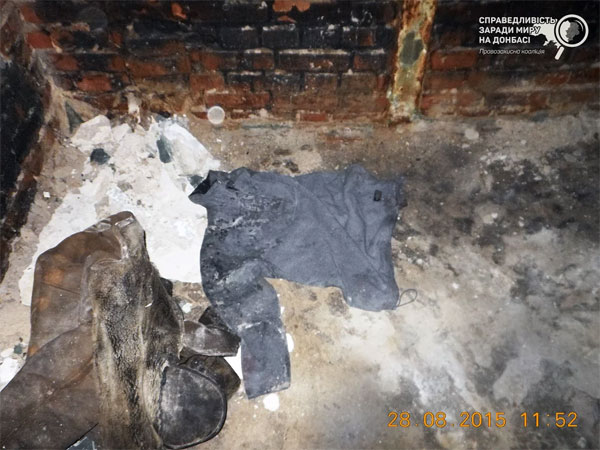 A basement in Lysychansk - one of the many in which civilians are tortured and held in prison. Photo: For Peace and Justice in Donbas Coalition 
For more than a year and a half, millions of Ukrainian have been living in a grey zone, where justice as an institution does not exist.  In the absence of any legal protections from violence, beatings, rapes, kidnappings, and murders, they try to adapt to this new reality in the occupied parts of the Luhansk and Donetsk Oblasts.  For the first time in the history of independent Ukraine, a wide range of heinous crimes has fallen on the shoulders of national investigative institutions that are still undergoing reform. The state cannot cope with this work alone, even in its unoccupied territories. Therefore, as has occurred in many other situations in Ukraine, civil society has stepped in to take on the task of documenting human rights violations.
Euromaidan SOS
began sending mobile teams to track the situation in Crimea and Donbas in early March 2014.  At that time, we still had illusions about the possibility for legal intervention into the situation there. However, it became clear that the "anti-terrorist operation" is nothing but a struggle against a war of occupation by Russia, retaliating against Ukraine's desire to exit the orbit of the "Russian World." [This article is based on the report "
Those that lived through hell
" released by the "Coalition For Peace and Justice in the Donbas"
Terror as a Method of Warfare
In the spring of 2014, armed thugs started to kidnap and torture people to establish control over the region. Ordinary people from Donbas were kidnapped and tortured.
An active, [pro-Ukrainian] minority had to be physically eliminated or forced to leave the region, and the passive majority had to be intimidated.
We saw the first hints of what was yet to come when 22-year-old Donetsk activist Dmytro Cherniavskyi was murdered during a peaceful protest turned into a bloody massacre, and when pro-Ukrainian deputy Volodymyr Rybak was kidnapped, tortured, and murdered for his attempt to re-establish the Ukrainian flag on his city's administration building.
Intoxicated by the impunity and passivity of the local militia [old police], the gunmen quickly established an organized system of "death squads."
Special organs, named after the Stalinist predecessors – NKVD, SMERSH, MGB – now operate on the territory controlled by the terrorist dictatorship of the so-called Luhansk and Donetsk "people's republics."
The employees of these bodies work tirelessly to identify and eliminate people with the "wrong" views. Ultimately, however, it's everyone who suffers from the resulting repression: the average businessman, violators of the unknown "laws of war," as well as the victims of domestic reprisals by envious neighbors are imprisoned in the basements of the "republics."
When a person with a weapon is given the task of deciding issues of ownership, freedom, and life of another person, his only limitation is the shooting distance of his gun.
According to official data alone, over 1,333 civilians, 27 journalists, and 38 volunteers have been held in the "LNR/DNR" prisons. 131 people, including civilians, remain captive in those dungeons.
Volunteer organizations who are in contact with the relatives of prisoners state that the real figures are much higher.
The Work of "Death Squads"
For a long time Euromaidan SOS and other members of the "Coalition For Peace and Justice in the Donbas" had no access to the occupied territories. However, a survey conducted by the Coalition of 150 people released from captivity gives an opportunity to imagine what is happening in those "basements."
We identified 79 locations where people have been held in captivity. The locations are administrative buildings, military commissariats, offices, private premises, hotels and hostels, cafeterias, industrial enterprises, plants and factories, basements, garages, drainage wells [sewers], cages, dog cages. In the majority of cases, they are all unsuitable even for short-term detentions.
In fact, anyone who lives in the occupied territories can end up in such a basement.
The grounds for detaining people are quite varied and, the worst part is, they are unpredictable. You can be detained for being a supporter of Ukraine, or for belonging to a Church outside the Moscow Orthodox Patriarchate. Or you can be detained for having innocent photographs of "strategic assets" on your mobile phone, like pictures of the "Donbas Arena" football stadium or a coffee house. You can be detained on suspicion of spying or helping the Armed Forces of Ukraine. You can be detained because someone denounced you in a family squabble.  Or you can be detained for being too passive about supporting the so-called "republics."
Kidnappings for ransom are also widespread. It's a business of blood, quite literally.
Revival of Medieval Inquisition
The scale of torture and cruel treatment of illegally detained civilians are impressive.
Half of those detainees [one of every two people] were tortured and threatened with cruelty. Of those 12% of them are women.
71% suffered physical and psychological pain throughout the length of their detention.
Approximately 46% who escaped torture themselves became direct witnesses of  others being tortured.
Approximately 16% of surveyed people knew of extrajudicial executions and victims who died as a result of being tortured.
Sexual violence remains a hidden problem. Only men recount the stories of women being raped in captivity and cases of sexual assault, including rape by vegetables. The women themselves are silent.
These are indeed very difficult testimonies. Somehow people must learn to live with what they saw and experienced.
I heard others being tortured. One guy was handcuffed and blindfolded. I could see him through a small crack in my cell. He had a pot on his head and was being beaten on the pot. He kept screaming: 'Kill me, just don't hit me anymore.'
…They really abused him badly.  They carved the word "Bandera" on his chest and murdered him. He was dead. He lay there for a long time. They didn't even take him to the morgue for about two weeks. After that he was exchanged as cargo-200 [the code word referring to Russian military casualties who come home in coffins as cargo- ed]. They have him to the Aidar battalion.
…They would bring them in around 9:00 p.m. in the evening and I couldn't fall asleep until about 4 a.m. because of their screams. They screamed so much that it made my hair stand on end. Then I could hear them being taken out dragged across the ground to the door of our garage. I heard them talking about what they should do with them. They said that they need to get rid of them. I understood then that they were dragging the bodies, and I could hear bodies falling.
Around 63% of civilians underwent a procedure which can be only nominally be called "an interrogation."
The purpose of the interrogation procedure is succinctly described by the former prisoners like this: "Yes, they made contact – their purpose was to beat us." 67% of those interrogated during their detention were beaten.
The methods of such "interrogation" are quite varied: people were beaten; gas masks were put on them to block oxygen; parts of their bodies were shot through; they were stabbed; their ears and fingers were cut off; they were tortured with bare electrical wires tied to their genitals. They told of their cellmates being killed in wooden boxes, raped, castrated, deprived of food and water.
The militants made no allowances for age, gender, health, and other conditions:
I asked them not to beat me, I told them that I was pregnant. They responded that 'it is very good that an ukrop's [derisive Russian term for a Ukrainian–ed] child will die.' We were beaten with everything: with rifle butts, with legs, with the bulletproof armor that they found on us. They beat all parts of our bodies. They extinguished their cigarette butts on me.
Because I was screaming when I saw others being beaten, they covered my eyes with tape. I was only three months pregnant then, and as a result of the beatings I started bleeding [sign of a miscarriage–ed]…
The military commanders of the Kremlin republics gladly used the illegally detained civilians for slave labor. 58% of respondents reported being used as forced labor. They dug trenches, restored buildings, cleaned streets, carried loads, unloaded the Russian "humanitarian" convoys, in which weapons were brought to the occupied territories.
Certain prisoners were forced to defuse landmines and carry out exhumations. Some were forced to wash off blood from buses carrying corpses, to dig and bury the dead. Needless to say, such "work" causes great psychological and physical harm.
Russia's Responsibility
The testimony given by these detained individuals provides substantial evidence of Russia's effective control over the illegal armed groups. It is no coincidence that in 44% of the cases servicemen and soldier "volunteers" of the Russian Federation played a leading role in both conducting the interrogations and organizing "basement" security.
To provide the proper patriotic information for consumption back in Russia, the prisoners were forced to slander themselves, forced to provide false accounts to Russian journalists:
…I had to give an interview. As they said, it was my ticket to freedom. They had to sit down with me and I would recite what they told me to say. They would write the script on paper: "We'll write it to you, we'll show you. You understand, of course, how important it is for people to know the truth, about how bad Ukraine is, and how wonderful Russia is, how wonderful "DNR" ["Donetsk People's Republic"] is?
Several respondents testified that they were taken to the Russian Federation for interrogations.
This is what a captive priest said:
When we were brought to Perevalsk House of Culture to Kozitsyn [a militant leader–ed] on 23 July 2014, they recognized me, having seen me on Russian TV performing on the Maidan stage [during Euromaidan protests–ed.] in Kyiv. They put a bag over my head and put a plastic bag over my mouth, tied my hands and legs and began to burn my feet and beat my ribs.
I was beaten so badly that I wet myself. Later because of the smell and everything it was repulsive for them to beat me, and this helped me. They burned my legs with a lighter, beat me with an electroshocker, squeezed my eyes out, tore my mouth, shoved a cross up into my anus… I just lay there in the corner for almost a day. Then we were taken to Russia.
Will Motorola be the Chairman of Donetsk Regional State Administration
Exchanges of prisoners are currently halted.  There are rumors that the militants are demanding total amnesty.
The allies insist on implementation of the Minsk agreements. Difficult negotiations continue, including a proposal to grant immunity to all candidates for elections in occupied Donbas as well as amnesty.  In this scenario, amnesty would be provided to those who have committed war crimes.
Read more: There can be no delay in implementing Minsk clause to release hostages
"Peace is better than war."  This is what European officials say to avoid directly answering the question: Will Ukraine grant amnesty to war criminals. They say that the issue of amnesty always presents a difficult dilemma.
It is hard to disagree that peace is better than war.
The governments of democratic countries rightly demanded from Ukraine that it effectively investigate and punish the perpetrators of crimes during Euromaidan as a move toward the establishment of justice. Now it is our turn to return the message to the European Union and urge them to follow their own values.
There cannot be peace without justice. Those who committed war crimes should be punished and there is no dilemma here. This is a basic tenet of international criminal law.
Ukraine is struggling not only for its territory, but also for the people who live on its territory. So when we talk about releasing hostages, we mean not only the civilians tortured in cellars, and not only over seven hundred missing soldiers and the relatives who still await their return home.
We are talking about nearly three million people in the occupied territories, whose main task now is to survive. More than two million people cannot return home.  The residents of nearly 200 settlements, which are located along the 350 km length contact line, remain under periodic artillery fire.
…At every public bus stop, radio transmitters attached to posts repeatedly blared Soviet patriotic songs, and on Saturdays – children's songs. All of that has a negative influence on the mind; I was under the impression that we got lost and ended up in the USSR.
When the occupied territories are back under Ukrainian control, apart from restoring the  infrastructure, broken relationships, mutilated human lives, and destroyed kindergartens, we will be also need to restore the people's faith in justice.
To see to it that all those who have committed heinous crimes be punished.
As we know, war crimes do not have an expiration date.
Here are three easy steps to #FreeDonbasHostages: 
✔ sign the petition: bit.ly/free_petition
✔ join the twitter storm on 12.02.2016: http://wp.me/p4CYSc-n8u –  Just come in & click
✔ invite your friends to the event bit.ly/freedonbashostages
Oleksandra Matviychuk is a human rights activist and the coordinator of the Euromaidan SOS initiative
Tags: "LNR" and "DNR", DNR ("Donetsk People's Republic"), Donbas, Donbas war (2014-present), Featured, Human rights, justice, LNR ("Luhansk People's Republic"), Russia, Russian aggression, Torture, Treatment of Ukrainian prisoners, Ukraine