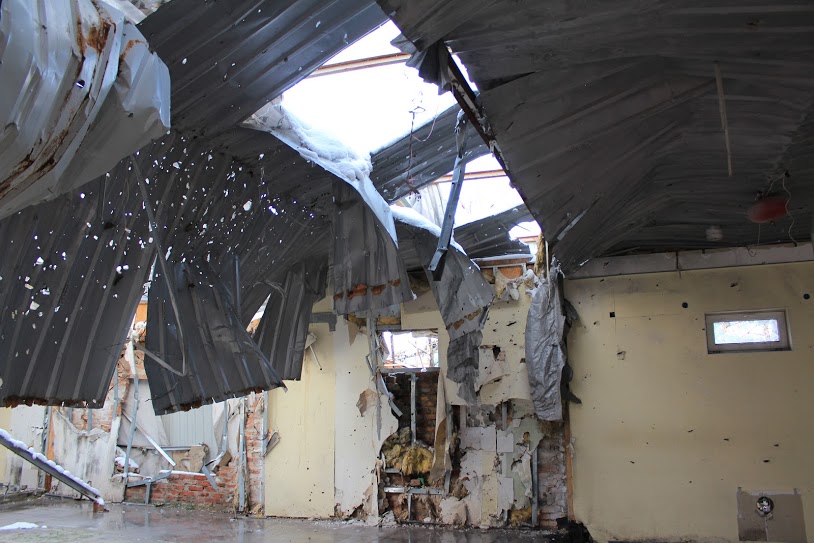 The aftermath of shelling of buildings in Donetsk. Photo by the author 
The Ukrainian Revolution overthrew the corrupted government nearly 2 years ago, but the revolutionists are still struggling for the future. Meanwhile, foreign students are finding their ways getting out of the occupied territory in Donetsk, Eastern Ukraine.
There is a border between Ukrainian soldiers and pro-Russian militants, dividing the Ukrainian soil into two parts. While some Ukrainians from Kyiv have started to build a new community after the pro-EU protest, there are foreign students trapped in the self-acclaimed "Donetsk People's Republic" (DNR) and families fleeing from their motherland Donetsk to Kramatorsk, another city in Donbas region.
When Donetsk remains a hometown
Abdullah Rafid and Sahen Jebodh are two out of five students who are still studying at Donetsk National Medical University for a dentistry major in spite of the ongoing war. They are classmates who can't go to either the Ukrainian or Russian side.
"There were several blackouts in Donetsk but no one cares. The Ukrainian government even cancelled our visa," said Rafid, an Iraqi who has been studying for 4 years in Donetsk. "I like this city because it has better education than rest of Ukraine. Although my home (Iraq) will not accept the diploma issued by Donetsk, I will show what I've learnt. I will take action," Rafid continued.
The university was offering more than education during the war, according to Mauritian student Jebodh. "The school was supportive during the war. We were depressed but the school gave us hope in the midst of shelling and bombing," he added.
"People from Donetsk didn't care about foreigners before the war started. They were ignorant but now they start to appreciate foreign students who are staying," he said.
As a foreigner, the 24-year-old Mauritian still feels the ignorance of Donetsk people because of the "former Soviet barrier." But his classmate has a closer bonding to the locals.
I like Donetsk because it has better education than rest of Ukraine. Although my home will not accept the diploma issued by Donetsk, I will show what I've learnt. I will take action. – Rafid, Iraqi student in Donetsk.
Rafid said that he felt the respect from Russian people as he decided to stay with the locals during the war. "They consider me as part of the family, even though they are living in a church. The mother of that Russian family even said that I'm her son."
While the foreigners are staying for studies, some locals decided to leave.
"I don't want my son to see the war," said Dmitriy Korniychuk, one of the displaced Donetsk natives living in Kramatorsk. He was a cable worker in Donetsk but decided to quit his job later due to the war. "My family moved to Kramatorsk for more than one year since the start of the war. I moved in few months ago because I want to unite with my family," he said.
But the case of Korniychuk is only the tip of an iceberg. With more than one million of Ukrainians who are forced to flee from their hometowns, there are over half of the displaced civilians coming from Donetsk and Luhansk oblasts.
"I want to see my family including my parents," the Donetsk native said. "But my father is too old and ill to move out, so I have to come back from Kramatorsk to Donetsk regularly," he continued. "Getting a "propusk" is difficult now."
A "propusk" card is a document granting people to have a special permit to travel between Anti-Terrorist Operation(ATO) zones from the Ukrainian side and Donetsk's "border" controlled by pro-Russian militants. Not only do people line up at different checkpoints for up to a day, but they also have to cross the border before it starts snowing.
When the revolution still matters 
"I want something more than a Molotov cocktail–a revolutionary development of education," a 19-year-old protester Ivona Kostyna said. Kostyna didn't attend a university as EuroMaidan started after graduating from high school, but her revision drives her to go further in Anti-terrorist operation (ATO) zones and get through most of the hotspots in Eastern Ukraine.
"There weren't many resources for the Ukrainian army as the former government was ousted," Kostyna said. So she decided to bring a hamlet and bullet-proof vest to go to the battleground and send Ukrainian soldiers water and food. It was before the first anniversary of the start of EuroMaidan.
Even after 2 years of EuroMaidan, the revolution still matters to Ukrainian journalist Kateryna Gladka as she still remembers hundreds of protesters who sacrificed in the tragic event. "I remembered people were brave and they saved each other. I still fell the responsibility all the time," she said.
"We need evolution, not revolution," Gladka said. "You can't sit in a chair and wait for nothing," Gladka continued. "So I started some cultural projects to make videos about portraits of Ukrainian artists."
Kateryna Gladka was the first batch of protesters who started to demonstrate against then president Viktor Yanukovych.
"This revolution is our revolution. We were dubbed as the "generation of independence" since we are the first generation of Ukraine who grew up after its independence," she said.
The 1996-born protester Ivona Kostyna stood up for a different cause, though. She was a volunteer who made a kitchen to provide food for the protesters. "I was thinking if I'm not standing up today, I won't feel safe in the future."
The roles of Gladka and Kostyna were different while taking part in the protest, but their thoughts somehow lead them to a similar path–they don't want another revolution.
The future of the divided territory 
"Most of us worry about our safety–how our government would deal with the safety issues," Ukrainian journalist Gladka said. "After the revolution, there are young people working in the parliament but they have a wide gap with the older lawmakers who were raised in the former Soviet Union–the older generation is communist-minded."
"I'm getting out of here sooner or later. I will graduate from the medical school in 6 months," the Donetsk-based dentistry student Jebodh said. His tone remained low-key, as well as the way he described this Russian-controlled city. "I don't expect much help from Ukraine. Too much cloud. No hope."
 Iverson Ng is a final year student studying international journalism at Hong Kong Baptist University.He was an intern reporter at The Standard (Hong Kong) newspaper in the summer of 2015. Now he is an exchange student studying Journalism, Multimedia and Politics at Danish School of Media and Journalism in Denmark.
Tags: Donbas war (2014-present), Donetsk, EuroMaidan, Kyiv, Maidan, Ukraine