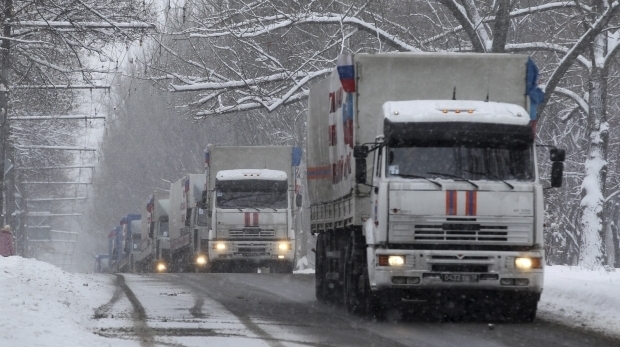 The next "humanitarian convoy" of the Russian Federation, which crosses the Ukrainian border without the permission of the Ukrainian authorities, will be regarded as an invasion. This was stated by the Permanent Representative of Ukraine to the UN, Yuriy Sergeyev, says Joinfo.ua.
"Russian convoys, which continue to go to Ukraine without any permission and without any involvement of the International Committee of the Red Cross – this is an invasion. If a new convoy will arrive, as I understand it, it will be the 12th in a row and it will be regarded as an invasion," he said on Friday.
Earlier, the Russian Emergencies Ministry announced the arrival to Ukraine of the next "humanitarian convoy" from the Russian Federation. According to a representative of the Russian Ministry of Emergency Situations, the column has already been put put together and will go to Donetsk and Luhansk January 31st.
"In Rostov province, the Russian Emergencies Ministry has completed the preparation of the 12th column of humanitarian aid for Donbas and it is ready to ship. It consists of more than 170 trucks loaded with humanitarian aid totaling more than 1.5 thousand tons," said the representative office.
We remind you that it can scarcely be coincidental that, every time, upon the arrival of "humanitarian goods" from Russia, the militants have at their disposal the latest weapons leading to intensified attacks on Ukrainian troops. In addition, following the arrival of these "humanitarian convoys" on Ukrainian territory, the number of Russian soldiers in Ukraine has sharply increased.
As we have previously reported, according to Ukrainian President Poroshenko, only a single truck in the so-called "9th humanitarian convoy" from the Russian Federation actually held humanitarian products. In the rest, Russia delivered fuel for the terrorists' tanks.
Tags: Donbas war (2014-present), International, News, Russia, Ukraine