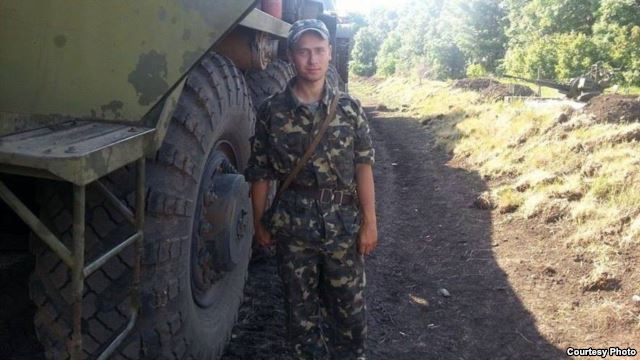 Maksym Ilchenko in ATO zone - summer 2014 
Maksym Ilchenko was shot in the face during a combat mission and has undergone eight major operations. However, he refuses to stay home and live on his disability pension; he has decided to study and learn a new profession…
Maksym Ilchenko from Kramatorsk used to work with computers and programming, but in May 2013 he was drafted into the army. Maksym miraculously survived heavy combat in the ATO zone, but he now faces a new challenge – learning how to integrate into society as a disabled person. He is studying massage therapy and also plans to take part in volunteer projects.
In August 2014, Maksym Ilchenko, gunner with the 72nd Motorized Rifle Brigade was seriously wounded in the face during combat in Izvaryne; the bullet entered his cheek just below his eyes. Medics saved his life, but could not save one eye, and the other has only 20% vision. Thanks to volunteers, Maksym underwent eight operations in one year and was subsequently treated in the United States.
Maksym did not expect to lead a normal life, imagined the worst and fell into deep depression. Volunteers visited him regularly and helped him overcome his solitude and depression.
"Some people visited me five to ten times a day. One came to read a book, another brought me something… assistance or money. Lovely girls dropped by to say "Thank you for being here!" And left… that was really cool! I know that there are a lot of good people in our world, but so many came to see me that I didn't have time to have negative thoughts or feel depressed."
Maksym realized that he could not and did not want to sit home. He wanted to work, get married and have children. He turned to the Volunteer Employment Centre. Maksym is currently studying massage therapy.
"My bad eyesight prevents me from working physically. Computer work strains my eyes. I can see a little bit and read on a 250-percent scale, but I won't be able to work efficiently. So I decided to take massage courses. I may take up oriental massage or something like that later. In summer I'll enroll at the university to get a better education."
It was an uphill struggle to get disability documents.  Relatives and volunteers helped Maksym to find his way through never-ending red tape.
"I was informed that I was wounded in Izvaryne and that they had to investigate the matter. But, how could they investigate? So, I can't get this document, and without it I can't be counted as "a combat participant"… therefore, no benefits, no nothing. Here again, volunteers helped out. I finally got my papers… Actually, I was wounded on August 6, but the first document said I was in the ATO zone till August 1. So, where was I shot on the 6th? At home?"
While the young man was in hospital, his mother took leave from work and worked on her son's claims as his representative. Volunteers helped in legal matters. Field commanders and comrades-in-arms also helped out. Maksym finally got all the documents, but he still has to fight for his rights every day.
 "You have to fight for every little privilege, and that's not good. Many people still don't realize the sad conditions in our country. I myself am from Kramatorsk where there are many people with pro-Russian sentiments. I used to "fight" with marshrutka drivers (minibuses). I show them my war disability document and they say "We drive soldiers for free, but not war invalids." It's petty, but some people seem to think I've come from the war zone to take something from them. I just want to live normally and enjoy what I'm entitled to."
Maksym says that he was literally "pulled back to life" in America. The Ukrainian Federation of America initially started treating Maidan activists and then Ukrainian soldiers from the ATO zone.
Maksym then had to fight Ukraine's bureaucratic system in order to get medical treatment abroad, but once again, relatives and volunteers helped out.
"I had surgery on the jaw because I couldn't open my mouth. My left eye was removed and doctors put in a prosthetic eye; I had surgery on my nose. If I wanted something to eat, if I needed vitamins, everything was provided by ordinary people who visited me. I even went home with some money because everyone is trying to help and if they don't know how, they give money."
Maksym was amazed at the great support provided by Ukrainian-Americans. He did not expect so much attention and could not even imagine that Ukrainian volunteers could be found in a country tens of thousands of kilometers from home.
"I arrived and thought I'd be lying all alone in hospital and that's it… But, they have a fantastic community over there, at least in Philadelphia… just ordinary people helping out. They're concerned about Ukraine, and I was amazed and pleased to see, for example, a woman, who came to the States to earn some money, giving her hard-earned dollars to buy our guys proper army boots instead of sending it to her family back home. I was really surprised! There's over 10,000 kilometres separating our two countries, and yet people there worry about how things are in Ukraine."
When Maksym left for military service in 2013, he could not imagine that he would be taking part in real hostilities. He remembers that no one took military training seriously at first.
"At first we were told to hold our positions and then we were ordered to carry out combat missions. At that time, Russian-backed separatists began transferring equipment from Russia. It was quite surprising… Military equipment had been abandoned in the neutral zone, one or two kilometres of no man's land that was not controlled by Ukrainians or Russians. The separatists came in, carted it away and boasted they'd taken it from the Ukrainian Army. We were ordered to stop these Russian military supplies from reaching the separatists and so we came to Izvaryne. I realized that we were really annoying someone because we were even being shelled from Russian territory."
Maksym says that about 700 Ukrainian soldiers were surrounded. Some of them managed to get out by crossing the border into Russia. It was an important event, but Maksym maintains that the gunners could not break through enemy lines any other way.
"The guys that crossed the border helped us a lot. They got us out, mined the military equipment. They crossed the border again, gave their weapons to the border guards, and in three days they were in Savur Mohyla… they didn't even get a break! They covered us so that we had time to move along the border. The Russians were out there waiting to get our gunners, snipers and others. I'm a gunner, but those who crossed the border were infantry troops."

 "It's always the same old story… The encircled soldiers were promised awards, but we haven't received anything yet. There are no financial benefits, but they are psychologically important and a recognition for all the soldiers who were there. All the top brass at command headquarters got medals… that's not very nice. We spoke to our field commanders and they told us they'd submitted the papers three or four times, but the information has disappeared somewhere along the line."
Despite persisting obstacles, daily difficulties and health problems, Maksym is positive and optimistic, and expresses a great lust for life. He believes he was lucky. He sees enthusiasm and inspiration in people who are helping him, so he feels that he should also join this fight. He admits that there have been moments of great disappointment and a feeling of injustice. However, it is the people's determination to fight the system that offers the country a way out; Maksym believes that we cannot expect such swift changes after the Revolution of Dignity.
"I had to overcome so many obstacles to get to America, obtain the right documents, and nothing would have happened if we hadn't fought to overcome it all. I know that a small step can turn into a decisive event. If you sit home and do nothing, then nothing will happen. I realized it myself. People around me were doing different things. Great things happened to me thanks to them. Were it not for these people, nobody would get up early in the morning to come and visit me in the hospital, nobody would want to argue my case with the Colonel, nobody would be there for me. I experienced all these events and I don't want to see other wounded soldiers having to confront the same obstacle course."
Maksym is not employed. He joined Kramatorsk SOS and is helping as best he can. After graduation, he will look for work in Kyiv or Kramatorsk. Of course, he sometimes becomes moody and sad, so it is important to continue talking to psychologists, volunteers and friends, and not remain at home all alone.
Tags: Donbas war (2014-present), Stories from the Front, surgery