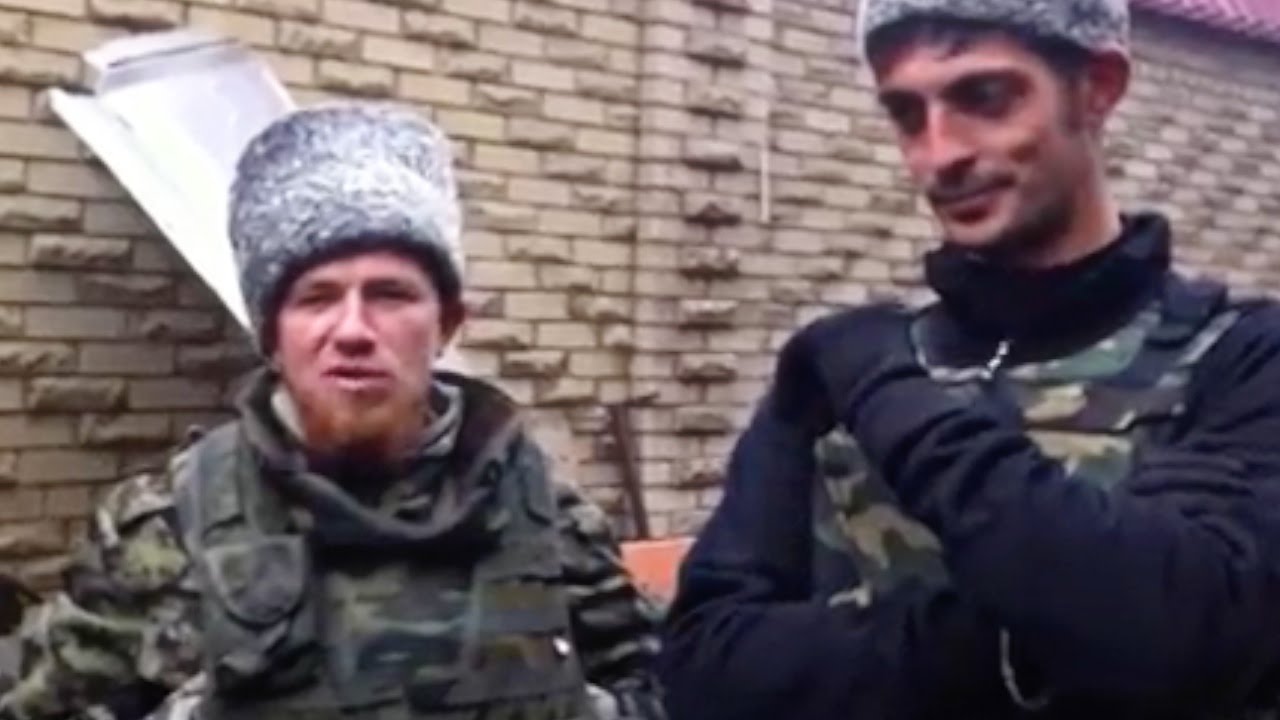 Motorola (left) and Givi (right) give one of their many joint interviews in October 2014. 
Russia has not given up on destroying Ukraine, but how will this be accomplished? A straight-up invasion would be extremely costly and Putin's actions show that he is hesitant to risk the lives of regular Russian troops and is aware of the enormous costs that an open war with Ukraine would entail for Russia. So, just like in the spring of 2014, he will probably attempt to disintegrate Ukraine using irregular forces and subversion rather than open warfare (though the latter is always a possibility.) His proxies took Donetsk and Luhansk in early 2014 with token resistance, and this is a model for how he would like the rest of the war to go. This strategy could be accomplished while the "Minsk process" is supposedly going forward. As the Prussian military thinker Clausewitz said: "A conqueror is always a lover of peace… he would prefer to enter our lands without opposition." (See our previous report on Putin's war strategy of "
Between Blitzkrieg and Schleichkrieg
")
A strategy of slow subversion would require very strong political and propaganda components. In the last week, two famous propaganda  mouthpieces gave us clues about a possible two-track strategy of political and violent subversion in Ukraine. These two stars of Kremlin agitprop about the fighting in Ukraine are Mikhail Sergeyevich Tolstykh, a.k.a. "Givi" the commander of the "Somali" battalion and Arseny Pavlov a.k.a. "Motorola" Since the famous battle for Donetsk airport they have been a media tag team, often giving joint interviews. Their style is the classic tall/suave and short/gruff motif. Givi is the Seinfeld to Motorola's Costanza.
Motorola: We should Join Ukraine
A week ago Motorola said something that would have been very surprising to hear just a few months ago. 
During an interview
 he was asked about Donbas joining Russia with a "Crimean Scenario." He replied: "I think now there is no need to think about joining Russia, and (instead) about the DNR and LNR joining Ukraine in order to free the people from the fascist government and terrorist groups. That is far more important than accession to Russia. We can, of course, to join Russia…"
Why this interest in "joining Ukraine?" If the occupied areas of Donetsk and Luhansk are formally "re-admitted" into Ukraine without disarming the "militias," without Ukrainian control of the border, and with the DNR and LNR granted some form of political recognition, then Putin's plans to federalize Ukraine and wreck the Maidan revolution will take a big step forward.
Notice, Motorola is framing "joining Ukraine" as an offensive move against "Fascism."  This latest statement might be a trial balloon, similar to some proposals that have appeared in the Russian press over the past year (sometimes making reference to the Republike Srpske as a model.)  The best part about this statement is that Motorola is a Russian citizen. Is he trying himself to "join Ukraine?" Will Russian thugs and mercenaries such as him be allowed to reside on Ukrainian soil once the "Minsk Process" is complete? Some might say this while "join Ukraine to fight fascism" line is just a conciliatory propaganda line for the consumption of radical pro-Russian fighters, but on Sunday Motorola's partner Givi reiterated the older, more hardline propaganda line: destroy Ukraine through conquest.
Givi: Old Line
Givi gave an interview published on Sunday in Svpressa where he reiterated a lot of the older lines from Russian propaganda about the emergence of "Novorossiya." Political Solutions for the conflict won't work. Ukraine will soon collapse because of economic woes and political/military failure. Novorossiya will conquer and liberate other territories. etc.
"The Ukrainians are now gathering strength and bringing in NATO trainers, updating their weaponry. Is all this in order to respect the Minsk agreement? No. That monkey from overseas will order an offensive… The President of the DNR Alexander Zakharchenko said it many times: There is no way back. All the (new) state institutions have been created and are successfully functioning. Getting a political solution to the problems of Ukraine, with all praise an honor to politicians and diplomats. – It won't work…Our state is able to protect itself. And  we will liberate the occupied territories inside the administrative boundaries of the Donetsk and Luhansk regions… Last winter her (Ukraine's) supplies were good, but this year more than a third of her companies are in a coma, a technical default has been declared…In Kiev the rulers have one explanation for all their problems: the separatists, the terrorists…. "
"…This is beginning to be understood in the territories controlled by Kiev. I speak with many people in Dnepropetrovsk, Odesa Kherson, Zaporozhye, Kharkiv, and even Lviv. They all say with one voice: 'We are waiting for you, only you.' In the future most of the territory of the failed state will be part of Novorossiya. The Western regions should be given the right to self-determination – let them go in peace. The gaping jaws of the EU have been waiting for a long time. "
 Good Cop, Bad Cop
A few days ago Motorola said that the "republics" should join Ukraine in order to fight the Fascists and terrorists from the inside, and Givi here is throwing back to the older lines about straight-up conquering and dismembering Ukraine. Which one is it? Perhaps both. Imagine this: The Russians can shift between the two outlooks at will depending on the political situation. Motorola (a Russian citizen) could be the proponent of conciliation and a political solution. Givi, on the other hand, (the Ukrainian) could the figurehead of the subversive "splinter" group that continues the good fight against Ukraine, including violent subversion and propaganda in other regions of Ukraine. Motorola can play the "good cop" who can influence his friend Givi – provided concessions are forthcoming from Ukraine and her allies. In propaganda, the dichotomy will be between the "Minsk Process" that is, the Russians getting what they want, and a "frozen conflict" – which would be anything but frozen.
This relationship between the peacenik "separatists" and the warlike separatists would be a microcosm of the greater proxy-client relationship between Russia and the Donbas "Republics." Russia has insisted that it is not waging war in Ukraine, and the Russian fighters in Ukraine are volunteers working without the direction of the Russian government. A two-track subversion strategy in Ukraine would see the "official separatists" insisting they want peace and denying involvement of the activities of "radical" factions inside Russian-occupied Donbas. Of course, any future operation to root out Givi and his ilk from Donbas would wreck the ceasefire agreement and possibly trigger a Russian invasion, Russia will imply.
Tags: Arsen Pavlov "Motorola", Mikhail Tolstykh "Givi", Military analysis, Subversion