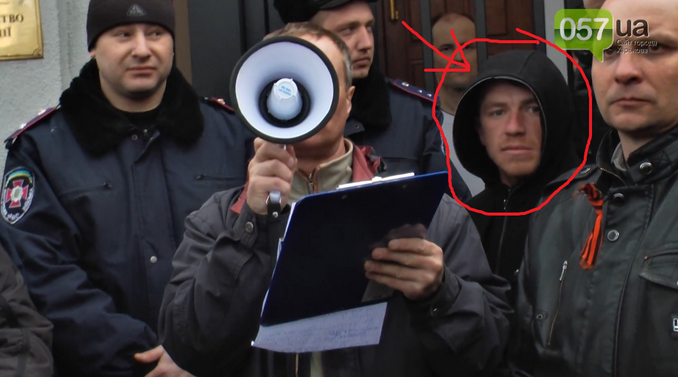 Arseniy "Motorola" Pavlov has long been a poster boy for Russian propaganda, alongside with Alexander "Babay" Mozhaev and Igor "Strelkov" Girkin. A Russian car washer turned terrorist field commander known for participating in many battles including the siege of Donetsk Airport, he achieved Western fame by threatening Poland with Grad strikes on Youtube for snubbing the Russian defence minister:

Motorola first became known during the Ukrainian siege of Sloviansk in May. In an interview with a Russian fascist newspaper Zavtra he claimed he came to Ukraine to counter the "Nazi" threat to the ethnic Russian population. However, today he was spotted in a video shot at a pro-Rusian rally on March 16 in Kharkiv, weeks before the first shots of the Donbas war were fired.
Оп-оп, Моторолку в Ха нашли 16 марта http://t.co/7B1sQ96vI5 pic.twitter.com/P8rkWIdAQm

— Олєжек Окєанч (@olegnovikovkh) January 30, 2015
"Wow, Motorola spotted in Kha[rkiv] on March 16".
In the video, Motorola is seen standing next to a pro-Russian activist reading out an appeal for aid to Russia. The Kharkiv separatist rally on March 16 was part of a series of separatist rallies in Eastern Ukraine following the ousting of Viktor Yanukovych. During this particular one, several thousand protesters signed a petition to demand things like federalization of Ukraine, a prohibition of entering NATO, and the introduction of Russian peacekeeping forces on the territory of Kharkiv Oblast. An attempt was made to capture the regional administration. The rally ended with burning books about Stalin's artificially-caused famine in Ukraine, Holodomor. Presently, Motorola is the commander of the terrorist Sparta battalion that is fighting against Ukrainian forces in Donbas.
In March Washington Post cited Ukrainian sources claiming protesters were brought from Russia across the border on buses with Russian number plates to bolster the pro-Russian activists.  On March 1, during the assault on Kharkiv state administration building, a pro-Putin activist from Moscow planted a Russian flag above the building.

This apparently widespread involvement of Russian nationals suggests that at least some of the unrest in South-Eastern Ukraine was fueled by Russia to destabilize the neighbouring country. Earlier, DNR flags were spotted on photos from a 2013 "Putin Youth" summer camp at Seliger in central Russia. These facts beg the question: did the conflict that Kremlin media insists on calling a civil war really originate inside Ukraine?
Tags: Arsen Pavlov "Motorola", Donbas war (2014-present), Kharkiv, News, Terrorists