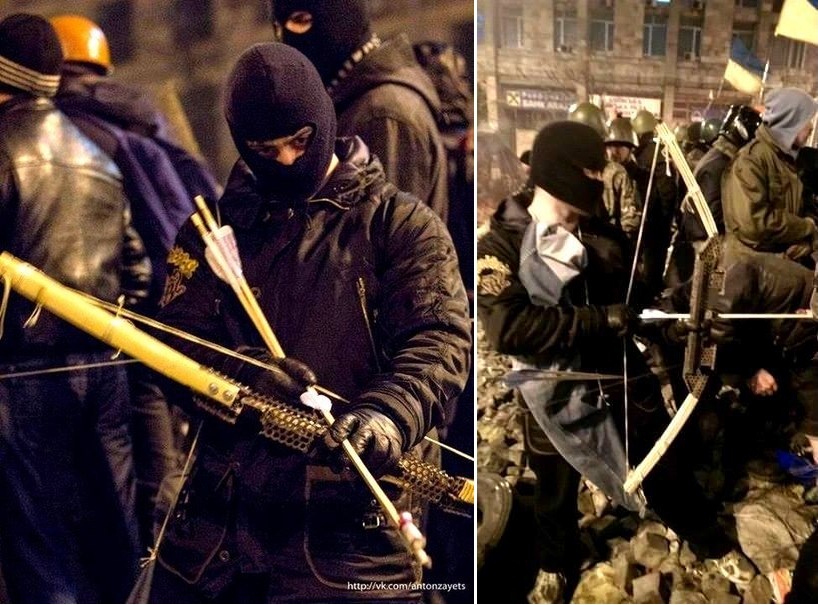 On February 20, 2014, Orest Karakevych from Drohobych did not celebrate his 22nd birthday in a cosy café with friends, but with other activists on Instytutska Street in Kyiv. Orest saw a lot of blood, heard anguished cries for help, and watched as snipers fired on helpless young men, aiming at their head and eyes … Orest and his friends rushed to the front lines, picked up the wounded and carried away the dead. They had no protection, no bulletproof vests, not even shields. Orest survived. The Maidan was not a simple protest, but a war that no one had foreseen. This is the story of Orest – the brave archer of the Maidan.
 Orest Karakevych does not see himself as a hero. He is a doctor, but he did not treat the wounded on the Maidan.
"There were enough medics and doctors … but not enough soldiers to cover them." he explains.
Orest is finishing his sixth year in medical school.  He was recently sworn in as an officer in the army, and now intends to continue his studies at the Military Medical Academy in Kyiv.
"I went to the Maidan alone. I didn't want anyone with me. People asked me if I wanted to die there. It's so much easier when you're alone and not responsible for anyone." says Orest.
The archer with a lion's heart
Orest made his own bow and arrows. He had no other weapons, but had to fight back when the authorities started beating and shooting people on the Maidan. The Berkut troops knew about Orest and his bow and sought to track him down.
"On February 18, I arrived in Kyiv at about 16.00. I wanted to get there earlier and help our guys at Mariyinsky Park. There was a big hand-t0-hand fight over there. I was trained for that sort of thing. A lot of people died, and I was very sad that I didn't get there on time …".
He admits that he was shocked when he arrived on the Maidan that day.
"There were so few people. The Berkut troops had cut off access to the Maidan through Hrushevskoho and Institutska Streets. The Zhovtnevy Palace was theirs. I thought that we'd all be killed if they launched an assault…  I stood on the barricades near the Trade Union Building. It was very scary when the APCs started moving towards us and the Special Forces were given weapons to use against the activists. But, I refused to believe that they would actually start shooting at their own people."
On the night of February 19, the security forces threw grenades at the activists. Orest saw his comrade go down beside him on the barricades, shot in the head; he saw another man fall and die instantly from a gunshot wound to the chest.
The defensive position of the Maidan was very simple: the first row of men stood on the barricades with shields; the others were behind them, throwing stones, bricks and blocks at the Berkut forces.
"The Berkut officers sent in army regulars to disperse the guys on the barricades. We tried to drive them away. Then the APC came and hit us several times. The earth shook and we fell to the ground.  Those images still haunt me… Then the guys got organized and threw Molotov cocktails at the APC. It started burning…" recalls Orest.
The battle raged fiercely to 01.00.
"I retreated to Instytutska Street where there were no barricades. Our guys just stood out in the open with their shields. On the way there, I used up all my remaining arrows. I was wondering why so many grenades were exploding around me and bullets were constantly whistling over my head … then I saw the Special Forces directing their lights on to me and my bow. They were probably after me…"
We asked Orest why he used a bow and arrows. He replied that no weapons were available on the Maidan and that he had admired and practiced archery since he was a child.
Unfortunately, Orest lost his legendary bow on the Maidan on February 18.
"When the shooting stopped, my bow was in the way. Everybody noticed me. I left it at Saint Michael's Cathedral. I came to get it two days later, but it had disappeared… " remarks Orest who truly misses his unique bow and arrows….
Wounded…
"There was a lot of smoke around the Trade Union Building. As I ran to the frontlines, I was shot in the head and fell back. People were shouting at me, telling me not to go back, grenades were exploding everywhere. I took off my balaklava and the guys saw that my face was covered in blood. It flooded my eyes. I stumbled into St. Michael's Cathedral. I was lucky… the bullet hadn't hit the bone. It was lodged in the periosteum in the head. My father told me that had the bullet penetrated 1 cm lower, the doctors would've had to dig it out of the bone or the brain." recalls Orest.
Orest returned to the barricades. He moved around all the time. Once the police threw stones at the protesters and a large brick fractured his leg. He had to hobble around for two weeks.
"One evening, we heard that titushky were hanging around near Saint Michael's. Many of our wounded were being treated at the cathedral, so I decided to go there. I saw the titushky in a lane nearby; they were fully armed, guns, weapons, shields. Berkut troops were standing right behind them and giving them orders. They were obviously enjoying themselves, firing at everything that moved. I wanted to get closer, but a passer-by – some guy who was not even involved in the Maidan – was shot down. The bullet went through his side, and he was quickly taken to St. Michael's. We were afraid that the titushky would storm St. Michael's Cathedral, so the Self-Defense groups put up barriers." recalls Orest.
"I slept about an hour… at St. Michael's Cathedral. We spent all day February 19 on the barricades and kept the fires burning. It was pretty quiet. In the evening there were some skirmishes, but the difference was that there was hardly anyone left on the Maidan – no leaders and very few people. It was clear that this was the end and that we were alone. All the politicians had gone and that was good, because on February 18 they had really bugged everyone! On February 19 the coordinators helped us from the stage, telling us where to go and what to do. But the politicians just stood there shouting "Berkut, stop shooting! Do not provoke the people!" That really bothered everyone. We even told them to shut up. It was war, and no one intended or wanted to stop." remarks Orest.
The archer with angel wings
The fighting started at about 8:00 a.m. on February 20. "We were dozing on the barricades. Then reinforcements arrived on the Maidan. We stood there with shields. The guys didn't even know how to hold them properly… The Berkut soldiers threw Molotov cocktails at us. A grenade exploded near me and my ears started ringing. I retreated towards the stage. But then I saw the Lviv Sotnya running towards the frontlines and Berkut troops were retreating. I didn't hesitate, just rushed over there. I climbed the hill towards the Zhovtnevy Palace. The snipers were shooting and pulling back. I saw one aiming at our guys from the window of the administration building. I had a wooden shield. I gave it to some doctors who were tending a guy who'd been shot through the femoral artery. I found another wooden shield on the ground. We stopped at the Zhovtnevy Palace and started moving slowly towards the Ukraina Hotel. We decided that we had to break through to the barricade. We ran forwards and took shelter as bullets whistled above our heads. They probably wanted to frighten us. We would've liked to advance further, but then I heard the sound of sniper fire. I realized this was it… our guys started dropping like flies … These were real scumbags who were aiming at the head and the eyes. They knew that we had no weapons, and were shooting to kill!"
We ask Orest if he was afraid.
"No. A person never believes that he can actually be killed. I wasn't afraid for myself. Is my life worth so much compared with all the others … But, after the events on Hrushevskoho, my mother told me that her life would've been over if I had been killed. It was constantly in my mind. So I didn't tell her where I was going. I was more afraid for my parents…" says Orest.
Orest laughs when we ask him about equipment: "I didn't even have a proper shield, and only a construction helmet. Only a few guys had bulletproof vests."
Orest shows us the jacket he wore on Instytutska Street; it's decorated with wings: "I don't know, maybe they helped me to survive … I pray to God that all this was not for nothing, that the Heavenly Hundreds will remain in our memory and be a constant reminder of what price we must all pay for freedom! I want our country to love us as much as we love her!"
Happy Birthday!
Orest Karakevych celebrated his birthday in a circle of flames and bullets: "My birthday is on February 20 … I was 22. The guys offered me cigarettes … My father phoned to wish me happy birthday. He didn't know I was on the Maidan. He heard the shots on the phone, and just told me to be careful. Mom didn't say anything. When I got home, I found out that my father had gone to the Maidan in Kyiv, so I went after him. I don't want to celebrate another birthday like that!"
Orest then talks about Ustym Holodnyuk whom he saw on the Maidan: "Ustym is the face of the Maidan. He was there from the beginning. Ustym was the best of us all! I want people to know what happened. Ukraine was defended not by special groups or trained militants, but by ordinary people – intellectuals, workers, artists… And I'm proud to have been with them. What other terrible things must happen for our politicians to realize that power is not the most important thing in life, that they cannot continue looting and dividing Ukraine?"
We know how to fight!
"Why is our government acting this way? Maybe they just want to show us that everything has changed, that everything should be peaceful so we must not fight those separatists. Yatsenyuk recently said that he supports a referendum in the Donbas. That's insane! It's disrespectful towards those who died. I want to tell our leaders one thing – we know how to fight and now everything will be different. Ukrainians know how to fight! If our politicians don't act correctly, no one will help them; they will not escape like Yanukovych… That won't happen again!" maintains the Maidan archer.
40 days after the shootings, Orest Karakevych posted his thoughts on social media:
"40 days since Bloody Thursday .. and more and more people ask me questions – What has really changed? Did we face death in vain? Did Ukraine's best sons and daughters die in vain? Our hearts ache even more when we see what is happening again in our country .. but we cannot accept that it was all in vain…
I still hear the bullets, and I still see my comrades falling to the ground.  I remember holding a shield in front of my head, a shield full of holes (by some miracle the bullets did not touch me) and running forward towards the fallen and the wounded. I remember how I tried to cover the wounded and doctors with my body as I knew that my wooden shield could not protect them from the bullets…
My deepest thanks to all the medics and doctors, I've never seen braver people in my life…
It was a nightmare and I was scared… not for myself, but for my parents. I kept thinking of my mother's words:" Come back alive!" And, every moment, waiting for death, I would think: "Forgive me, Mom, I have to do this…"
I remember how we took shelter behind two street toilets on Institutska, which we naively thought would protect us … 5 or 6 people. I remember how the bullets pierced those flimsy toilets, and we ran from there because we were very scared… and those 5 seconds of running and waiting for death seemed to last forever…
I'm amazed by the courage of ordinary Ukrainians. We were in hell, not more than 50 of us, and despite death and danger everywhere, people dashed forward. Many people ask me… why did you run forward when you could see that guys were getting killed? I'll tell you why…We didn't want to run there, we were all afraid… but when we saw that our brothers, the guys that had been fighting with us on the barricades, were dying and crying for help, we couldn't leave them lying there… I call them brothers although I don't know them personally. Very few people had ammunition; our shields were mostly made of wood… but, we didn't think about such things at that moment.
I remember another group of 4-5 people who rushed forward fearlessly; two of them didn't even have time to hide behind their shields; one fell and then the other…I remember another guy who was wounded in the leg, but we couldn't get to him. As we pulled him by the legs, he screamed in pain… I remember him shouting and swearing and begging us to grab him by the arms, and not the legs. I'm ashamed to admit it, but every time we dragged a wounded fellow to the hotel, I was so glad to get away from that awful place. But then I looked back and returned because I knew they were dying back there while I was safe here. Each time seemed to be the last for me… I probably won't make it back, I thought…

I was very surprised and disappointed that there were no Pravy Sektor soldiers there. I hadn't seen them since the night of February 18. Someone told me that the guys from Pravy Sektor had left that night. God forbid, but I confess I didn't see them anywhere. It hurts to hear this, and I don't want to believe it. There were some members from different Self-Defense units. But, it was the ordinary people that died… dozens and dozens of ordinary people…
I remember a woman doctor who rushed towards a wounded man. I tried to hold her back, shouting to her that her life was more important, that she should wait and let us bring the wounded man to her. But, she didn't want to listen. I remember lying under the shield, naively thinking that my shield would protect me, that the bullet couldn't possibly hit me… I didn't know then that snipers were shooting at us from behind, from the Ukraina Hotel. I also remember a nurse that I forced to stay behind and this probably saved her life … I want to believe it.
Perhaps the worst moment was when I saw one guy pulling another, and then he stopped and knelt over him. The fellow beside me said: "They must be brothers. That one's just died…" I don't know if it was true, but I couldn't hold back the tears. I remember the doctors ran up to them, and someone inadvertently pushed away the shield. A shot rang out, the doctor fell and a red pool formed on the pavement. I hope he survived…
I was also impressed that, in the midst of the small number of people holding our defensive positions on the Maidan, among all the small groups of people who ran to Instytutska Street, there were citizens of other countries … they stood side by side with us Ukrainians and did not run away even though it was not their war…
Tags: Heavenly Hundred, Instytutska Street, News, Ukraine, wounded soldiers