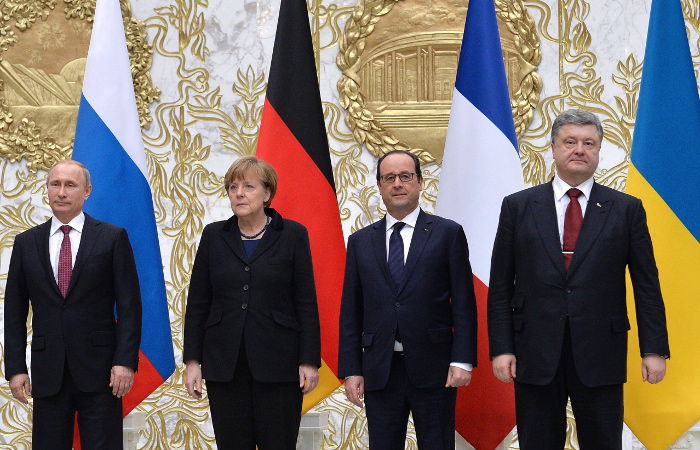 "The Normandy Four": Putin, Merkel, Hollande, and Poroshenko 
The Normandy Four in which Moscow has placed so much faith as a way of advancing its interests and splitting off Europe from the United States over Ukraine has in fact divided into two groups, the leaders of France, Germany and Ukraine on one side, and Vladimir Putin of Russia on the other, according to Vitaly Portnikov.
The Ukrainian commentator notes that before their meeting with Putin in Paris today, the other three presidents discussed the situation among themselves, transforming what had been a situation in which Ukraine could be isolated from its Western partners into one in which Ukraine is now part of them.
Merkel and Hollande have tried to view themselves as mediators between Russian and Ukraine, Portnikov continues, "but in fact, they are simply frightened bystanders whose main task to is defend against a hooligan," a hooligan who has already "broken into the apartment of his neighbor, carried off the furniture, and behaved atrociously."
Obviously, the two Western leaders now they need to help the victim; but they want to do so in such a way that "the hooligan will not guess that passersby [like themselves] do not like him and do not want to be friends with him." In fact, Portnikov says, that is exactly what they want and are prepared to be if only the hooligan will leave his neighbor's "apartment."
On the one hand, the commentator continues, the three-sided format is "not new: Poroshenko has already conducted talks with Merkel and Hollande and the Western leaders haven't hid the fact that they agree with him and then will present this agreement to Putin."
But on the other, it represents a break, albeit one that hasn't been much noted. Merkel and Holland tried in Minsk to work in this way, "but after Minsk, it turned out that Putin did not understand their main goal," which was to end the crisis and restore good relations between them. That was not on the Kremlin leader's agenda.
The two EU leaders had thought that "together with Poroshenko they were creating conditions under which [Putin] could with minimal losses to his reputation get out of his Ukrainian adventure. But he doesn't view his actions as an adventure. He doesn't want to get out of it and can't understand how that could happen without a loss to the remains of his greatness."
Instead, the Kremlin leader has doubled down in Ukraine and launched a new campaign in Syria, and that combination has forced Merkel and Hollande to recognize that they have to find a way out because they cannot get Putin to accept one. "They categorically do not want to look like people who cannot achieve peace in Europe."
"They do not want that they will be considered as incapable of finding a means of calming a hooligan is running amuck." Consequently, they are now "trying to find a way out already without him, because he clearly isn't going to help in that. Naturally, they are seeking it together with Poroshenko" who also wants some way out.
That means that "there is no "Normandy Four" anymore, however much Putin and his propagandists say otherwise, Portnikov argues. Today, Merkel, Hollande and Poroshenko will meet with Putin, and as in the past, the Kremlin leader will "lie and attempt to intimidate them" into agreeing with his alternative reality.
And they will listen and then say that if he continues, they will increase sanctions until he stops fighting in the Donbas. Poroshenko will leave. Putin will insist that "he only wants stability in Syria and that there is no way forward without Assad," and they will declare that if he "bombs the positions of the opposition [to Assad] rather than ISIS, then Russia will be held to account."
Then Merkel and Hollande will leave "hoping that this conversation will help save even a few lives and understanding that they haven't saved anyone" and may have made the situation worse. Putin will then "fly off convinced that he has again deceived all of them." Then this game will continue, but the Normandy Four will no longer really exist.
Tags: Francois Hollande, International, Merkel, Normandy Four, Putin, Russia