Ilya Novikov, the lawyer of Ukrainian pilot, MP, and political prisoner jailed in Russia, gave an interview to the Odesa division of the independent Ukrainian media outlet Hromadske, in which he told about being suspected as an FSB agent by Ukraine's Security Services, and how he made Nadiya write a book about her time in Iraq.
Hromadske: Does Savchenko's case take a lot of your time?
Ilya Novikov: All of it. I've deliberately set it as my priority, as Nadiya Savchenko's case will be the most important trial in Russia. At least among criminal cases. Lawyers don't usually have many cases like that in their career. I aim to work it to the best of my ability no matter what. That's my priority now.
Hromadske: So have you decided to take this case out of career considerations? Or was there something else?

Ilya Novikov: It's many factors coming all together. One of the advantages of being a lawyer is that ambitions don't harm the case. If you feel you have what it takes and have some skills and experience for the case you can always try. The only question is whether the client trusts you or not. At our first meeting with Nadia we had some intuitive trust settled between us. She came to believing we can really get her out. And she didn't lose faith in us so far. We actually believe we can do it.
Hromadske:  What's your prognosis for the outcome of the case?

Ilya Novikov: The result will be very simple. The diplomatic pressure will grow. And it is because of this pressure that she will sooner or later be released. It has nothing to do with the verdict at all – it's already written, we have no illusions about it. We are often being told that we are engaged in a lot of publicity and should be better paying more attention to our work. But those who believe that purely procedural activities in Russian courts can actually lead to results should take a closer look at the Sentsov case. If one would have any questions, Sentsov's sentence has all the answers.
Savchenko will be sentenced in exactly the same way. In order for European politicians to fully support and engage into activities aimed at Nadiya's release, they should feel that they rely not on a thick stack of trash paper, but upon verified and proven facts.
Our position does not appeal to pity, "look, she's a jailed woman, help her, please." Our position is clear: She has immunity; she has evidence of her innocence. We have evidence that the story of the journalists being shot was entirely fabricated. Judging from what we know about this story, it was a group of militants that got shelled. These militants were completely ignored by the Russian investigation team.
Hromadske: How do you assess the cooperation with the Ukrainian side, with Ukraine's Security Service, diplomats, politicians?
Ilya Novikov: Yesterday I was in Kyiv at a meeting at Ukraine's Foreign Ministry, where we discussed ways to help not only Nadiya Savchenko and Oleh Sentsov, but all captives from the list. Foreign Ministry says 12 Ukrainian citizens are being prosecuted for political reasons in Russia. Defence strategies and ways to help them were discussed in my presence. As for the intelligence service, we saw that we were not being entirely trusted in the first six months.
Ukraine's Security Service has been investigating the case of Savchenko's kidnapping and as part of this case they can collect evidence. They cannot just investigate events without the procedural case. And within this criminal case they had come across many things we would like to use in our case. We had problems with this in the first six months, then, starting in March, we started to get along, I guess some political decision was made. I believe we were considered to be FSB agents who were sent to sabotage the case. But we managed to get over it after all.
Our relations are very productive now, all our most important materials were provided by Ukraine's Seciruty Service. Without their help we wouldn't have had the mobile billing data, which are one of the main evidence of Savchenko's alibi, we couldn't have had the video expertise done, which showes that her alibi is confirmed by the video filmed by the separatists themselves. Besides Ukraine's Security Service and the Ministry of Foreign Affairs, there's the General Prosecutor's Office whose activities might not be as noticeable, but no less important.
A month ago a criminal case against Russian judges who decided to extend Savchenko's arrest despite her immunity was initiated, and I was told yesterday that three or four more judges might be put on the list for the same reasons. They have clearly ruled illegal decisions.
Hromadske: What about Nadiya herself? What's her attitude?
Ilya Novikov: She's positive, very cheerful. She's rather unhappy that the trial has been delayed for six weeks. We filed a motion for her case to be transferred from the Donetsk court, not Ukrainian but Russian small town in about 1 km from the border, on 30 July.
Hromadske: Nadiya's book will soon be published. You've written the preface, as far as I know.
Ilya Novikov: I wrote the preface because Nadiya asked me to write it and explain in it that she had no novelist ambitions of her own. It was me who had talked her into writing.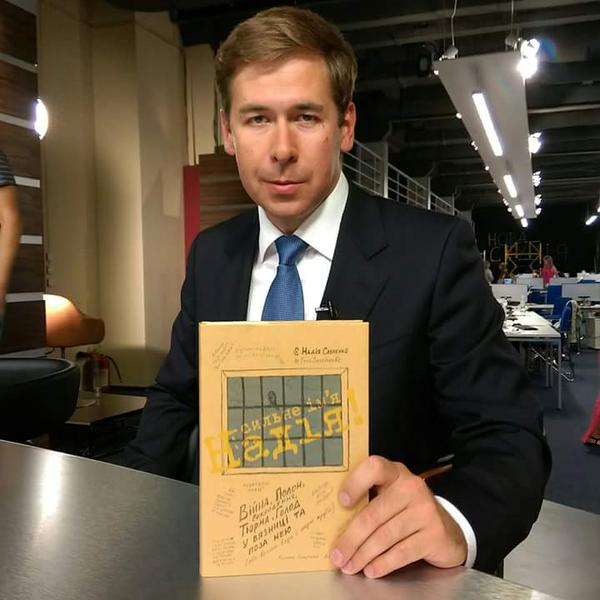 Actually, I had the idea the second or third time we met. We had no information on the investigation process during the first months. We were told that the investigation was going at its own pace and that we would be told everything when the right time comes. Most our converations at that point were not around her case, but some things that were unconnected to her detention, in order to distract her. She told me lots of stories of her life and it was then that I realized she was a natural storyteller.
Her tales were really interesting, she has a unique experience – a female military in Iraq is quite uncommon. So I started to tell her she should write a book. She used to say she was not a writer and that she couldn't. But then in December she had gone on hunger strike and when she started feeling really unwell she said once, OK, I'd write. because that was a way to keep her thoughts clear. Doing nothing within days eating no meals is a way of self-destruction. In order to avoid this, she tried to get a grip and wrote 2-3 pages daily.
The book was ready before the spring. it will be presented 11 September at the Lviv Book Fair and then will be distributed throughout book stores. I highly recommend it to everyone. It's worth reading.