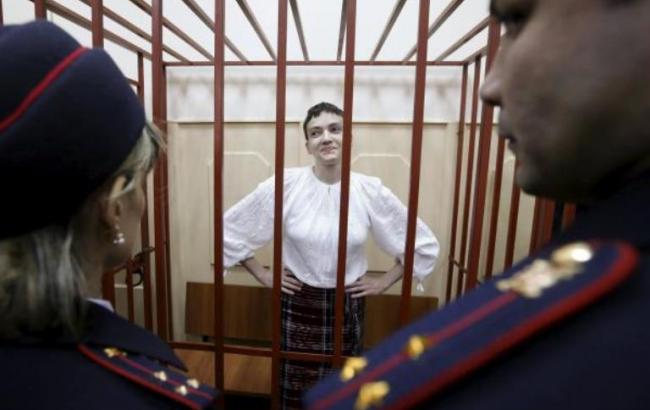 Nadiya Savchenko in Basmanny court on April 17, 2015 
On 17 April 2015, the Basmanny court in Moscow once again refused to dismiss Nadiya Savchenko's case, refusing to settle an appeal by her lawyers. The 33-year old pilot had been kidnapped on Ukrainian territory in June 2014 and has been imprisoned in Russia ever since. Nadiya gave a speech at the court, recorded by Vladimir Shreidler and translated by Voices of Ukraine.
In response to Putin's recent claim on television about what a great job he is doing promoting the Russian language in Ukraine, Savchenko compared that statement to the embargo against her: absolutely no Ukrainian language letters of support are allowed to get past the censor to her.
On the topic of his flattering description of the Russian economy: "If the president of Russia believes, even sincerely, that Russians are well off, he is an idiot. If he expects Russians to believe that they are living well, he is a vile human being."
Savchenko shared her fond memories of the May 9th parades to commemorate "the great Patriotic War," and said that she often thanked the veterans and listened to their combat stories.
However, she added that "It is not possible to deceive people into living in the past." In other words, the remembrance of victory from one particular war cannot be equated with whitewashing how difficult life is today economically. "People see how hard their lives are." She added sarcastically that if the opposite were really true, then "I am happy that you live well in Russia."
"But I see that you are not able to speak freely…. You are living like in the times of the KGB or the repression. I am still a free person, even behind these bars," she said, reaching out to grab the prison bars. "In fact, I am the only free person here. I have the right to speak."
When she was taken to another place under guard, she stated, "I will let you make your own conclusions about what I have said. To all Russians everywhere, I send my greetings."
Nadiya Savchenko is accused of killing two Russian journalists eastern Ukraine. Despite a large body of evidence by Nadiya's defence proving her innocence, the investigation refused to release her or even replace her pretrial detention with house arrest. Nadiya declared a hunger strike in protest, which lasted for 83 days, after which she agreed to take amounts of food in order to sustain her life. According to an affidavit written by a lawyer in international law, Russia commits war crimes by the ongoing detention of Nadiya Savchenko.
Tags: #FreeSavchenko, News, Russia, Savchenko