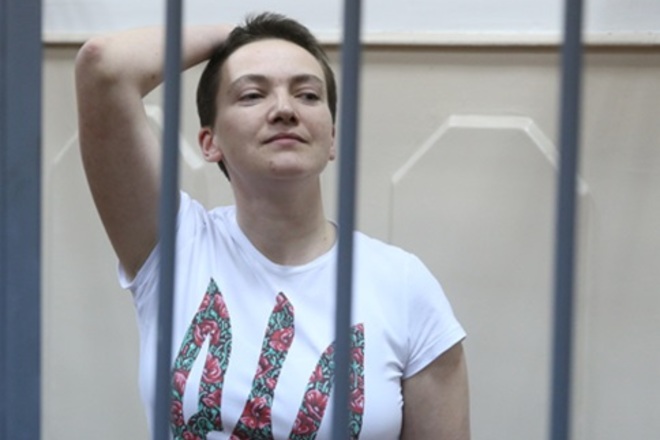 Mark Feygin, the lawyer for Nadiya Savchenko, a Ukrainian POW kidnapped and illegally held in Russia, tweeted her last letter from the Moscow prison where she is awaiting a trial.
Надежда Савченко написала обращение к акции 26 января #FreeSavchenko Распространяйте! pic.twitter.com/K0kWlN4weY

— Mark Feygin (@mark_feygin) January 19, 2015
A translation of the letter:
"Dear friends!
I received hundreds of letters from all over the world on New Year.
I am sincerely grateful to you for your support and for believing in me and Ukraine.
I know that on January 26 you will hold a global action in my support. Brothers and sisters, I don't know if I'll ever be able to thank you enough, but please know that no hunger can scare me now thanks to this strength that comes from you!
Together we are invincible! Ukraine will win! A free Ukraine will prevail!
Glory to Ukraine! Glory to the Heroes!
19.01.2015 Nadiya Savchenko
#FreeSavchenko"
Nadiya Savchenko was captured in Ukraine on June 18 and kidnapped to Russia. She is being accused of multiple offenses, all of which her defense have been able to refute. Starting from 13 December 2015, she is on  hunger strike and has lost 12 kilograms already and counting. In her last letter from prison, Nadiya said that she will not end her hunger strike, or let them break her spirit. On January 26, a global support action for Nadiya is planned under the hashtag #FreeSavchenko. There is a facebook event in the internet called One million tweets to #FreeSavchenko, the aim of which is to raise awareness for Nadiya's case and pressure the Russian government to release her. Savchenko, having been elected an MP to Ukraine's parliament from the Batkivschyna party, was chosen to represent the legislature at the Parliamentary Assembly of the Council of Europe (PACE), the next session of which is to take place on January 26. A petition to PACE President Anne Brasseur, calling to place Savchenko's case on the agenda of the January 26 PACE session is gathering signatures in the internet.
If you wish to participate in setting Nadiya free, please join the January 26 twitter storm and sign the petition to Anne Brasseur!
Tags: #FreeSavchenko, News, PACE, Savchenko