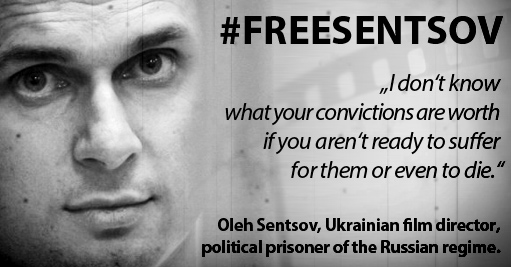 This post is also available in
Russian
Oleg Sentsov is a Ukrainian filmmaker and Euromaidan activist from Crimea who opposed Russia's annexation of the peninsula. He was arrested by the Russian FSB on 11 May 2014, shortly after the Russian occupation of Crimea. Together with three other Ukrainians, Oleksandr Kolchenko, Henadiy Afanasiev, and Oleksiy Chirniy he was illegally transferred to Russia and is being charged in "plotting terrorist acts." These charges are entirely based on testimonies of Chirniy and Afanasiev, both of whom have stated that they were tortured by the FSB. On 31 July 2015, Afanasiev retracted his testimony, leaving the accusation in shatters; yet, Russian prosecutors demand 23 years for Sentsov. Despite more than a year of show trials, Sentsov remains unbroken. Here are are some of his most impassioned words:
On Russian court's attempt to consider him a Russian citizen:  
I was and continue to be a citizen of Ukraine. I do not recognize the annexation of Crimea and the military takeover of Crimea by the Russian Federation. I am not a serf; I cannot be transferred with the land.
From his latest speech at trial in Rostov-on-Don on 19 August 2015:
A court of occupiers by definition cannot be just. Don't take it personally, your honor!

A big betrayal sometimes begins with a small act of cowardice. Like when they put a bag over your head and beat you and after half an hour you are ready to renounce all your convictions and accuse yourself of anything, to accuse others, just so they will stop beating you.
I don't know what your convictions are worth if you aren't ready to suffer for them or even to die.

On Afanasiev, the witness who retracted his testimony as given under torture:
I am glad for him because he will be able to live the rest of his life and know that he is a human being who did not give in to fear even though they continue to threaten him, to pressure him, to kick him, to threaten him. But he already stepped in that direction, made a proper step, and you can't make him go back. I am very glad for him.
Even I — sitting here in prison — know that your troops are fighting in Donbas. Our jails are full of fighters who are sent there — like heroes — on your tanks, with your weapons. They will return, bringing back their weapons, and they will be met at the border and thrown in prison.
There is yet another part of the Russian population that knows perfectly well what is going on. That does not believe in the tales of your agitprop. That understands what is happening in the world — what horrible crimes your leadership is committing."
On Russian propaganda channels:
There, for example, stand the troubadours of your regime, and they are not stupid fellows. They know everything as it is, but they continue to lie. Probably, they also rationalize to themselves: "We have to feed our children; we have to do something." But, guys, what is the point of raising another generation of slaves?
We also had a criminal regime, but we came out against it. In the end, we won. The same thing will happen with you, sooner or later. I wish for you to be governed by criminals no longer.
The only thing I can wish to this third, informed part of the Russian population is to learn how to not be afraid!
Tags: #LetMyPeopleGo, Oleh Sentsov, Op-ed, Political prisoners