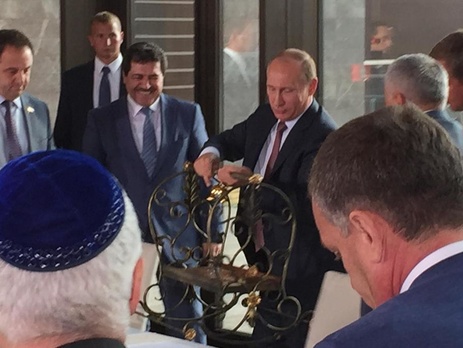 Eskender Bariev, the Coordinator of the Committee on Protection of the Rights of the Crimean Tatar people, member of the Mejlis of the Crimean Tatars, reports that President Vladimir Putin received the "golden cradle", an ancestral symbol revered by all Crimean Tatars. Mr. Bariev deems that this gesture constitutes a blatant insult to the people of Crimea.
The reception was attended by Remzi Ilyasov, Deputy Speaker of the Russian State Council of Crimea, Emirali Ablaev, the Mufti of Crimea, Father Lazar, the Metropolitan of Simferopol and Crimea, Yuriy Gempel, President of the German Community of Crimea, and representatives of other ethnic minorities.
Bariev pointed out that this gift was a blatant outrage and dishonoured the history and memory of the Crimean Tatars, Karaites and all other Crimeans.
"There is a legend about the golden cradle which recounts a fabulous story: when Crimea was attacked by enemy forces, which began wiping out the indigenous population, the people hid the golden cradle in the deep caves of Crimea in order to preserve the culture, the foundations of the nation, and their honour and future. This symbol appears in many literary works of the Crimean Tatar people. It is said that when the Crimean Tatars find this golden cradle, we will see the revival of the Crimean Tatar people and their liberation from the enemy. But, what did we see yesterday? Representatives of the Crimean Tatars who are not supported by most of the Tatars… And what did they do?  They presented our national treasure to the enemy. I say that this is a slap in the face for all Crimean Tatars!" he said.
Bariev added that he was ashamed of the Crimean Tatars who took part in this event, and that they "will be boycotted by the Crimean Tatar community."
"There's been no dialogue, no communication between these people and the community. After this incident, the majority of the Crimean Tatars will refuse to have anything to do with these people, they will not respect these people." he stated.
"Actually, it was Gempel and not Ilyasov who presented the golden cradle to Putin. In his speech, Gempel stressed that they were giving him (Putin) this treasure because – according to the Crimean Legend – whoever owns the cradle owns Crimea and commands the peoples of Crimea." concluded Mr. Bariev.