On 24 August 2015, Ukraine's independence day, Serhiy Malyk will depart on his motorcycle from Kyiv on a 45-day long journey across 28 European countries. Planning to cover at least 22 000 km and 12 seas, the La Manche, Gibraltar, and Dardanelles straits, as well as the Atlantic ocean, he will bring five stones from the geographical center of Europe to its furthermost points, as well as uncover Europe's forgotten Ukrainians.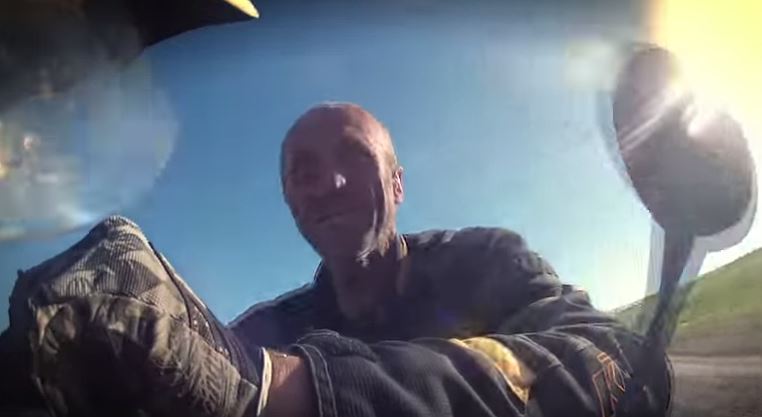 Last time, it was a one-man motor rally along the border of Ukraine, during which Serhiy covered 7923 km in 13 days without technical support, filming the journey on a Go-Pro camera (the video is available in Ukrainian here). That time Serhiy set a Ukrainian record, by no means his first. Serhiy, a sportsman who leads Kyiv's automoto club, had previously taken a racing car of the "Formula" class to the highest elevation in Ukraine (1221 m) during the Formula-3 competition, outraced a L-29 Delfin jet plane over a 1.2 km distance, and set the Ukrainian record for the longest distance traversed on a hot-air balloon (170 km). Now he spends most of his time as a volunteer, delivering supplies to Ukraine's troops in Donbas.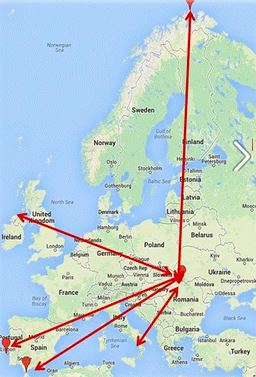 "Wheels of hope and gratitude"
This time, it will be him, his Harley Davidson, and a crew of four journalists that will cover the international voyage for Ukraine's public television service at the First National Channel, which will release 57 TV series in the "documentary diary" format. Meetings with the Ukrainian diaspora and non-Ukrainians are planned along the way, and even a visit to the Pope is in line. Children's drawings and a book about the Heaven's Hundred, the Euromaidan protesters shot by snipers in February 2014 while rallying for a better country, will be Serhiy's artifacts that will help tell about Ukraine, as well as five stones that he will take from the geographical center of Europe in Rakhiv to the northernmost, westernmost, and southernmost points of the European continent: cape Nordkapp in Norway, cape Roca in Portugal, and cape Tarifa in Spain. Ireland and Italy will receive a stone also.
"I had this idea a long time ago, but the war got in the way," tells Serhiy. When fighting broke out between Russian-proxy forces and Ukraine's army in April 2014, he, like many Ukrainians, joined the army of volunteers delivering aid to Ukraine's troops and civilians in the conflict zone. Now he is hoping for the last bits of needed sponsor money to come in in order to start his journey as planned, on August 24. So far, his friends are funding the initiative.
Returning historical roots
"Ukraine has a rich history, but it got thrown overboard of the classical historical PR process. Many made significant contributions to the European countries they were living in, but their stories are either buried, or attributed to Russia," Serhiy explained the reasons behind the initiative via phone from Donbas, where he was on a regular supply-delivering mission. Along the way, they plan to locate and visit the places marked by the participation of Ukrainians in European events.
For Serhiy, right now is high time to uncover these stories. "We don't want to join Europe; we want to return to our historical roots," he stressed. But proving Ukraine's European connection seems equally important: the project description stresses that "we need to prove that Ukraine is a European nation to those that are still in doubt."
Is he doing this for Ukrainians to self-identify as a European nation, or for Europeans to see Ukraine's role in European history? It's 50/50, Serhiy reckons – both are important.
[hr]The trip will be divided into ten stages (the numbers in parentheses are cumulative amounts):
23 hours, Kyiv – Rakhiv – Kyiv – 1140 km
3 hours, Kyiv (UA) – Tallinn (EE) – 2023 km
72 (105) hours, Helsinki (FI) – Stockholm (SE) – 4455 km (6478 km)
30 (122) hours, Stockholm (SE) – Hamburg (DE) – 1068 km (7546 km)
30 (152) hours, Hamburg (DE) – Dublin (IRL) -1329 km (8875 km)
35 (187) hours, Dublin (IRL) – Gavres (FR) – 1902 km (10773 km)
32 (219) hours, Gavres (FR) – Seville (ES) – 2748 km (12521 km)
26 (245) hours, Seville (ES) – Nizza (FR) – 2107 (14638 km)
30 (275) hours, Nizza (FR) – Peskara (IT) – 2278 km (17416 km)
40 (315) hours, Peskara (IT) – Athens (GR) – 2905 km (20321 km)
36 (351) hours, Athens (GR) – Kyiv (UA) – 2251 km (22572 km)
Follow news about the project on the fb page https://facebook.com/ukraine.heart.of.europa and the fb event. Serhiy can be contacted at [email protected], or on fb. The project can be supported financially – please contact Serhiy for details!
The project is looking for a sponsor and is open to advertising proposals