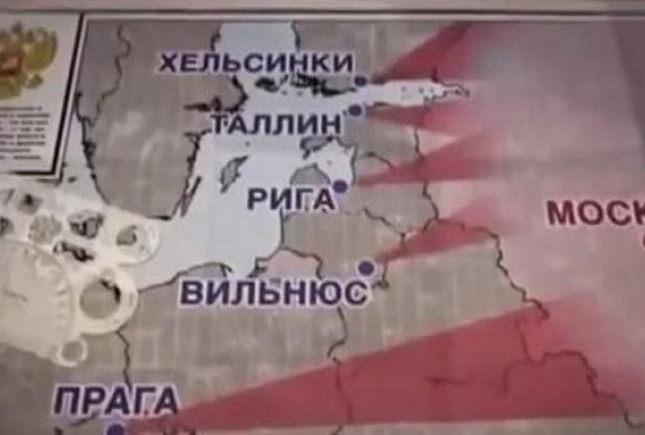 A snapshot of a Russian TV show depicting the future Russian invasion of Europe. More here>>  
Just a few days ago, the Russian Prosecutor General found that the transfer of Crimea from the RSFSR to Ukraine in 1954 was unconstitutional – and now the same general prosecution is going to question the legality of the independence of the Baltic states.
Lithuania reacted quickly, and called it a provocation.
The Baltic states do all they can to prepare their citizens and military for a possible  Russian military provocation. Besides, Lithuania is preparing the grounds to send weapons to Ukraine, and the Latvian military has been instructed by Ukraine on the principles of Russsian warfare.
The question is no longer if Russia will intervene military, the question only is when it will be.
The time is ripe for a Russian move: the support of the Russian president is at nearly 90%,  Europe is ready for summer vacation, and Russia's most important negotiation partner Germany has far more stakes in Greece (some 80 billion Euros) than in the Baltic states (the crashing of NATO which Germans do not support).
Tags: Baltic Sea, Estonia, International, Latvia, Lithuania, Russia