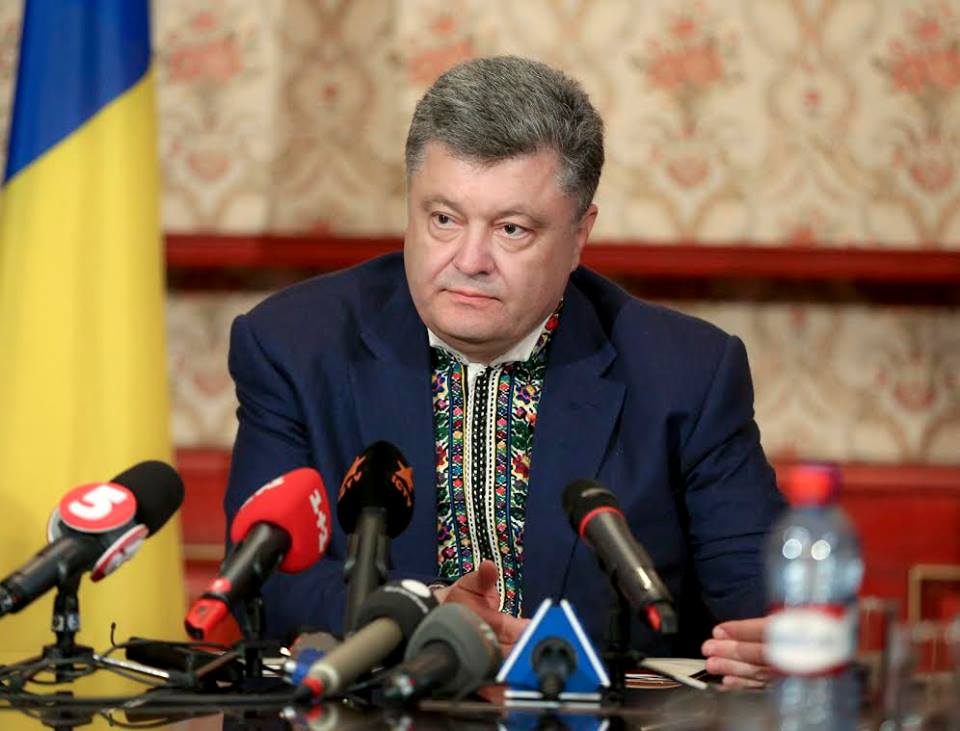 The Ukrainian language has been and will be the official language of Ukraine, and all attempts to use the language issue to split the country are doomed to fail, President Poroshenko told participants at the ceremony honoring winners of the 15th Petro Yatsyk Ukrainian Language International Competition held at the Ivan Franko National Academic Drama Theater in Kyiv on May 26.
He emphasized that language has become a unifying factor in the country. "Despite the fact that the citizens of Ukraine have spoken various languages and have different ethnic backgrounds, they have decided that all their children will learn Ukrainian," he said.
"In Ukraine there always was, is, and will be only one official language — the Ukrainian language that belongs to you and me. And the Revolution of Dignity and the fight against Russian aggression have revealed the price of the nonsense that has been used to dissuade our country from this decision," he added. "I can say this with complete certainty because the social accord on the language issue has always been remarkably stable."
According to Poroshenko, this decision is the result of a profound social consensus that is not subject to manipulation.  "What is it that unites our people, country, nation now? Language … and this has not been the result of politics. We have taken a long look at the manipulations of these self-appointed defenders of minority languages and their cynical manipulation of the Europeans charters, but this will not be able to split our society," he said.
"Neither poor decisions nor political gambles have managed or will manage to divide our society. After all, our peace and unity are the results of a profound social consensus. The young have made their choice and have demonstrated it openly — including in this competition. From Lviv to Luhansk, from Chernihiv to Crimea — in certain places loudly, and in other places more quietly — but everywhere the Ukrainian language can be heard more confidently, the language of an independent, sovereign European state, " he said.
Poroshenko emphasized that the most important aspect of this process is the fact that it is not directed against the options of those who speak other languages but instead complements them because it contributes to national unity.
"A single nation, invincible," he added, calling the aggression against Ukraine and the annexation of Crimea attempts to stop this process. "But people have made their choice and they are prepared to protect it from pressure," he said.
The president noted that throughout the ages Ukrainians have passionately defended their native language. The defenders included the nation's most gifted sons and daughters — Taras Shevchenko, Ivan Franko, Lesia Ukrainka — and Ukrainians today remember and protect their teachings.
"This year has shown that Ukrainians are worthy descendants of those who fought against various circulars and decrees used by different empires to deprive our people of their language — in other words, their soul. And we know everything that they taught us  because we speak with them in one Ukrainian language, he said.
The president congratulated this year's  contest winners and expressed confidence that the inexhaustible intellectual potential of young Ukrainians and their creative energy will pave the way to the renewal of the country.
"I am certain that it is the younger generation, fluent in dozens of languages and with a deep love of their own Ukrainian language, that will confidently join the European home as its integral, powerful component," he said.
The winners of this year's Petro Yatsyk competition (over 70 people) represent almost all regions of Ukraine. Fourteen winners will receive the presidential scholarship during the new school year. Others will also receive prizes from Maryna Poroshenko, the Ukrainian World Congress, the European Congress of Ukrainians and other international philanthropists and charities.
Previously Poroshenko said that it is the status of English not Russian that is important in Ukraine, arguing that the second language taught in schools should be English because there is a correlation between the wealth of a country and the degree of English mastery of its citizens.
Tags: News, Petro Poroshenko, Ukrainian language