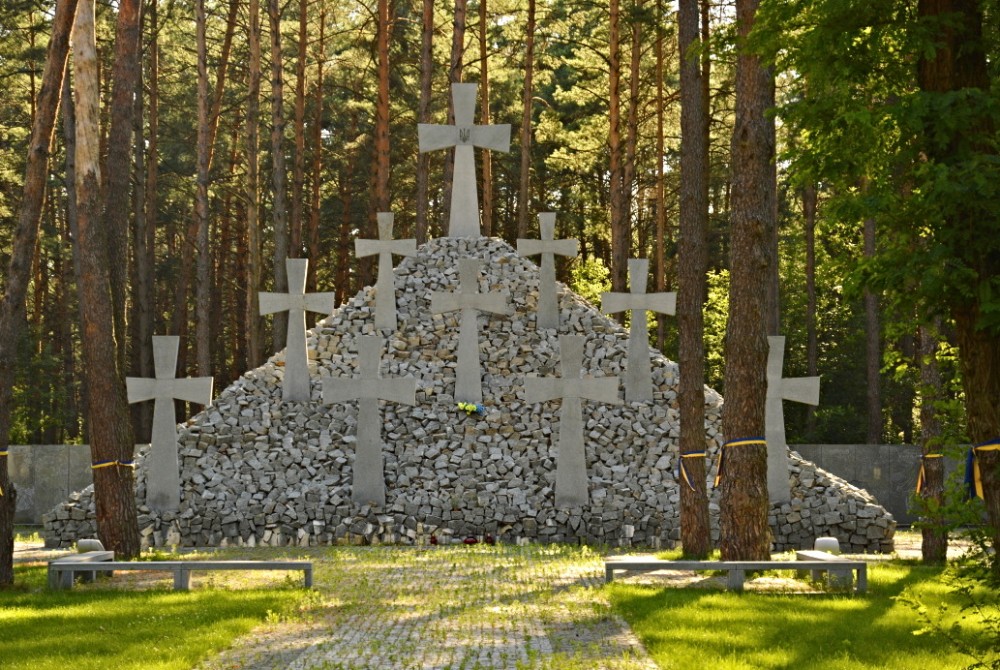 President Poroshenko called on all those who oppose decommunization to come to the site of mass graves in Bykivnia to "hear the cries of the victims of communist terror."
Poroshenko made his comments on May 17 at the Bykivnia Graves National Historic Memorial during Day of Memory commemorations for victims of political repression.
"I recommend that those who oppose decommunization come to Bykivnia and hear what the victims of communist terror are crying out for," he said.
According to Poroshenko, in Bykivnia "they were not killing the enemies of the people — they were killing the entire nation that they had not had time to destroy during the Holodomor… The Executed Renaissance of Ukraine is buried in Bykivnia — more than 100,000 innocents killed," he said.
"This term (Executed Renaissance) that was once used for a group of repressed writers, artists, historians and philologists can be extended to all those who died in the cellars of the GPU-NKVD (intelligence service and secret police of the USSR — Ed.), in prisons and concentration camps," he added.
Poroshenko emphasized that the GPU-NKVD "is a structure much like the SS Gestapo."
"They adopted the criminal experience of each other, perfecting the techniques of mass destruction of their victims. It was a plague and is a plague, whether red or brown," he said. "Ukraine remembers! We have no right to condemn the murderers ourselves. But the murderers of our people will have to answer in this world or the next," he said.
"We came today to the Bykivnia grounds to honor the ashes of the innocent victims, our ancestors. As we pray for their souls we swear to the living that we will never again allow another red or brown genocide against the Ukrainian people," he stated.
Poroshenko noted that the Bykivnia graves are the living testimony of communist terror, irrefutable proof of crimes against humanity that are on the same scale as those committed in Katyn, Auschwitz, Buchenwald, Babyn Yar or Solovki (notorious Russian and Soviet forced labor camp) .
"Isn't it time to finally cleanse Ukraine of the symbols of the regime that destroyed millions of innocent people? Repressions, deportations, famines.  There was no method that the totalitarian Soviet machine did not resort to in order break the spirit of the freedom-loving Ukrainian people," he said.
"Ukraine must thrive and prosper in the name of those whose blood served to write the history of our country," he concluded.
Participating in the ceremony together with the president were Prime Minister Arseniy Yatseniuk, Kyiv Mayor Vitaliy Klitschko, foreign ambassadors and representatives of the public..
Note: Bykivnia Graves National Historic Memorial is located on the site of the Bykivnia village in a wooded area on the outskirts of Kyiv. During the Stalinist period the Soviet secret police used the area to dispose of thousands of executed "enemies of the Soviet state." It is estimated that some 100,000 – 200,000 victims are buried here.
Tags: Crimes of the Soviet communist regime, Decommunization in Ukraine, News, Petro Poroshenko, Soviet state terrorism