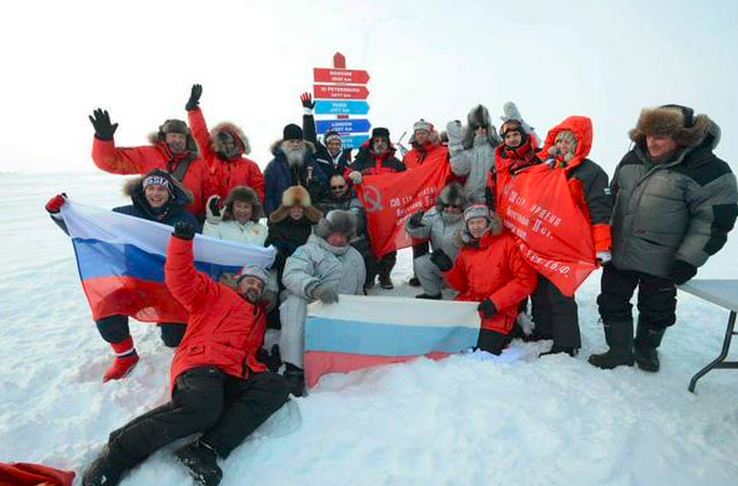 Soviet and Russian flags raised above the North Pole. From Dmitri Rogozin's twitter 
Russia is continually testing NATO and the European Union by now – be it with constant military activities (especially in the Baltic Sea) or in maintaining political relations with many European politicians and states with the goal to split the EU in order to prevent further sanctions and weapon deliveries to Ukraine.
Right now, the planned drive-through of the Russian bike gang "Night Wolves" from Moscow to Berlin is a major issue in all eastern European countries affected. Even Polish Prime Minister Ewa Kopacz and Czech Prime Minister Bohuslav Sobotka – who are not known for their public condemnation of Russia's aggressive steps (to put it mildly) – called it a provocation. The ride shall be the Russian regime's answer for NATO's recent "Dragoon Ride" through eastern Europe.
The "Night Wolves" are a perfect example of Russia continually expanding and "innovating" its hybrid war methods.
They even have more to offer: A few days ago, something extraordinary happened – European politicians and main stream media (concerning the German-speaking press only the Austrian Der Standard had an article on the affair) were so stunned that they decided to just ignore the incident.
What happened? On 18 April 2015, Russian Deputy Prime Minister Dmitry Rogozin arrived on Svalbard – also known as Spitsbergen – that is under Norwegian sovereignty, most likely by a charter aircraft. Rogozin is in charge of the Russian defense industry and reportedly head of Russia's State Commission for Arctic Development. Additionally, Rogozin was an ambassador to NATO from 2008 until 2011 in Brussels (So, he also knows the environment of the EU bureaucracy very well).
Given Russia's expansionist claims, the moves of a person with such a background should be closely monitored (where are the western intelligence services?). Even more as Rogozin is on the EU-sanctions list, and also blacklisted by Norway. This means, authorities have to ensure he does not enter the respective territories. But he just did that. BarentsObserver wrote that Norwegian authorities were not aware Rogozin appeared on Svalbard.
The tricky thing is that the Svalbard Treaty of 1920 allows Russia to maintain commercial (i.e. mining) operations including residential rights. Rogozin headed from the main setttlement Longyearbyen to the Russian-Ukrainian mining town of Barentsburg. At the same time, a vessel group headed by the Russian Northern Fleet's "Severomorsk" was conducting anti-air and anti-vessel drills in the Norwegian Sea (he probably was also briefed on that).
Rogozin and the Arctic commission's members then went ahead and opened the new Russian drifting ice-station North Pole-2015, and then flew to the geographical North Pole. On this occasion Rogozin tweeted: "the Arctic is the Russian Mecca".
Арктика – русская Мекка pic.twitter.com/79Eh4aSkpR

— Дмитрий Рогозин (@Rogozin) April 19, 2015
Russia is militarizing its Arctic frontier since several months: It is constructing ten Arctic search-and-rescue stations, 16 deepwater ports, 13 airfields, and ten air-defense radar stations across the Russian Arctic coast as Business Insider reported. They remarked NATO was divided concerning its role in the Arctic, but NATO-member Norway considered itself a leader in promoting NATO's role in the Arctic.
There was no official NATO response to Russia's provocation in Norway. This has to be taken very seriously. Seemingly, NATO does not consider Svalbard a territory NATO has to take care of, and has no answer to Russia's actions on the North Pole.
All Norway could do was to summon the Russian ambassador (under sarcastic comments of the Russian media and politicians).
The EU also failed the test. Norway is not a member of the European Union, but it has followed the EU on the sanctions against Russia. A breach of the de facto common sanction list would definitely require an official statement of the EU. But this was not done, and the sanction's list ridiculed.
The incident underlined again that the EU is only a minor player in the game with Russia (and that EU bureaucrats live in their own world). More importantly, it has shown to the Russian leadership that NATO – despite of the promise given to its members to study and tackle hybrid warfare – is not ready to counter hybrid warfare.
Guess where Russia will test next NATO's resolve…
Tags: International, Military analysis, NATO, Norway, Rogozin, Russia