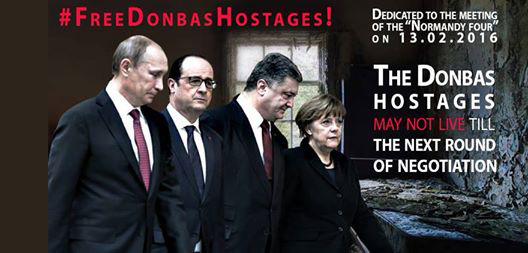 As politicians of France, Germany, Ukraine, and Russia meet in Munich to discuss the implementation of the Minsk peace deal, remind them that Minsk means freeing Donbas hostages.
[mwm-aal-display]
English
The Minsk-2 agreements were signed one year ago. They were supposed to stop the fire between the Armed Forces of Ukraine and the militants of the "Donbas republics" which were created by Russia. After this, captive soldiers and civilians should have been freed in Donbas immediately.
But till this day, 140 people are imprisoned in the dungeons of Donbas republics, according to official data alone. In reality, their number is much higher and grows each day. Among them are journalists, researchers, volunteers, even pregnant women. They are being tortured and executed, every day may be their last. According to the Coalition for Peace and Justice in Donbas, 86% of soldiers and 50% of civilians are tortured in the dungeons of Kremlin's puppet "republics" in Donbas.
On 12 February, remind the politicians of the Normandy Four that human lives can't be subject to barter:
Sign the petition: bit.ly/free_petition
Join the event & invite your friends: http://bit.ly/freedonbashostages
Take part in the twitter storm by clicking the links below:
Other languages:
Read more:
Українська
Рік тому відбулося підписання Мінських домовленостей. Вони мали зупинити вогонь між збройними силами України та бойовиками "донбаських республік", які були створені Росією. Після цього мали невідкладно звільнити всіх військових та цивільних заручників на Донбасі.
Але досі в полоні бойовиків на окупованій території тільки офіційно знаходяться 140 людей. Насправді, їх кількість значно більша, і зростає. Серед них журналісти, вчені, волонтери. Навіть вагітні жінки. Їх катують та страчують, кожний день може стати їх останнім. Відповідно до коаліції «Справедливість заради миру на Донбасі», 86% солдат і 50% мирних громадян зазнали тортур у в'язницях кремлівських маріонеточних "республік" на Донбасі.
12 лютого, нагадайте політикам "норманської четвірки", що людські життя не можуть бути предметом торгу.
Підпишіть петицію: bit.ly/free_petition
Приєднайтеся до події та запросіть друзів: http://bit.ly/freedonbashostages
Візьміть участь у твітштормі, поклікавши на лінках нижче:
Читайте ще: 
Tags: Act!, Archive, Donbas, Help Ukraine, International, Minsk