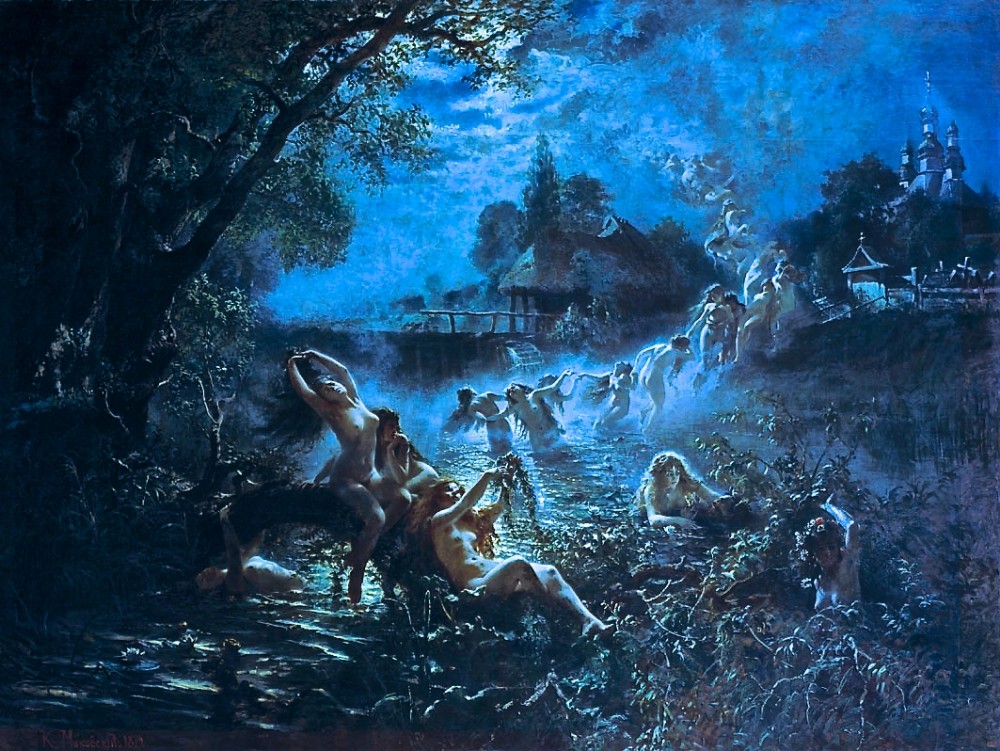 Sunday April 26, 3:00 pm at Ukrainian Academy of Arts and Sciences (UVAN) N.Y. 206 W 100 St (near Bway) New York City. (212) 222-1866.
My main goal was to recreate in English the musical elements of the original Ukrainian, including all rhymes and internal rhythms and elements. The lyricism and emotional power of Ukraine's greatest poet will be represented by my translations of "the River Sprite" (Русалка), "The Silken Scarf" (Хустина), "The Drowning" (Утоплена), "Kateryna" (Катерина) and other poems. These poems deal with the rich Ukrainian folklore (witches, mermaids-rusalkas, potions, the drowned returning), historical battles, and Shevchenko's meditations on his his sufferings during his enforced exile and his early years as a serf.
A slide show to set the mood will accompany each reading.
Excerpt from my translation of "Rusalka" (Русалка):
"The River Sprite" – translation by Adrian Bryttan
In a mansion grand and high

I came into this world and cried,

My mother bore me to the river

To bathe me 'neath the black night sky.

Washing me, she whispered

To her newborn daughter:

"Swim, swim, my little one

With all the Dnipro's waters."

"Tomorrow as a river sprite

Rise from the deep in dead of night.

By moonlight I will dance with him…

Tickle him, give him a fright."

"Yes, tickle him, my precious heart,

So he'll not laugh nor wink

To mock my maiden years…

Like a drunkard, may he drink

No more my crimson tears,

May this river blue

Now quench his thirst!…  he'll dance

With you, my daughter, you!"

"Swim, swim, my only child…"

"O waves, my waves that roll and glide,

Greet now your latest river sprite!"

Aloud she cried…

And fled… So I did slide

And slip along the stream

Till my new sisters surfaced soon,

Enfolding me as in a dream.

 

For seven nights we sister sprites

Our midnight revels played,

I searched to espy my father

Near the river every day.

"Perhaps they're reunited

In the lofty mansion there,

Perhaps she's lost in sweet delight

Once more, my sinful mother dear?"

The river sprite grew still…

Then darted like a little fish and fled…

While voiceless at the water's edge,

A weeping willow bowed her head…

 
In 2005-2006 I was a Fulbright Scholar in Ukraine and conducted professional operas and symphonies and taught at musical conservatories throughout the country. An outgrowth was my translations of operas by Mozart and Puccini into Ukrainian. I later conducted "Gianni Schicchi" and "Suor Angelica" showcasing these translations in the Dnipropetrovsk Opera Theater in Ukraine in 2007.
While translating these operas, I was delighted to discover many surprising similarities between Italian and Ukrainian, not just in individual words but even in basic grammatical structures. My experience gained in creating singable operatic translations with all their accuracy of meaning, intelligibility and flowing rhymes led to this project to translate Shevchenko. The Ukrainian bard's lyrical and compact style is noted for many musical elements in the crafting of his sounds, and his sophisticated inner rhythms. To translate Shevchenko in such a faithful manner was quite complex, but ultimately most rewarding.
Tags: Shevchenko translation, Taras Shevchenko, Ukraine, UVAN