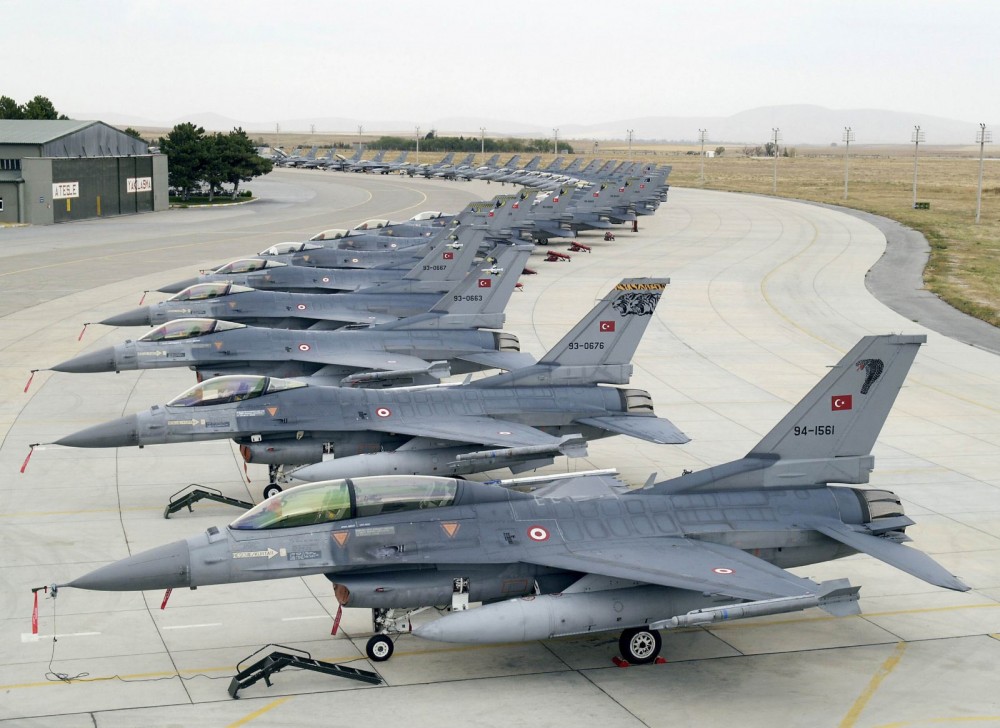 An F-16 wing. File photo: Turkish Air Force 
Just like Finland, Bulgaria is safe from war, but not because of the strength of its Armed Forces: Russia believes it can bribe Bulgaria to switch sides. Bulgaria is the prime example of how Russia uses a mix of economic, criminal, propaganda, and intelligence strategies to undermine a democratic government.
The most obvious attempt to corrupt Bulgaria was Russia's obsession with building the commercially idiotic South Stream gas pipeline across the Black Sea. The only reason Russia literally wanted to sink € 10 billion into the sea was to give it economic leverage over Bulgaria. Additionally, South Stream, by bypassing Ukraine, was meant to increase Russia's blackmail options against that nation and to advance Russia's corruption of Greek, Serbian, Hungarian, and Austrian politics and economies by piping gas through these nations.
Luckily the European Commission insisted that it would never exempt Russia's Gazprom from European Market rules, which would have required Gazprom to allow third-party gas producers the use of South Stream. Playing by the rules made the South Stream project uninteresting for the Russian regime since the intended corruption of Bulgaria and other EU countries thus became impossible. Consequently, Putin dropped the project on 1 December 2014.
With Russia's Plan A foiled, Putin has approved the expansion and acceleration of Plan B, which calls for straw men with EU citizenship to buy up key assets of the Bulgarian economy: newspapers, TV-channels, banks, even ammunition factories are being bought by Westerners acting as straw men for shady Russians sanctioned by the EU for their direct involvement in financing and fanning the war in Ukraine. Usually Russia operates with more care, when corrupting EU members, but after South Stream failed Russia was in a hurry and journalists managed to uncover the charade.
The buying of strategic assets is made possible by the free and open EU markets and Russia's use of EU citizens as straw men. Once again Russia abuses our free markets and our democratic systems to infiltrate our nations. This must be stopped. Bulgaria's government should block the sale of strategic assets to Russia, and the EU should help Bulgaria strengthen its media laws to ensure Russian ownership of television channels will not result in unbridled propaganda.
Russia will also increase its propaganda aimed at Bulgarians massively. Most propaganda will focus on how Russia "won" Bulgaria's independence in the Russo-Turkish War of 1877–78, which was just one of twelve Russo-Turkish wars fought by the Czars to expand their empire. Having seen how Russia abuses other nations' national myths to create pro-Russian propaganda films, as e.g. the atrocious anti-Ukrainian Taras Bulba movie in 2009, I expect Russia to produce a film about the aforementioned Russo-Turkish War of 1877–78 soon. Such propaganda movies should be banned in the EU.
Russia will also increase its criminal and intelligence infiltration of Bulgaria, which both fall under the tasks of Russia's FSB. Just like in Greece, Serbia, Cyprus and Montenegro, Russia will use a mix of dirty money, corruption, bribes, economic investments, cooperation with the local mafia, and classic intelligence work to infiltrate and then weaken state institutions. Therefore Bulgaria's focus must be to improve and expand its anti-mafia and counterintelligence capabilities. Ideally other European nations and the American FBI will help Bulgaria in this field. Additionally, the United States should vastly expand its military presence in Bulgaria.
Currently the US Army is allowed to train up to 2,500 troops at a time at the jointly administered Novo Selo Range and use the Aitos Logistics Center to store equipment, while the US Air Force is allowed to use the Bezmer and Graf Ignatievo air bases for strategic transport. This year the American-Bulgarian defense agreement will renew automatically for another 10 years, but the US and Bulgaria should agree to permanently base US forces in Bulgaria. As a Russia gone completely mad is the only military threat to Bulgaria, all danger to Bulgaria emanates from across the Black Sea. Therefore there is no need to base US ground forces in Bulgaria, which should instead be based in Romania and Poland.
What truly would help strengthen the defense of Bulgaria, would be to move a US Fighter Wing with two squadrons of F-16C Block 50/52 fighters to Bezmer Air Base. Additionally the US should equip the Bulgarian air force with 24 used American F-16C/D Block 40/42 fighters as replacement for Bulgaria's atrociously outdated Su-25 and MiG-29 jets. Block 40/42 fighters can be upgraded in Türkiye via the US licensed Common Configuration Implementation Program to Block 50/52+ fighters, which is the F-16 variant flown by all of Bulgaria's NATO neighbors: Greece 123 F-16C/D Block 50/52+ (and 32 F-16C/D Block 30), Türkiye 217 F-16C/D Block 50+ (and 25 F-16C/D Block 30) and Romania 12 F-16AM/BM Block 15 MLU, which is a variant of the F-16C/D Block 52, but with a weaker engine. Basing an American F-16 wing in Bulgaria and helping Bulgaria to field an F-16 wing would provide NATO's Allied Air Command (AIRCOM) with 48 fighter jets capable of defeating all Russian air and naval attacks against Bulgaria and Romania.
While the aforementioned move of a US fighter wing to Bezmer will benefit Bulgaria most, it would also be an excellent strategic move for the US: by having a permanent base with all the needed infrastructure, support personnel, fuel and ammunition storage, maintenance crews, etc. at Bezmer, the US Air Force can strike all Middle East countries either directly with F-16 fighters based at Bezmer or with heavy bombers, which would be refueled by KC-10 or KV-135 aerial refueling aircraft based temporarily at Bezmer.
As for the Bulgarian Navy, there is not much need to expand it. Russia's Black Sea fleet is much stronger than Bulgaria's fleet, but American/Bulgarian F-16 fighters equipped with the newest AGM-84L Harpoon anti-ship missiles, and helped by the excellent and well-equipped Turkish air force can sink the entire Black Sea fleet in minutes if it ever comes close to NATO shores. Additionally Türkiye's Navy with its 13 submarines, 16 frigates and 14 corvettes is the strongest naval force in the Black Sea. And with quickly available Greek, French, Italian, Spanish, and American naval reinforcements, the only way Russia can save its rusty ships is by hiding them deep in Sevastopol Bay under the protection of the two S-300 anti-air missile regiments Russia has moved to the occupied Ukrainian peninsula of Crimea.
Therefore the only action to be undertaken in regards to naval forces should be to have the US Navy establish a Naval Support Activity (NSA) base at Constanța in Romania. Unlike the US Army and the US Air Force, the US Navy already has a base in Romania, namely the Naval Support Facility (NSF) Deveselu. NSF Deveselu is part of NATO's ballistic missile defense (BMD) system based on the American Aegis Ashore BMD system. Adding a NSA base at Constanța would allow the US Navy to deploy destroyers and cruisers to the Black Sea and maintain, fuel and arm them at Constanța.
Last but not least, before turning to the Bulgarian Army, there are two more weapon systems Bulgaria should acquire for its Navy and Air Force: namely, three additional Eurocopter AS565MB Panther anti-submarine warfare helicopters and a modern air defense system. Almost the entire Bulgarian air defense inventory is junk that needs to be scrapped. The sole exception is the S-300P system, which Bulgaria should donate to Ukraine; just as it should donate its Su-25 and MiG-29 jets as soon as the F-16 jets arrive. As Bulgaria's only open flank is towards the Black Sea, buying two battalions worth of Norwegian-American NASAMS 2 will be enough to defend its airspace against Russian air attacks.
But now to the Bulgarian Army, which is equipped entirely with Soviet junk. Truly, everything needs to be replaced. However before doing so, Bulgaria should restructure its army: the 2nd and 61st Mechanized Brigades should both lose the air-defense battalion and turn one of their mechanized infantry battalions into a reconnaissance battalion, while the 4th Artillery Regiment should be expanded into a light infantry brigade, which should include the airborne, mountain and independent infantry battalions of the Bulgarian Army. After the restructuring, Bulgaria would field a heavy mechanized, a medium wheeled mechanized, and a light infantry brigade, all structured in the same way as US Army brigades.
Along with the restructuring Bulgaria should move the entire wheeled mechanized brigade to its coast, with the light infantry and mechanized brigade remaining in the center of the country, where most of Bulgaria's army is currently clustered around Plovdiv and Karlovo. Afterwards Bulgaria needs to buy everything for a modern army: main battle tanks, tracked and wheeled infantry fighting vehicles, modern artillery, anti-tank guided missiles, man portable air-defense systems, modern mortars, a new standard assault rifle, etc. etc. etc.
Luckily for Bulgaria there is no need to rush the modernization of its army as none of Bulgaria's neighbors threatens Bulgaria ,and Russia for now thinks it can corrupt Bulgaria to join its side. As long as Russia believes in this mirage, Bulgaria should strive to receive American F-16, while upgrading its land forces and vigorously fighting Russia's criminal, economic and intelligence invasion with improved national institutions. The only problem for Bulgaria is that its budget deficit is already at -3.0%, which is the limit allowed by European Union rules. However as personal and corporate income taxes are set at just 10%, Bulgaria should increase both modestly and make clear that the entire money raised this way will be used to improve its military preparedness.
In the greater geopolitical game Bulgaria, along with Türkiye, Romania and the EU should invest heavily into speeding up construction of the Trans-Anatolian gas pipeline (TANAP) and finally building the Trans-Caspian (TCP) and Nabucco-West gas pipelines, thus connecting Europe's gas market to the massive gas fields of Azerbaijan, Turkmenistan and Kazakhstan. Besides massively reducing Europe's dependency on Russian gas, these pipelines would free Kazakhstan and Turkmenistan from having to export their gas through Russia and Iran, respectively, and would allow Europe to connect to Iraqi, Iranian, Kuwaiti, Saudi Arabian, Qatari, Bahraini, and UAE gas fields in the future. After that, Europe would be completely independent of Russian gas imports, with the added benefit that as soon as the Trans-Caspian and Nabucco-West pipelines commence construction, all gas deals Putin offers Hungary, Türkiye and Austria will go nowhere.
But while Finland, because of its strong military preparedness, and Bulgaria, because of its location and Russian-imagined "brotherly connection" to Russia, are safe from Russian attacks, Romania is an entirely different case: Russia has no imperial designs towards Romania, and Russia's nationalist leaders do not care about Romania at all, but Romania is preparing to attack and destroy Russian forces in Ukraine.
Next: Why Romania will fight Russia
Tags: Black Sea, Bulgaria, Military analysis, Putin, Russia, Russia's confrontation with the West, Russian military threat, Russian Navy, Ukraine, USA