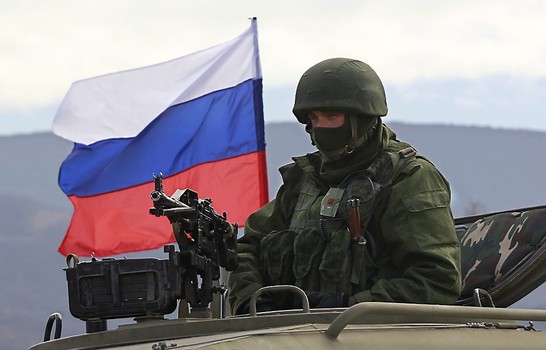 A soldier of the Russian occupation force atop an IFV in Crimea. (Image: epa.eu) 
Russia's Age of Cynicism: Putin shamelessly lied to the world about Crimea, and now proudly admits it in new film. 
Only a few short months into the year, and 2015 is already turning out to be a year of sobering realities about Russia. International relations with Russia seem to have taken on an atmosphere frighteningly similar to scenes from Leviathan, Russia's award-winning film depicting the stark unrelenting reality of beating one's head against the wall of a regime of corruption, lies and violence. We've watched the war in east Ukraine escalate despite world leaders pulling all-nighters in Minsk. We've seen ordinary citizens, even mothers, arrested for treason under the most tenuous of circumstances, while at the same time, anyone not supportive of Putin is deemed unpatriotic, even traitors. We watched Russian opposition leaders and their families being harassed, jailed, and even killed, most notably the brazen assassination of former Deputy Prime Minister Boris Nemtsov at the foot of the Kremlin just weeks ago. The usual suspects were rounded up, official "versions" disseminated. Then Putin inexplicably disappears for nearly two weeks, and the rumors of his demise turned out to be premature. He's back and all seems to be back to normal. Russia's new normal, that is. Putin's political colleagues even hosted Europe's fringe far-right in St. Petersburg over the weekend. 
Not only is Putin back as Russia's supreme leader, but he is now seemingly an even more heroic Putin, having starred in his own film, Crimea: Path Homeward.  Ostensibly this film is a documentary reconstructing the dramatic and glorious events leading up to the reunification of the Crimea peninsula with Mother Russia. The slick and engaging film, complete with action-film graphics and soundtrack, undoubtedly serves multiple purposes. For Russia and Ukraine watchers, however, this film turns out to tell us more about Putin and today's Russia than merely the story of territory changing hands. The very title of the film Крым: Путь На Родину makes us think of Putin with its clever and alliterative first word, Путь, "path" in Russian, which also happens to be the sound of the first syllable in the name Putin. This film is indeed about Putin. Interspersed throughout the many dramatic scenes are clips from an interview with Putin, one in which he openly confesses Russia's role in seizing Crimea. Think about that for a moment. The President of Russia, Vladimir Putin has now come out with the "true story" of his victory in Crimea, and with it, we now know that each and every appearance and official announcement from the previous year concerning Crimea was a big lie. What do we make of such mouth-dropping admissions? 
Oleg Kashin, a prominent journalist and prolific political commentator (who himself survived a brutal bludgeoning in 2010 for his work covering Russia's opposition) has given us his assessment of Putin's admissions. Kashin has been watching events in Crimea since the crisis began last year, and reported from the peninsula last March. Kashin has also been an outspoken critic of Russia's Ukraine policy, and considers Crimea's annexation to have been an illegal seizure from Ukraine. He's published many articles on Crimea in 2014 (here, here, and here). In a commentary on March 17 for German newspaper Deutsche Welle, Kashin argues that Putin's reputation will suffer no damage for his bold admissions. To the contrary, he says, Putin's authority grows stronger because of them. Kashin calls this the height of cynicism which has now quite clearly become the foundational principle of Russia's regime today.
The official Russian narrative prior to the release of this film was, of course, that there were no Russian troops in Crimea. Everyone saw troops, thousands of them, they spoke perfect Russian; yet Putin and Russia's media insisted over and over again, these were not Russian troops. Western media played along too, repeating the Kremlin's assertions that there was no proof of Russian troops in Crimea. The troops even became an internet meme of "polite little green men," named for the green camouflage uniforms suspiciously missing any insignia. Putin went so far as to offer a seemingly off-the-cuff suggestion/explanation that anybody could have gone out to a store and bought those same uniforms. So, they might have looked like Russian troops to you and me, but they were definitely not Russian troops, we were supposed to conclude. Regarding the Referendum, the official statements were that Russia had only annexed Crimea after the people of the peninsula voiced their true desire to be part of Russia in "a popular and fair" Referendum of March 16, 2014. 
A year after those momentous events were celebrated with the requisite pomp and circumstance in an Annexation Ceremony in Moscow, Putin now backtracks bigtime. He says the decision to "return" Crimea to its rightful historical owner, Russia, was made personally by him. Oh, and by the way, he adds, this decision was made even before Viktor Yanukovych fled Kyiv as president of Ukraine. As if all that wasn't enough, Putin reveals in the film that Russian paratroopers, marines and special forces were brought into Crimea to "prepare for the Referendum." We all remember those disturbing images of voting places surrounded by armed gunmen. 
Kashin wonders, perhaps Putin might be unaware of the potentially devastating consequences making such confessions could have on his grip of power in Russia. 
Each of Vladimir Putin's admissions is worthy of being considered sensational: not only is he denying his own words, uttered by him many times since last spring, but he is also denying the entire official Russian version of the annexation of Crimea. Could it really be that he does not understand that these sorts of admissions threaten his authority? 
Kashin helps us understand how scandalous such admissions truly are with an historical thought experiment. 
Imagine that a year after the annexation of Lithuania, Latvia and Estonia to the Soviet Union, Stalin gives an interview to Ilya Ehrenburg and tells him, it all started with the fact that Hitler and I agreed to divide zones of influence in Europe, and then we brought in the Red Army, arrested two presidents (would have arrested a third, but he managed to escape), established a dictatorship of Moscow emissaries, under whose control we held fictitious parliamentary elections, and these fictitious parliaments were approved into Moscow's written decisions to have them join the USSR. 
Of course, we know today that all of this is exactly what happened in World War II and its aftermath in the 20th century: the agreement with Hitler, the Soviet occupation and the sham elections. But these truths were taboo to even mention during Soviet times. The Soviet regime had one and only one official version, that Baltic workers and peasants overthrew their bourgeois government, established a Soviet government and called in the Red Army for assistance. Soviet ideology reigned supreme, even if it had no relation to reality. At least the ideology stayed pure, if only in theory. In fact, diverging from the ideology was seen as undermining the very foundation of the state. 
The Soviet Union was never, under any circumstances, prepared to admit that it behaved like a commonplace imperialist aggressor State. This would have meant the collapse of the State's ideological foundations and would have constituted a major shock to the State.
Kashin argues this is precisely the sort of shock Russia experienced in the 1980s from which the Soviet Union ultimately could not and did not survive. So Putin knows exactly what he is doing, Kashin concludes. He knows perfectly well that his admissions about Crimea, however deeply scandalous, will not threaten his authority one bit. Moreover, that Putin can make such admissions in the first place leads Kashin to a stark conclusion: cynicism, not law or morality is the fundamental ideology of Russia today, and, it turns out, stronger than any religion or ideology:
We can safely say that cynicism is the ideological foundation of the post-Soviet Russian state. Cynicism took the place of what was to Stalin and Brezhnev the Marxist-Leninist doctrine. It turns out that such a framework is more durable than any religion or ideology. It is pointless to reproach leaders for lies, broken promises, corruption or irregularities of elections in a system based on cynicism. To the contrary, to lie or steal in this coordinate system is considered prowess, because, firstly, everyone is doing it, and secondly – whoever outplays them all is the one who is right. And it doesn't matter what methods he might have used to get an advantage – he has no moral or even legal restrictions.
Kashin provides further evidence of this cynical ideology with a brief discussion of Russia's judicial system. He points to a remark Putin often makes to his critics: if you don't like something, just take it to court. But Russians understand full well this is untenable and plainly wrong. The courts are useless because Russia's judicial system is anything but independent, and in fact, has been subordinated to executive, and therefore Putin's, power. "But that doesn't mean Putin is wrong. Being right doesn't matter in modern Russia…. The biggest cynic will always be the winner." The more ruthless, even if devious, the better, it seems. This stark assessment truly mirrors the mind-numbingly ruthless and corrupt landscape that so thoroughly oppresses Russia in Leviathan.
Kashin suggests there may be other, marginal reasons for Putin feeling the need to correct the official Crimea narrative. Perhaps it was banal vanity: if the Crimeans had actually decided their own fate in a true referendum, then why should Putin get any credit? Perhaps it was to make sure western or Crimean elites who might have thought they had something to do with the reunion are set straight. In the end, searching for a reason behind Putin's new-found and likely short-lived candor is pointless. He knows that admitting he broke the rules of the game, and even outright lied, will affect neither his reputation nor his approval ratings. "Putin's story of Crimea would have been illogical if we had before us a head of state who understood that demonstrating cynicism could hurt him. However, all 15 years of his power demonstrate that the more cynicism, the more stable the system." [emph. added]
Coming to terms with a Russia whose head of state now openly admits to having invaded a sovereign state and changed its borders by force, and only pretended that ordinary Crimeans made Russia their choice and not the other way around, is the challenge of the year, if not the century. It is far from unreasonable to take Putin's admissions about Crimea and extend them to the current situation in the Donbas in eastern Ukraine, where fighting has destroyed countless cities and villages, and killed over 6000 people, including the passengers of MH17. Putin, Lavrov, Churkin, and the entire official Kremlin spokesmen have stuck to an official line of flat-out denying Russian troops are fighting in Ukraine. The Kremlin version thrust upon the world is of civil war in Ukraine. Russia insists "separatist rebels" are choosing to fight against the new Ukrainian government in Kyiv which resulted, the narrative goes, from an American-backed coup d'etat. Such statements are repeated again and again, worldwide, despite the wealth of evidence to the contrary, including eyewitness reports as well as satellite photos of the amassing of Russian troops and equipment clearly inside Ukraine territory. Much of the international media have unwittingly repeated the Russian version of events as well as the many denials, too reluctant to state definitively the obvious, that the war in Ukraine is Russia's war, with Russian commanders, Russian troops and Russian equipment.
Now that we have Putin's own admissions confirming the truth, and that Russian authorities brazenly and repeatedly lied about their troops in Ukrainian Crimea, only a fool would believe Russian authorities' continuing denials today. As lawyers are wont to ask when they catch a defendant in a lie, were you lying then or are you lying now? I think we all know the answer.
Tags: Crimea, Putin, Russia, Russian propaganda, Ukraine