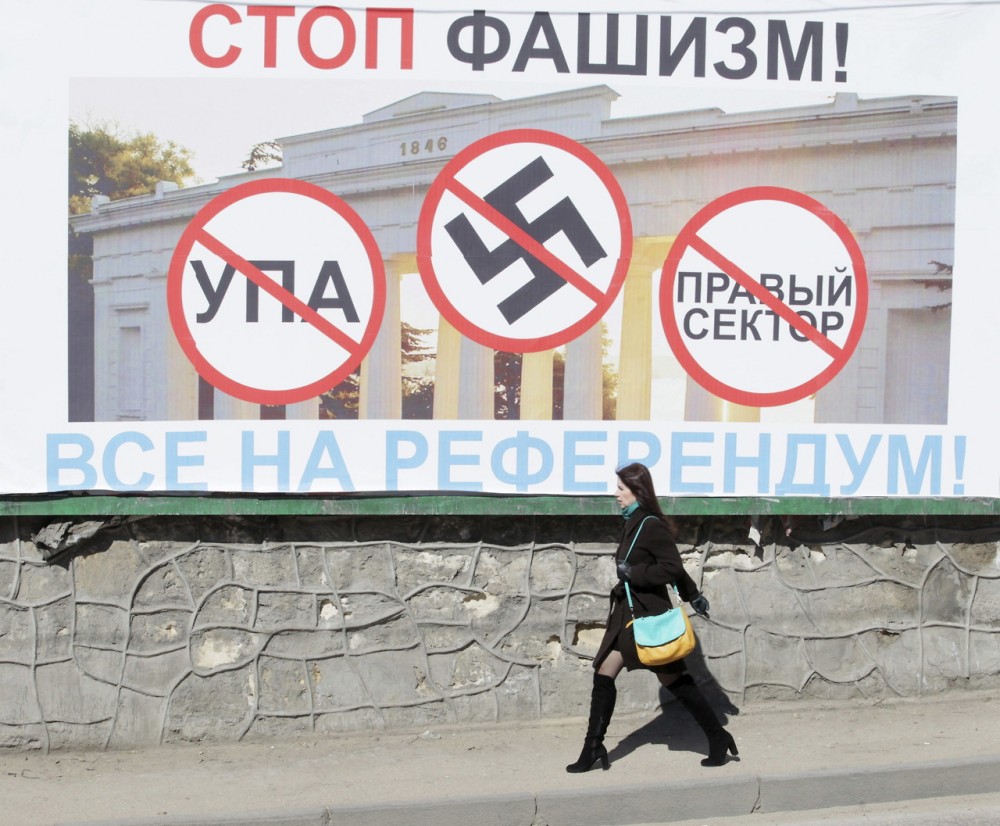 A woman walks past a billboard advertising the Crimean referendum and calling to "Stop Fascism" and to ban the Ukrainian insurgent army and Right Sector 
On 22 March 2015, Russia's party 'Rodina' ('Motherland'), which caucuses with Putin's 'United Russia' party and was formerly led by Russia's Deputy Prime Minister Dmitry Rogozin hosted the Russian International Conservative Forum in St. Petersburg. The event gathered Neo-Nazis, fascists, anti-Semites, and proponents of white supremacy from Russia and abroad, so marginal as to be called "the fringe of the fringe" by Jared Taylor, an American "racial realist." The event provided many savory quotes for observers, highlighted Russia's alarming fascist tendencies, but also raised a question:
How is it possible that this happens in the country that is accusing Ukraine of being run by a "fascist junta"?
fascism – a political philosophy, movement, or regime (as that of the Fascisti) that exalts nation and often race above the individual and that stands for a centralized autocratic government headed by a dictatorial leader, severe economic and social regimentation, and forcible suppression of opposition – Merriam Webster dictionary
Many voices have stressed that Putin's Russia is sliding into fascism of a specific sort. Russia's suppression of dissent, infatuation with a strong leader, exalted nationalism, social conservatism, control over the press and civil society, and state capitalism has earned the title of Putinism. Why is it that we incessantly hear tales of "Ukrainian fascism" coming out from Russian state officials and media?
1. The psychological explanation: maybe it's all a projection of the subconscious
In his essay Putin's Russia is in the grip of fascism, Mikhail Yampolskiy argues that the rapid rise in Russian intolerance toward foreigners and democracy, along with a renewed emphasis on national exceptionalism, all of which are signs of fascism on the rise, are the delayed reaction to the decay of an empire, where weakness, poverty and humiliation lead to something called "projective identification." The inability to change real issues in everyday life makes people associate themselves with a strong leader and an all-powerful group, as a way to escape reality. This is often experienced as a "second birth" with an aggressive masculinity, expressed in violence and war; undesirable negative "feminine" qualities such as liberalism and homosexuality are rejected and projected upon the enemy. Thus, "Ukrainians are systematically accused of fascism, while Russian fascism is displaced by a false idealization of one's own image," Yampolskiy concludes.
2. A "fascist Ukraine" is an easy way to undermine the Euromaidan revolution and create the image of an enemy for Russians
From the onset of the Euromaidan uprising in Ukraine in November 2014, Russia has been accusing Ukraine of being overrun by far-rights. However, the real explosion of mentions of fascism in Ukraine in media happened after Euromaidan's victory on 22 February 2014, when the pro-Russian President Yanukovych fled the country and all hope that the popular democratic uprising would be quenched by force vanished. A google search for the words "Ukraine fascism" in the Russian and English languages reveals that they go hand in hand: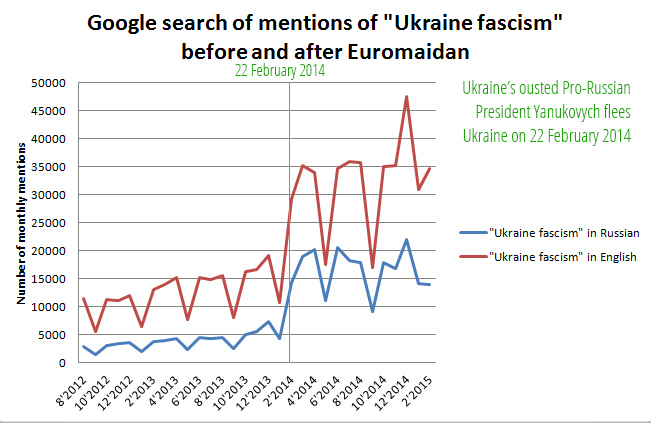 A pro-democratic uprising in a society so close to Russia inevitably means giving an example to the Russian society ruled by Putin's kleptocratic clique. Therefore, both the uprising and the people that caused it need to be demonized and compromised, in order to alienate Russians from the very idea of changing the way their country is governed.
3. A "fascist Ukraine" is an easy way to undermine the Euromaidan revolution, create a smokescreen for the Russian invasion of Ukraine for the rest of the world
Fueled by the Kremlin's rhetoric, the alleged far-right uprising in Ukraine has been in the spotlight of international scrutiny from the start of the Euromaidan revolution. Sometimes, it has been all that was heard from Ukraine. Many, many publications have stressed that the Kremlin's "far-right threat in Ukraine" is a myth, but it turned out to be such a menacing one that it is more than a year that Ukraine has to defend itself from fascist accusations.  "If you repeat a lie often enough, people will believe it," said Nazi Germany's main propagandist, Joseph Goebbels. Both Russian officials and state-controlled media adhere to this principle most devotedly. 
4. The best defense strategy is to attack?
As prof. Motyl suggests, Putin's tales of fascism well serve the purpose of deflecting domestic and world attention from the fact that Russia itself is becoming a fascist state. As long as the world plays his game, the goal is achieved: it is Ukraine defending itself from allegations of fascism, and not Russia.
5. The image of a fascist plays on the Soviet historical memory, mobilizes to hate to the extent of killing 
Peter Pomerantsev calls "the parallel reality where "fascists" have taken power in Kyiv, ethnic Russians in eastern Ukraine are in mortal danger and the CIA is waging a war against Moscow" a way to weaponize information. And weaponized it is indeed: for Manas, a mercenary Kyrgyz officer that came to fight in Ukraine alongside the Russian-backed separatists, it was specifically the image of fascists raising their heads in Ukraine shown by Russian TV that compelled him to come kill Ukrainians. He claims it was his moral sense that propelled him to come: fascists killed his grandfather in WWII. Manas managed to leave Donbas when he figured out it was "all propaganda"; but many others return in coffins.
What exactly constitutes fascism is irrelevant – it's the image among the population that matters
In other words, in Putin's Russia fascism is used to label anything or anybody opposing the regime. For instance, Alexander Kolchenko, an anarchist, left-wing social activist, and antifascist can be imprisoned on charges of being part of the Right Sector, an extreme right-wing organization that has been the scapegoat of many an alleged crime in Russia. As the organizers of the campaign in support of Alexander Kolchenko say, "in modern Russia any activist — left-wing, anarchist or liberal — can be slandered as a member or sympathizer of Right Sector." The same goes for ethnic groups – during the armed conflict that Russia instigated in Georgia, the "Georgian fascists" were accused of atrocities. During the conflict in the breakaway region of Transnistria, it was the "Moldavian fascists" that were committing unthinkable crimes.
The very word "fascist" is the worst insult one could hear, like a curse and a stigma. The inhuman image of the fascists takes away the ability to think and reason. And that is exactly what Putin needs. 
Tags: Far right, Fascism, International, Russia, Russian propaganda