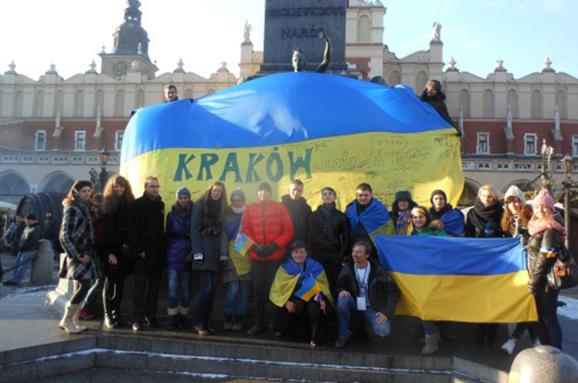 Russia's informational war against Ukraine, the European Union and the US has taught our Western neighbors to be more careful when judging Polish-Ukrainian relations. If on the official level of Kyiv and Warsaw a certain shift from "strategic partnership" to pragmatic relations can be observed, then on the societal level a decrease in the number of anti-Ukrainian provocations and hysteria can be observed as well. What we can see instead is that another process is taking place, one that had been severely lacking in Ukrainian-Polish relations for decades. The Poles are making an honest effort to soberly asses what is happening in Ukraine.
Aiding in this effort is the significant presence in Ukraine and especially in the ATO zone of Polish journalists from publications with various political orientations. It is worth noting that today the moderately right-wing and left-central publications are on the side of Ukraine; for them Putin's aggression is obvious. This is true even though relations at the highest level have been and at times have remained ambiguous. It is enough to recall the prescription of the physician-premier Eva Kopacz, who declared that she would "lock up the children inside if there was an attack in the street." In case anyone forgot, the issue had to do with possible military aid to Ukraine, which Poland rejected at the time. Now, after the premier's visit to Kyiv on January 19, the prospects for assistance have been outlined more clearly.
Representatives of the Polish government are constantly hinting to their Ukrainian colleagues that real reforms should be undertaken for continued collaboration, and that they should not wait for Poland to give Ukraine something, for example its coal to replace the coal lost in the Donbas. At the same time, they wonder why Ukraine is turning to Merkel and Hollande for external negotiations on the Donbas conflict instead of to official Warsaw.
The Minister of Foreign Affairs Grzegorz Schetyna has even stated that any talks on Ukraine without Poland are equivalent to talks on Algeria without France, or Ethiopia without Italy. The minister did not intend to offend Ukraine but to explain in language understood by the West that when it comes to Ukrainian matters Poland is as knowledgeable as France is on the Maghreb. Fortunately, in Ukraine little  attention was paid to these comments (there was actually more whining in Poland). But Kopach did come to Ukraine without Schetyn, who visited Kyiv a week ago.
Instead, at the level of the general public the situation is quite different from the one in the corridors of powers. What is significant is Polish society's  massive engagement in volunteer activities to help Ukraine. Every week cars with humanitarian aid go to eastern Ukraine. A dozen or so volunteer groups have been created, including those formed through the efforts of the Ukrainian community in Poland (both the descendants of ethnic Ukrainian deported as part of the Operation Vistula and those who recently settled in the country above the Vistula). (Operation Vistula was the forced resettlement of the Ukrainian minority in post-war Poland to previously German territories west of the Vistula river — Ed.)
Polish President Bronislaw Komorovski has even given state awards to three activists for developing relations with Ukraine ( though of course it would have been more logical to ask the Ukrainian president why he hasn't done so, especially since the help is for Ukraine).
The Poles have plunged into the intricacies of Ukrainian politics, demonstrating support for Nadiya Savchenko, drawing caricatures of Putin and actively participating in polemics in social networks — no longer about the lost Kresy (eastern lands that formerly belonged to Poland — Ed.) and the Volyn massacres but about Mariupol, life in occupied Crimea, withdrawal of Ukrainian troops from Debalseve. At the same time, they realize that the internet is overflowing with Russian-employed trolls to a much greater degree than in neighboring countries such as Slovakia or Germany. Not surprisingly, historian Timothy Snyder believes that Kremlin's information war in Europe is more dangerous than in Ukraine, since  Ukrainians during a year of protests have learned how to detect falsehoods in any messages originating in Russia. The same thing could be said of the Poles. Messages stating "Drive out Russian trolls from the Polish internet" have been spreading in social networks on the internet and the trolls are being promptly removed by the administrators of social network groups. A classic example is a Facebook group, the "Polish-Ukrainian friendship," which currently has 4,500 members. Poles predominate, who actively read Ukrainian and Russian. They worry that someone in Ukraine is setting fire to churches and fueling internal strife, and they argue about how quickly Ukraine will implement reforms.
Studies on the nature of the Ukrainian Maidan and the conflict in the Donbas have added to the growing understanding of Ukraine . There are fewer and fewer journalists who look for anti-Polish attitudes in black and red flags and portraits of Bandera. Photos of the first anniversary of the Maidan victory showing participants carrying Polish and Belarusian flags together with Ukrainian blue and yellow and red and black ones attract fewer hostile comments. Moreover, the catholic newspaper Tygodnik Powszechny has devoted a column explaining the "new meaning of old colors," and the writer Wojciech Mucha has written the book Blood and earth: the Ukrainian revolution that explains the origin of the red and black flag as a symbol of "Ukraine that is fighting."
The rhetoric of right-wing authors has changed as well. After thousands of deaths in eastern Ukraine and enormous self-sacrifice of Ukrainians, writers who initially had adopted fairly radical positions after Maidan now increasingly insist that Ukraine is fighting for Poland as well. This is why the Ukrainian Verkhovna Rada's tribute to Roman Shukhevych on the anniversary of his death on March 5, just before the visit to Poland of Ukraine's Security Council Secretary Oleksandr Turchynov, attracted practically no attention in Poland. The figure of Shukhevych and other UPA heroes continue to fuel controversy in Poland, and Russians never tire of reminding Poles of old historical traumas. We only need to remember the hysterical response of Russian Foreign Minister Serhiy Lavrov to a Polish journalist at a press conference, filled with horror stories about Ukrainian nationalists.
However, such attempts have limited prospects now. Both Ukrainians and Poles have long since outgrown the roles that had been prescribed for them in the Kremlin.
Tags: Poland, Russian propaganda, Ukraine