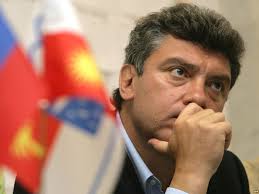 The Russian opposition leader Boris Nemtsov promised to disclose evidence of the participation of Russian armed forces in the conflict in the Donbas, President Petro Poroshenko said on February 28.
"A few weeks ago I had a conversation with him on how to build relations between Ukraine and Russia as we  would like to see them. Boris declared that he was going to disclose compelling evidence of the participation of the Russian armed forces in Ukraine. Someone was really afraid of that. Boris was not afraid. The executioners were afraid, and they killed him," Poroshenko said.
According to Poroshenko, Nemtsov was a "great friend of Ukraine and a great patriot of Russia, a person who was like a bridge connecting our two countries. (A person) who created the kinds of relations between Ukraine and Russia that Ukrainians would like to see."
Most of all, Nemtsov was a symbol of a Russian who treated Ukraine with sincerity and respect, a person who fought and gave everything to protect freedom in his country, he added.
"On March 1, he was supposed to head up a march of several thousands to demonstrate that there is a different Russia that loves Ukraine, that respects human rights, and for whom freedom is not an empty word. And he was ready to give his life for freedom and democracy," Poroshenko concluded.
As reported earlier, the Russian opposition leader Boris Nemtsov  was killed during the night of February 27-28. An unknown assailant shot the politician four times. He died at the scene.
In an interview on February 10, Nemtsov stated that he feared that Russian President Vladimir Putin would "order" his murder for his outspoken views. Nemtsov was murdered one day before the "Spring" opposition march that had been planned for March 1.
Tags: Donbas war (2014-present), Nemtsov, News, Petro Poroshenko, Russian invasion