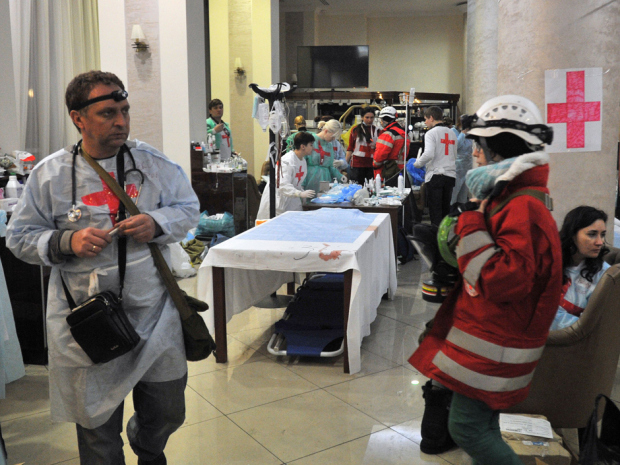 Field hospitals like these were common during the tragic events in February 
This happened on one of the evenings when I had a shift in the field hospital in Ukrainian House. A very young and very shy girl came in and said that she wanted to help. She muttered: "I don't have any medical experience and education. I study in the Kyiv's National University of Culture and Arts." I tried to send her away, telling her that it is not a place for her. That she might get hurt. However, she stubbornly insisted that she wanted to stay and help.
She started to come almost on a daily basis even coming during the night shifts. First, she was helping to sort out medicines and keeping records in the medical journal. After a while she learned how to measure blood pressure and other similar chores. Then she was assisting with bandaging of the wounded.
A couple of days prior to dramatic events in February I came down with the pneumonia and 104 (40 Celsius) fever. I watched all the horrors on the television screen since I could not even get to my computer.
At the end of the month, when I was well-enough, I came to Maidan yet again. But this time I brought my entire family. Obviously, the first place we went was Ukrainian House, where I met some of my former patients. We hugged each other and we cried together. I was ecstatic to see that young girl yet again.
She told me about the night when former President Yanukovych's security forces stormed the protesters on Maidan. How the retreating people dragged their clobbered and wounded friends on their own shoulders .
How during the entire day she was assisting a surgeon during emergency surgeries to save the lives of protesters.  This shy girl with no medical background was assisting a surgeon!!! How they had to evacuate through windows on the second and third floors to a little hill behind Ukrainian House. How together with the surgeon they dragged severely wounded and torn patients to safety through a window while praying for him to survive this ordeal.
To my shame, I do not remember a name of this girl. This shy and fragile girl that had an astounding iron will. I wish I could thank her. Thank her for everything, for all these people she helped saving. She is a True Hero! This tiny and shy girl is a symbol of durability and will of our nation.
 Editorial note: the International Convention Center is the largest international exhibition and convention center in Kyiv and popularly referred to as simply "Ukrainian House." This building is overlooking European Square in the heart of the Ukrainian capital. During Maidan's Dignity revolution, it was transferred into a field hospital where wounded were treated. 
Tags: Archive, EuroMaidan, Medics, Volunteers