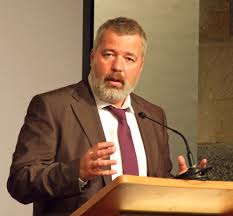 Dmitry Muratov 
The editors of the Russian newspaper Novaya Gazeta have a document that was prepared by Putin's entourage during February 4-15, 2014, with plans for instigating the conflict in Ukraine, the publication's editor-in- chief, Dmitry Muratov, announced on the Echo of Moscow radio broadcast, February 18.
Muratov, who expressed confidence in the authenticity of the document, announced that it would be published in Novaya Gazeta next Wednesday, February 25. The editors suspect  that the document was developed during the February 4-15, 2014 period .
Muratov expressed confidence in the authenticity of the document, whose authors include the oligarch Konstantin Malofeev. "This scenario was prepared and created before Viktor Yanukovych was removed from power," Muratov said.
According to Muratov, the document states that Russia is obliged to intervene in matters concerning the territorial integrity of Ukraine because Russia risks losing not only the Ukrainian energy market but even the indirect control over Ukraine's gas transit system.
"This will put the position of Gazprom in Central and Southern Europe in jeopardy, causing enormous damage to our economy" the document states.
"Current events in Kyiv clearly show that Yanukovych's hold on power could end at any minute," the document's authors write. " Under these conditions, it seems correct to play on the anti-center aspirations of the various regions in the country […] with the goal of initiating in one form of another the union of the eastern regions with Russia. The main regions where we should concentrate our efforts must be Crimea and Kharkiv," the document states.
According to Muratov, the document includes scenarios for inflaming the situation in the east of Ukraine. Furthermore, the main theses currently pushed by Russia are clearly stated in the document:
"First, the demand for federalization or even confederalization as guarantees for the regions against interference in their internal affairs by pro-Western or nationalist forces," the document states.
"Then, entry of the eastern and southeastern oblasts into the Customs Union on a regional level independent of Kyiv .
Then, direct sovereignty followed by annexation by Russia. Russia as the only guarantor of stable economic development and social stability," the document concludes.
Konstantin Malofeev was placed on the EU sanctions list. In Ukraine criminal proceedings have been  opened against Malofeev, who is suspected of funding terrorists in Ukraine.
Tags: News, Russian aggression, Yanukovych