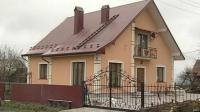 The villagers of Velyka Kamianka in the Kolomyisk district of Ivano-Frankivsk Oblast have built a new house for the family of Ihor Tkachuk, who died on Maidan during the revolution of dignity last February. Tkachuk  was one of the more than 110 civilians killed during the protest — an honored group popularly known in Ukraine as the "Heaven's Hundred."
"A stranger called me," his widow, Maria, remembers. "He said that he found a cell phone on a person killed on Maidan and decided to phone the number for "kokhana" (beloved). My husband's friend Yurko was on Maidan. I asked him to see if it was Ihor. Yura confirmed it.  'It's him,' he said."
Ihor  Tkachuk was 38 years old. He died on February 20 last year on the Maidan square in Kyiv from a sniper's bullet to the head. He left a wife and three children — Yevhen, 17, Ivanna, 12, Denis, 1. His widow explains that he went to Maidan repeatedly, hiding his trips from his 82-year-old mother. When he left for the last time people were already being killed in Kyiv.
"I didn't want to let him go. I kept asking him not to go because I knew that he could be killed. I understood it very clearly. And he told me: 'We've been so poor, you and I. Do you want our children to be this poor as well?' " Maria Tkachuk remembers.
"My husband was a hero and he died a hero. He wanted our children to have a better life. He was a very just man. He wanted justice for Ukraine as well," she explains.
Neighbors speak  of Tkachuk as a decent,  sensitive and hardworking family man He wife remembers him as a real romantic, who filled their house with flowers after the birth of their first child, who called her "kokhana,"  who left her secret love notes.
The Tkachuk family lived in a tiny 108-year-old house.  The previous year  Tkachuk had promised himself that he would build a spacious and comfortable home for his large family. Using money he had earned in Poland, he put up stables and a fence and planned to begin work on the house in the spring of 2014.
After her husband's death, Maria lost all interest the house and nothing would have happened if not for the determination of local businessman Myroslav Adamskyi and some 30 villagers who had also been on Maidan. Almost immediately they decided that the family would have a new house.
"I have an architect friend," Adamskyi explains.  "I went to see him and asked if he could draw up the plans for free. He agreed and provided a few typical designs. I brought them to Maria and said. You have one night to decide. Look through them with the children. Point at what you want and we will develop it. Well she pointed," he adds.
Adamskyi emphasizes that all the work and building materials have been donated.  A local construction firm donated services. A person from a neighboring village gave panels and 40 tons of cement. Workers and the manager of a brick factory in Kolomyia donated some 30,000 bricks. Residents of another village donated wood, and a firm from Ivano-Frankivsk donated all the windows.  Large and small businesses pitched in, donating building foam, adhesives, gutters, and much more. Professional teams worked on the house, including many craftsmen from the village, who did the carpentry, tiling and façade work. The house was completed in 8 months.
Maria says she is touched by the support and generosity, starting with Adamskyi's help in retrieving Ihor's body from Kyiv and arranging the funeral.  "Mr. Myroslav took Ihor's body from the morgue by saying he was his cousin. For me this was so touching. Thanks to him we were able to open the coffin and say goodbye" she says.
She also finds support in close friendships with other bereaved families, including one from Donetsk. "One of the first people we met was Liuda Cherniavska. Her son had been killed on the Maidan in Donetsk," Maria says. We stay in close touch. When the war began she and her husband had to flee their native city. They had been warned (the terrorists) were after them."
Tags: heaven's hundred, Maidan, News