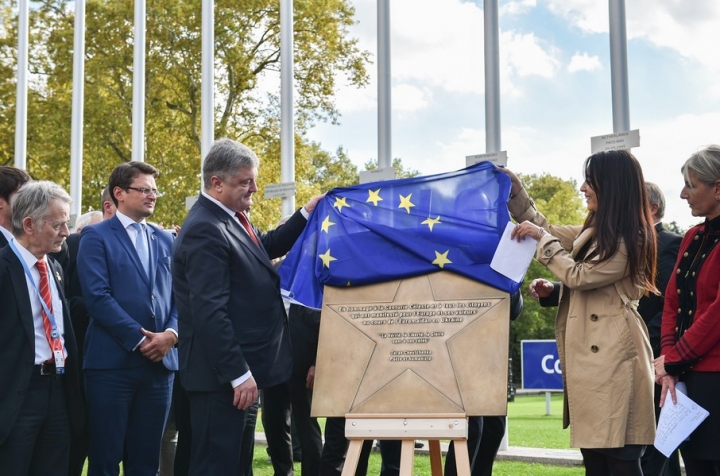 On 11 October, a star commemorating the Heroes of the Heaven's Hundred, the Euromaidan activists killed during protests in 2013-2014, was unveiled on the alley of stars in Strasbourg near the Council of Europe.
President Poroshenko was present at the unveiling. "This is a star to the heroes of the Revolution of Dignity, which paid for our right to build a country based on European standards. Opening today this star to the Heroes of the Heavens Hundred, we honor their contribution to Ukrainian history and the history of Europe," Poroshenko said.
According to the head of the Ukrainian delegation to PACE Volodymyr Ariev, funds for the star were gathered by the local Ukrainian community and the delegation itself.
"Heaven's Hundred" refers to the 100+ protesters who were killed during the Euromaidan revolution, most being shot dead by the riot police.
The inscription on the star says:
"In tribute to the Heaven's Hundred and to all the citizens who demonstrated for Europe and its values during the Euromaidan in Ukraine.

'Truth, freedom, and glory are at your side.' Taras Shevchenko, poet and humanist."
/written by Alya Shandra, photos: president.gov.ua
Related:
Tags: Council of Europe, EU, EuroMaidan, heaven's hundred, News, Strasbourg