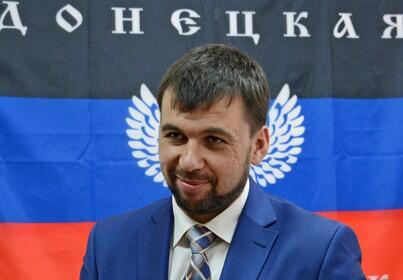 Denis Pushilin 
Representatives of the so-called Donetsk People's Republic (DNR) and the Luhansk People's Republic (LNR) have declared that they have no intention of allowing their opponents to participate in elections.
The terrorist leaders are demanding approval rights over legislation in the new constitution of Ukraine regarding local elections in particular areas of the Donetsk and Luhansk oblasts.
Denis Pushilin, representative of the DNR militants, has declared that political forces with a negative attitude to DNR and LNR will not be allowed to participate in the Donbas elections.
"Political forces that have taken part in aggression or supported aggression against DNR and LNR will not be allowed to participate in elections," he declared, adding that  "In the future Ukrainian law on elections must reflect the laws of LNR and DNR in the elections for local self-government.  It is mandatory to have the final text approved by the representatives of the republics."
Earlier, on February 12 in Minsk, at the conclusion of the negotiations of the "Normandy Four" leaders, the representatives of the so-called "Contact Group" on the Donbas war signed the document " ​A complex of measures to fulfill the Minsk agreements."
The document was signed by Leonid Kuchma from Ukraine, Heidi Tagliavini from OSCE, Mikhail Zubarov from Russia, and also Alexander Zakharchenko and Igor Plotnitsky from the terrorist DNR and LNR.
The forth point of the document states:
"Launch a dialogue, on day one of the withdrawal (of troops), on modalities of local elections in accordance with Ukrainian legislation and the Law of Ukraine 'On interim local self-government order in certain areas of the Donetsk and Luhansk regions' as well as on the future regime of these areas based on this law."
Tags: Donbas war (2014-present), Elections in Ukraine, Minsk-2, News