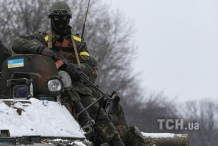 Putin was able to bargain for two more days to complete military operations in the Donbas
Negotiators at the most recent peace talks in Minsk agreed to a complete ceasefire starting at midnight, February 15. Analysts questioned by TSN say this date was not chosen by chance
Volodymyr Horbach, political analyst at the Institute for Euro-Atlantic Cooperation:
"It is obvious that this has to do with Debaltseve, which sticks out like a splinter for the militants and prevents them from looking at the map calmly.  Naturally, today or tomorrow they will try to change the configuration of the (truce) contact line to one that is more advantageous for them, and this applies first of all to the Debaltseve bridgehead. Fighting will continue there and, in fact, this fighting can disrupt all the agreements, unfortunately."
Political analyst Yuriy Paliychuk:
"It's all very simple. Putin needs the time to finally capture Debaltseve. And the news from the front confirms this. The fact that heavy weaponry and multiple rocket launchers are being concentrated there indicates that he plans to take Debaltseve. And to do that he needs two days.
Therefore, the question we're facing right now is whether or not we can hold on to Debaltseve during these two days.
Tags: Debaltseve Battle (2014-2015), Minsk protocols / Minsk agreements, News, Putin