On Friday, February 6, units of the Ministry of Internal Affairs (MIA)  and the State Emergency Service of Ukraine evacuated some 600 people from Debaltseve to a safe zone,
MIA advisor Zorian Shkiriak wrote about it on his Facebook page, reports Espreso TV.
"Debaltseve. Today units of the Ministry of Interior and the State Emergency Service continued to evacuate people to a safe zone. Over all, we were able to evacuate almost 600 people. Everything was organized quite clearly and efficiently. Together with (Ukrainian National Guard officer) Ilya Kiva we talked with people, trying to convince them. It is worth noting that those who even several days ago did not trust anyone or were cautious asked for help today. Some of those who still were not ready in the morning spontaneously decided to leave Debaltseve. We found room for everyone. All our vehicles that left for Artemivsk, Sloviansk, Kramatorsk were overflowing. However, the buses provided by the Armed Forces of the Russian Federation and the militants stood empty," he wrote.
According to Shkiriak, a  bus convoy was not formed to avoid becoming an easy target for the terrorists. Therefore they "sent the filled vehicles under the supervision of MIA and the State Emergency Service."
Shkiriak added that the representative of the General Staff of the Armed Forces of Ukraine, General (Oleksandr) Rozmaznin, who has been staying in the area in recent days, was in attendance. Also present were representatives of the OSCE and Russian generals, members of the Contact Group on Ukraine (monitoring the ceasefire agreed to during negotiations by the Tripartite Contact Group in Minsk — Ed.)
"Everyone else who decided to stay for now has been given all possible assistance to survive in these hellish conditions," Shkiriak said, adding that evacuations of those willing to leave Debaltseve would continue in the coming days.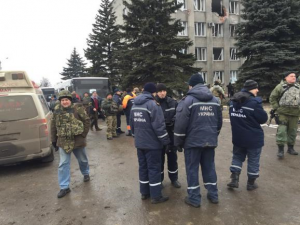 He also called on citizens to be guided solely by official information received directly from the ATO and National Security and Defense staff regarding the organization of the so-called "green corridors."
According to Shkiriak, about 2,000 inhabitants remain in Debaltseve currently.
"Thirty people expressed a desire to go to the territory controlled by the Russian horde. It should be noted that the Russian generals, together with the terrorists, sent almost 25 large buses here. They probably were counting on crowds of the willing. However, that didn't happen. They were not able to fill even a single bus. I think no comments are needed," he concluded.