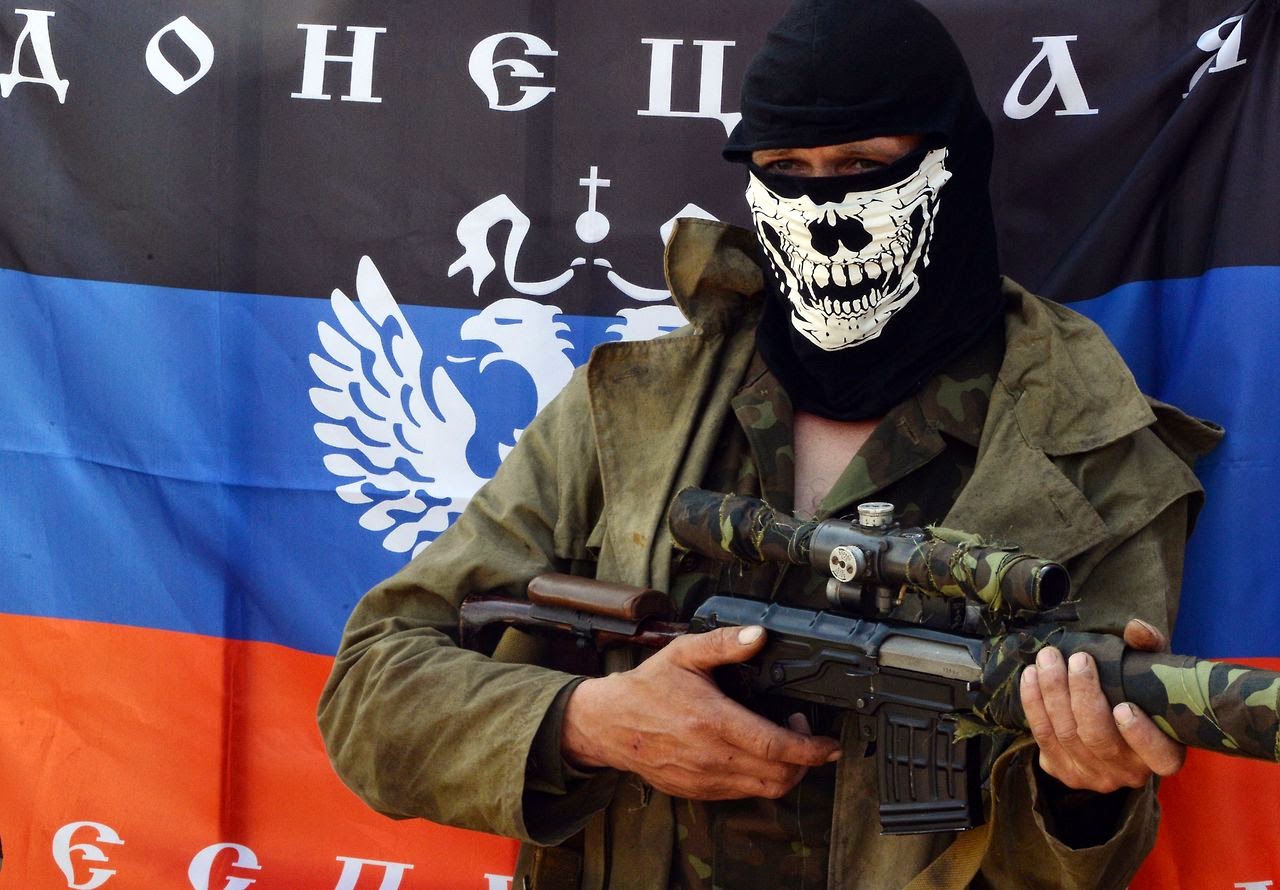 A member of the "DNR" unit of Russia's hybrid army in Ukraine in front of the unit's flag 
Terrorism, so far one of the words most used in the media on the dawn of the 21st century.  Ever since the first horrific attacks of the early 2000s which marked that period with its flaming tablo of War on Terror and all the things which came with this territory – including further militarization of the numerous radicalized groups, popping in deep political underground, like ticking cancer cells, getting ready for expansion when the time is right.
Such were the "People's Republic of Donetsk" and the imitational "People's Republic of Luhansk" that later followed. The Donetsk Republic was first known as a local civic organization registered in December of 2005, right after the 2004 Presidential elections, in which Victor Yanukovych has almost won due to multiple schemes which were implemented during the elections, though backfired in the form of mass protests known as The Orange Revolution. by Olexander Tsuran, who at the time of the election has been working for the campaign of that year's losing runner, Viktor Yanukovych. The main goal of this organisation was, quoting from one of its original founders, Alexander Lukyanchenko, "separation of Donbas region by an example of Transnistria" (referring to a breakaway state in Moldova region which has been established in 1990 as a result of military uprising backed by Russian mercenaries). As by 2007 the National Security Service of Ukraine took the so-called Republic to court and banned all its activities as "leading to forceful change of the constitutional rule". Since then every action of a group identifying as Donetsk Republic has been illegal.
This, however, did not prevent members of the Party of Regions to openly finance this clearly illegal group, and even to supply it with illegal weapons, such as AK-47 assault rifles, seen on the first separatist meetings in March of 2014, which are illegal for civilian use in Ukraine. Yet again, large amounts of military equipment, up to tanks and missile launching systems are now circulating Donetsk region freely, and even though multiple factual evidence has shown that the majority of the military equipment used by these groups has been supplied by Russia, Vladimir Putin continues to deny Russia's involvement in this conflict.
This can mean only one thing: Russian army is involved into one of the largest covert military operations in history – a covert war in fact, or be it a poorly covered one. Needless to say this way of waging war goes against every international law, which makes Russia and its puppet republics de-facto terrorists.
While Ukraine has long recognized the self-proclaimed "DNR" and "LNR" as terrorist organizations and Ukrainian officials continue to appeal to the world to follow suit, PACE declined to do so on January 27, explaining that the unrecognized "republics" in Ukraine's East were not internationally classified as such, and that the issue is "complex and requires careful study." We decided to help PACE out and began studying this complex issue.
Yet since its first aggressive actions the Donetsk and Luhansk republics have been but every word in every definition of terrorism ever created. The first acts of real terrorism could be identified by April the 7th 2014, when armed militants started taking over whole towns in Eastern region – Yenakievo, Makiyivka, Mariupol, Gorlovka, Khartsizk, Zhdanovka, Kirov, Novoazovsk, Seversk, Komsomolsk, Starobeshevo, Krasnoarmejsk, Rodinskoe et cetera were overtaken by armed militants, i.e. by the threat of force.
Since these actions were clearly way beyond the constitutional right of the people to gather peacefully and unarmed, the Ukrainian Special Forces and military were forced to response to these riots, with using non-lethal force when possible – such was a successful operation in Mariupol on May the 6th 2014, where the building of City Council was reclaimed from armed militants with the use of tear gas.
To this the terrorist forces have responded with more violence, using weapons they have previously obtained from Russia and continue to receive in large quantities. They seem to have stuck to this tactic up to date.
The most violent and ruthless attacks of the terrorist army have been observed timed to match every big event in the Ukrainian political life, as seen during the parliament elections in October 2014, when Illovaisk offensive took place, before peace talks in Minsk in January 2015, when the city of Mariupol was attacked with the use of artillery, or recently, prior to the first face to face negotiations between the presidents of Ukraine and Russia in month, when a series of violent attacks, taking hundreds of civilian lives took place in Donetsk. The pattern at this point seems to be too obvious to ignore – the main reason behind these actions is to terrorize the Ukrainian government in order for it to make decisions in favor of the attacking side, as its main demands remain territory, money and power, as has been stated by the negotiators on behalf of the terrorists in Minsk.
As the Ukrainian army hasn't been carrying out offensive actions since the first Minsk peace agreements, when ceasefire was negotiated for, and most of the attacks since belong to the terrorists, whom have been attacking the forces of Ukraine constantly, it seems clear that the main reason behind this activity is not the defense against government forces stepping onto some rebellion, as the Russian side claims, but merely blunt racketeering in order to gain something from the Ukraine.
Thus until this day the main course of Donetsk and Luhansk terrorist group's activities remain in the form of their attempts on influencing policies of the Ukrainian government by means of violence and threats of further violence.  All these characteristics fit every definition of international terrorism.
Even now, as the negotiations in Minsk continue in a global effort of bringing peace to Donbas, 9 attacks has been carried out on Ukraine in the course of several hours. No freedom fighters would have sabotaged their cause in such a brutal and blatantly violent way, as if to show their immorality full color.
Sometimes the terrorist organizations of "DNR" and "LNR" carry out the classic terrorist schemes, targeting civilians across Ukraine in large cities. Such were an attempt of an act of terrorism using an improvised explosive device in Kiev, countered by the Ukrainian Special Forces, who have arrested a to-be terrorist on December the 19th; an explosion in one of Kharkiv private bars, where an IED injured 14 on January the 19th; an attack on a civilian taxi bus in Volnovakha, with 13 civilians shelled to death.
So it is extremely important to recognize these terroristic groups as exactly such, for to carry out any other approach when working with that problem is to be suckered into the obvious lie.
Neither the rehearsed claims of people's support of the terrorist forces, nor the indoctrinated murky ideology, a surreal cross between the fanatic religious devotion to the Russian Orthodox Church, Russian nationalism and for some crazy reason a re-animated version of Bolshevism, legitimize the terror in means of which they are carried out. Even though the only real reason behind this so-called rebellion remains simply control over a part of Ukrainian territory, which the terrorists try to justify by pointing out at the craziest conspiracy theories which their supporters tend to believe in, the means by which this rude political high jacking is carried out are simply acts of terrorism.
One might argue that such tactics were implemented during many uprisings in human history, yet doing so would be missing a very important point: there are numerous evidence of Russian presence in Ukraine, evidence which hold up as far as to be recognized by the UN. And a "rebellion" of an army on the territory of an independent country is not a rebellion by any definition – it is either a covert terroristic operation (as which it can be described looking at tactics used by the Russian side of the conflict), or an act of war. And so far Vladimir Putin has been denying the latter.
You can read more on the acts of terrorism carried out by the terrorist groups in Eastern Ukraine here:
Terrorism Kyiv https://euromaidanpress.com/2014/12/19/russian-special-services-planned-terrorist-attack-in-central-kyiv/
Kharkiv https://euromaidanpress.com/2015/01/20/explosive-device-in-kharkiv-injures-14/
Russia plans to destabilize Ukraine https://euromaidanpress.com/2015/02/04/russia-planning-to-destabilize-kharkiv-poroshenko/
Petition: Russia – state sponsor of terrorism https://euromaidanpress.com/2014/12/06/white-house-responds-to-petition-to-designate-russia-as-state-sponsor-of-terrorism/
State-sponsored terrorism: https://euromaidanpress.com/2014/07/26/the-tragedy-of-mh17-is-the-result-of-state-sponsored-terrorism/
Destroying civilian buildings http://ukraineatwar.blogspot.co.uk/2015/02/russians-destroy-civilian-buildings-in.html
#JeSuisVolnovaha rallies as a reaction to JeSuisCharlie https://euromaidanpress.com/2015/01/19/worldwide-jesuisvolnovaha-rallies-demand-to-stop-russian-terrorism-in-ukraine
And the west's reaction to it is restrained https://euromaidanpress.com/2015/01/15/worlds-reaction-to-volnovakha-restrained-and-contradictory/
Volnovakha https://euromaidanpress.com/2015/01/15/reporters-of-channel-5-interviewed-witnesses-of-the-terrorist-attack-at-volnovakha/
Tags: Op-ed