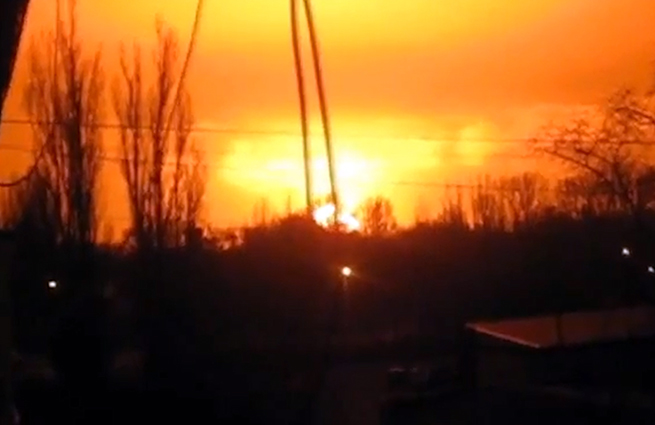 On 8 February 2015, approximately at 10 PM, a great ball of fire rose over Donetsk city reaching up to thick winter clouds, coloring the sky orange as if it was dawn in the middle of the night. A loud gargantuan explosion could have been seen and heard for miles around, and the sonic wave that followed has shattered the glass in all nearby buildings. Ukrainian volunteers from the Azov battalion have released a statement about the incident, which classifies what happened as an explosion of a large quantity of ammunition or explosives belonging to the terrorist forces. "The magnitude of explosion suggests that the quantities of stored ammunition were copious and most likely kept for a massive assault. We don't know exactly what caused the explosion, but there is no doubt it had ruined the plans of the bandits greatly," the statement suggests. The DNR terrorists have also confirmed this fact, specifying that the explosion took place in the Donetsk chemical factory.
Later on, People's Deputy of Ukraine Dmitro Yarosh, a leader of the Right Sector political party released his own statement on this account, saying that, quote "Sometime earlier our artillery did beautiful job over a large cluster of Russian/terrorist BM-21's and ammo trucks. 20 enemy "Grads" are eliminated, as well as 30 ammo trucks, and approximately 200 terrorists. The explosion caused panic in Donetsk" end quote.
Most sources pinpoint the center of this explosion to Kuybishevsky chemical plant situated at the western industrial areas of Donetsk. Oddly enough, this was the choice place for the terrorists of DNR to store their explosives.
Video recordings of a large explosion near Donetsk made from different angles and points are now beginning to surface on YouTube and other video streaming resources, thus the fact of an explosion seems to be legitimate, although this one is most likely to be one of the largest ones throughout the course of Donbas war:
Locals who remain in war-torn Donetsk city describe the effects of this cyclopean eruption as earthquake-like. Meanwhile, the VKontakte social media page of the self-proclaimed "Novorossiya" proclaimed a terrorist organization in Ukraine claims that the explosion was a result of an nuclear strike, which is ridiculous since Ukraine gave up its nuclear weapons in 1994 in exchange for security assurances from the USA, UK, and Russia. Fake images of the "nuclear explosion captured by a NATO satellite" are spreading in social media; meanwhile, the image has proven to be a sunrise from space. Internet users are joking about the appearance of a sect of "Donetsk nuclear explosion witnesses." The appearance of this message likely indicates that it is a manoeuvre that intends to distract from the event itself.
Another Russian fake exposed – thanks to @AthomSmasher ! #propaganda #RussiainvadedUkraine #Putin #Russia pic.twitter.com/jHxbSyAGCU

— Julia Davis (@JuliaDavisNews) February 9, 2015
So where do the terrorists get such amounts of weaponry? The question seems almost rhetorical at this point.
Tags: Donbas war (2014-present), Donetsk, News, Russian propaganda