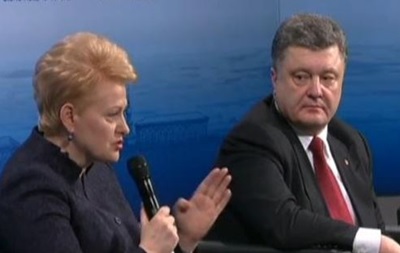 The president of Lithuania Dalia Grybauskaite is urging Europe to support Ukraine in every way possible.
Europe must support Ukraine because Russian aggression can affect all the countries of the European Union, Grybauskaitė said during debates on Ukraine at the Munich Security Conference on February 7.
According to Grybauskaite, Russia continues to pursue an aggressive terrorist policy that threatens not only Ukraine but also other European countries. For Lithuania, Russia is the same kind of neighbor as for Ukraine and represents the same kind of threat, she said
"Yesterday there was a big concentration of forces on our borders. Russian planes are flying with their transponders turned off, (presenting) a risk for civil aviation," she noted, adding that similar Russian actions are intended to intimidate the Baltic states to drop support for Ukraine.
She also stressed that Europe has not turned away from Ukraine and that Europe and German Chancellor Angela Merkel will not betray Ukraine.
"I trust Angela Merkel and believe that she will not betray anyone, that she is prepared to resolve these issues. She has not betrayed anyone. Because if we betray Ukraine and the Ukrainian people, then we betray ourselves, since we will be next after Ukraine, she said.
Grybauskaite pointed out that there have been similar examples in history, and that the German chancellor is fully aware of "these lessons of history."
She called on Europe to support Ukraine to protect the population and the country and reported that Lithuania is already helping and will continue to help. "We're not talking about help; we're helping" she pointed out.
In turn, Ukrainian President Petro Poroshenko stated that Ukraine is defending not only its own sovereignty but the "European security, independence and freedom."
He also stated that he has confidence in the efforts of German Chancellor Angela Merkel. "I want to support Dalia Grybauskaite in her expression of trust in Mrs. Merkel. Our collaboration continues, and we appreciate her efforts to bring peace." he said.
As reported, Lithuania and Estonia are calling for the beginning of arms shipments to Ukraine. Germany, Hungary and France said they would not supply weapons to Ukraine. The US is still undecided on this issue.
Tags: Lithuania, Munich security conference, News, Russian aggression, Ukraine