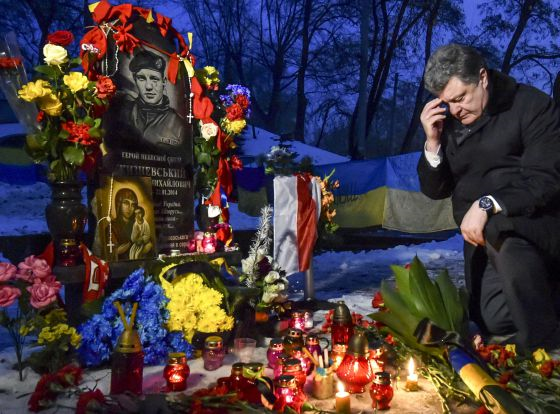 President Poroshenko, in an interview with the Spanish daily  El Pais, February 5, said he is prepared to declare martial law if the conflict in eastern Ukraine continues to escalate, reports Radio Svoboda.
"If the escalation of the conflict continues, I am ready to declare martial law in the entire country, and the parliament will support it," he said.
According to Poroshenko, he has not yet approved that decision because it would put limits on democracy and freedoms and could threaten economic development. "Who would come to a country that has declared martial law? We are planning to receive billions of dollars in investment over the next several months. The situation is very complicated. We have to reform the economy under conditions of war and at the same time prevent the war from spreading," he said.
Last month the government introduced a state of emergency in the Donetsk and Luhansk oblasts.
On February 3, the UN announced that the number of victims in the conflict in eastern Ukraine has grown to 5,358 people and called on all parties to stop the "potentially catastrophic" escalation of the situation. According to UN data, more than 12,000 people have been injured. The UN has admitted that the numbers may be "significantly higher."
The officially labeled "Antiterrorist Operation" has been taking place since last April in sections of the Donbas against pro-Russian terrorists and the Russian troops supporting them. Unofficially, the (situation) is called Russia's war against Ukraine. In recent weeks conditions in eastern Ukraine have deteriorated after mass attacks by militants on the positions of Ukrainian security forces and the efforts of Ukrainian forces to maintain defenses.
Photo: Mykola Lazarenzo (Reuters)
Tags: martial law, News, Petro Poroshenko, Russian invasion