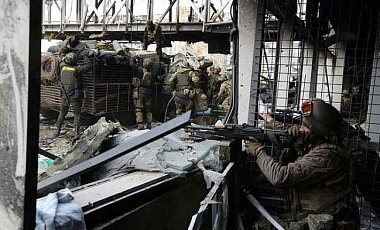 Donetsk airport 
Some 80 Ukrainian soldiers who were defending the Donetsk airport have manifested symptoms similar to those resulting from gas attacks, according to  a report of the OSCE Special Monitoring Mission, reports LIGABusinessInform, January 22.
"A Ukrainian soldier in a hospital in  government-controlled Kostiantynivka (56 km north of Donetsk ) told the Special Monitoring Mission that he was undergoing treatment for injuries sustained at the Donetsk airport on January 19. He said that a total of 80 Ukrainian soldiers had the same symptoms, which included uncontrollable muscle spasms, vomiting and difficulty breathing. Several soldiers  lost consciousness," he told the OSCE representative. He added that 11 soldiers had been transferred to a hospital in Dnipropetrovsk.
Earlier, it was reported that 6 soldiers were killed at the Donetsk airport and 16 were captured.
Photo: Serhiy Loiko
Tags: Donbas war (2014-present), Donetsk airport, News, poison gas