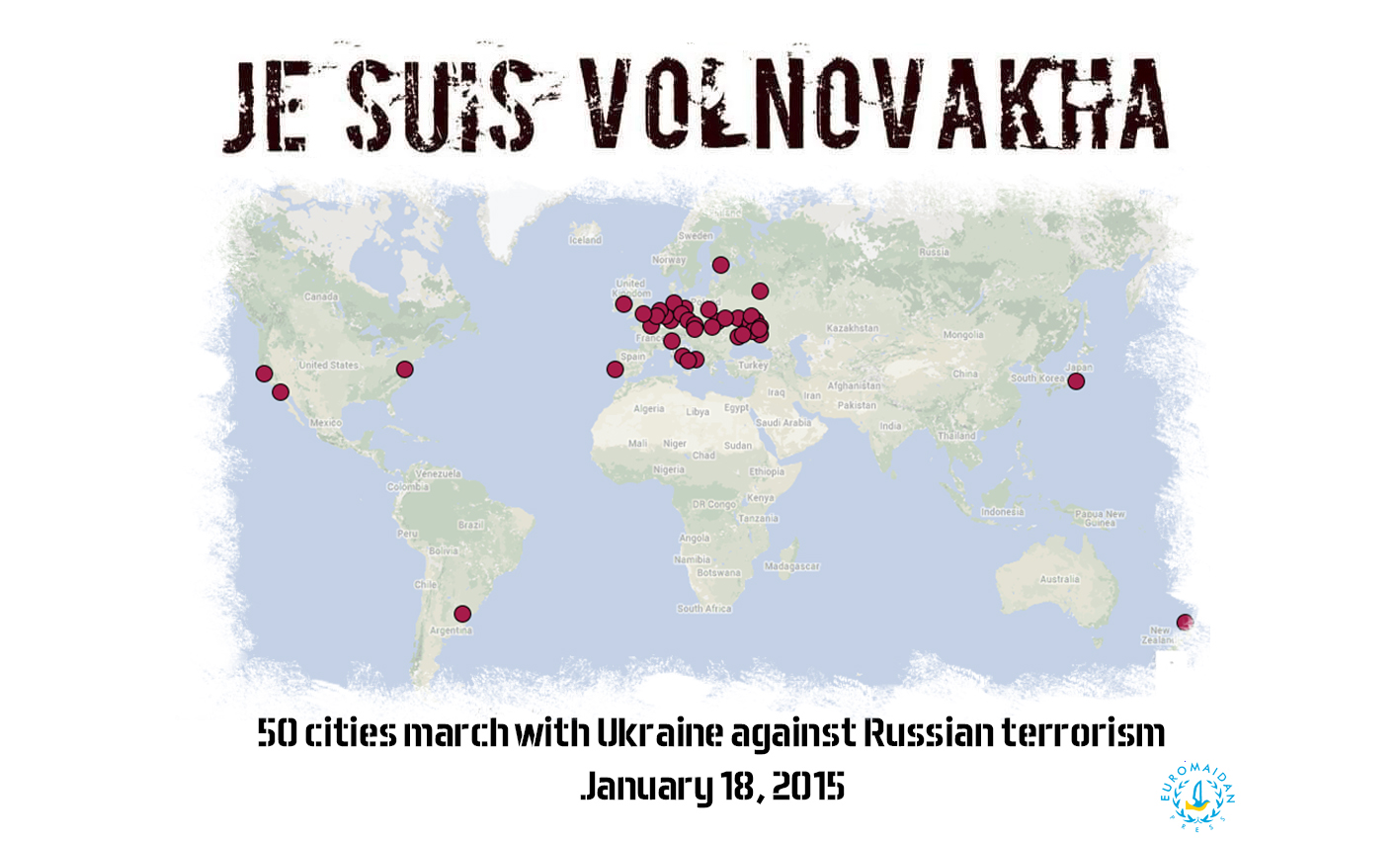 On 18 January 2015, people in 50 cities from 18 countries came out to rally against Russian terrorism in Ukraine. The worldwide rally was sparked by a shelling of a civilian bus near the eastern Ukrainian city of Volnovakha from territory occupied by pro-Russian militants that took place on January 15 and killed 13 civilians. Taking place under the the hashtags #JeSuisVolnovaha and #JeSuisUkraine, it compares the January 11 terrorist attack on the Charlie Hebdo satirical magazine in Paris, which trended in the internet under #JeSuisCharlie, to the everyday killings of civilians in Donbas which go unnoticed by the western media. A ceasefire regime established on September 5 is violated by Russian-backed militants on an everyday basis, leading to everyday deaths of people. On January 18 another civilian bus was shelled, this time in Dokuchaivsk, killing one and wounding eight. Supporters of Ukraine around the world gathered to honor the memory of the victims and to demand a reaction to the Russian-fueled terror in Ukraine (click on the cities to go to the event).
In Kyiv the rally gathered 15 000 people according to the estimates of the MIA.
[slb_exclude]
At least 20 other Ukrainian cities supported the call, demanding to stop Russian terrorism in Ukraine.
[slb_exclude]
[/slb_exclude]
The call spread to Euromaidans not only in Ukraine, but around the world. Over the last year, communities of Ukrainians supporters in different countries have been bringing attention to Russia's aggression in Ukraine. On January 18 they demanded from the international community to announce the self-proclaimed Luhansk and Donetsk "People's republics" (LNR and DNR) terrorist organizations.
[slb_exclude]