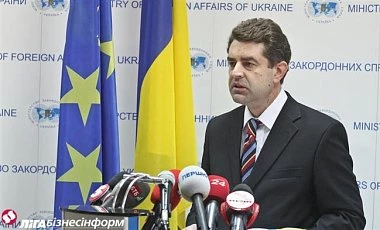 The Ministry of Foreign Affairs of Ukraine points out that Ukrainians are dying at the hands of Russian soldiers and Russian weapons.
The responsibility for the deaths of civilians in the Donbas lies with Russia, which is supporting terrorism, MFA spokesman Yevhen Perebyinis said at a briefing on Wednesday, January 14, reports LIGABusinessInform.
"Russia, which is supporting terrorism in the Donbas and whose citizens are directly involved in (terrorist) crimes bears the entire responsibility for the killing of innocent people. Since the signing of the Minsk agreements, which the Russian side and its militias cynically refuse to observe, more than 130 civilians have died at the hands of the terrorists." he said.
Perebyinis emphasized that Ukraine is calling on the international community to condemn the terrorist activities of the LNR (Luhansk People's Republic) and DNR (Donetsk People's Republic), to recognize them as terrorists, and also to put pressure on those who stand behind them and who support and finance them.
Perebyinis noted that the reaction of the international community to the terrorist acts in Paris has demonstrated that the democratic community categorically rejects attempts at intimidation and terror.
"However, the activities of the terrorists in the Donbas are occurring on a scale the world has not yet seen. Terrorists are armed with the most modern weapons and equipment, including the latest artillery systems, tanks, air defense systems, many of which the Ukrainian army does not have. All these weapons in unlimited quantities are being supplied to them from Russia," he said.
Perebyinis also pointed out that militants are arriving in the Donbas from Russia disguised as volunteers or as part of the regular armed forces of the Russian Federation who "modestly remove the identifying marks of their country from their uniforms, erase them from their equipment, and become involved in the terrorist war that is being waged against the Ukrainian people."
Tags: Donbas, News, Russian state terrorism, Ukraine's Ministry of Foreign Affairs (Ukraine MFA)