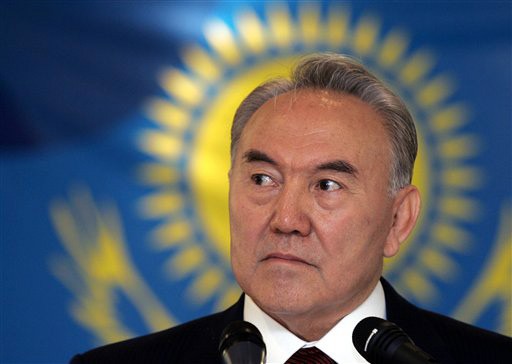 On December 22, President of Kazakhstan Nursultan Nazarbayev visited Kyiv for a meeting with Ukrainian President Petro Poroshenko. According to Radio Free Europe, the meeting produced agreements on deliveries of Kazakh coal to Ukraine and the revival of a bilateral trade talks mechanism, and saw Nazarbayev calling on Kyiv and Russia "to seek compromise in order to end the conflict in eastern Ukraine and preserve its territorial integrity," saying that confrontation and sanctions were "a dead-end street."
Poroshenko's move has summoned criticism from the Open Dialog Foundation and representatives of the Kazakh opposition. Carrying oversized syringes and dressed in white labcoats they called upon Poroshenko not to collaborate with Nazarbayev who they called a dictator, and reminded him of the victims of the undemocratic regime in Kazakhstan. According to the organizers, Nazarbayev should not be a mediator in talks between Moscow and Kyiv. Representatives of Belarusian NGO "Solidarity Together" and the international league "Maidan" also took part in the protest.
"We brought a symbolic syringe with a 'vaccine against dictatorship' to Poroshenko, so he wouldn't get 'infected with authoritarianism; and not start adopting methods of bloody dictators. We call on Poroshenko not deal with dictators like Nazarbayev and Lukashenko. Nazarbayev acknowledged the annexation of Crimea [by Russia], and now Poroshenko thanked him for his support for Ukraine. This is unacceptable," said one of the organizers, project coordinator of the foundation "Open Dialogue" Anastasia Montenegrin.
A day earlier, on December 21, President of Belarus Alexander Lukashenko also paid Kyiv a visit. The closed-door format of the meetings suggests that the presidents of Belarus and Kazakhstan are here to act as mediators between Russia and Ukraine. "It is clear that without the Kremlin's consent, they would hardly dare to act as such," writes Yurii Raikhel in an article in the Ukrainian newspaper Day. The protesters say that such mediators will not act for Ukraine's benefit.
"A dictator can't be a negotiator, he has no principles. Nazarbayev headed the country for 25 years. He is a bloody dictator, by whose orders peaceful protesters were shot 3 years ago in Zhanaozen, he persecutes and jails the Kazakh opposition. His participation in the negotiations to resolve the conflict in Donbas will bring no positive outcomes to Ukraine," commented Aidos Sadykov, a representative of the Kazakh opposition, who, due to political persecution, is living in Ukraine as a refugee.
There are many reasons to wonder what Poroshenko is pursuing in negotiating with Nazarbayev.
1. Nursultan Nazarbayev recognized the annexation of Crimea, as stated by the MFA of Kazakhstan on March 18, 2014 with the words "The referendum held in Crimea is seen in Kazakhstan as a free expression of the will of the Autonomous Republic's population, while the decision of the Russian Federation under the existing circumstances is regarded with understanding." In a later United Nations General Assembly vote about the territorial integrity of Ukraine Kazakhstan abstained from voting. He is no enemy of Putin.
2. Nursultan Nazarbayev is a dictator and heads a state where human rights are supressed and independent media and democratic organizations are persecuted. As an example, a peaceful protest was fired upon by Kazakh police on December 16, 2011 in Zhanaozen, killing at least 14. 34 influential private media outlets were banned in 2012 on charges of extremism and "inciting social discord." The harassment against independent journalists, opposition activists and politicians continues. Businessman Mukhtar Dzhakishev, human rights defender Vadim Kuramshyn, poet Aron Atabek, leader of the banned Democratic Party "Alga!" Vladimir Kozlov are currently jailed for political reasons.
3. Kazakh special services are notorious for utilizing corruptable authorities to persecute political opponents abroad. The attempt in Italy to kidnap Alma Shalabayeva, the wife of Kazakh opposition leader Mukhtar Ablyazov, with her six-year daughter in 2013 led to an international scandal and a government crisis in that country. The attempted abduction of Ablyazov's security chief Alexander Pavlov from Spain in a military plane led to a resonant investigation of corrupt judges. The Kazakh authorities also attempted to unduly influence the Ukrainian investigation of Mukhtar Ablyazov's case.
During the Euromaidan Revolution of 2013-2014, hundreds gave their lives for a united European Ukraine whilst protesting against the establishment of the dictatorship of Viktor Yanukovych. In the opinion of many, Poroshenko's moves towards closer cooperation with dictators supporting Vladimir Putin's policies are dissonant with the very ideals that led to the overthrow of Yanukovych and which led to the Presidential elections that brought Poroshenko to power.
Tags: Dictatorship, International, Kazakhstan, Nazarbayev, Petro Poroshenko