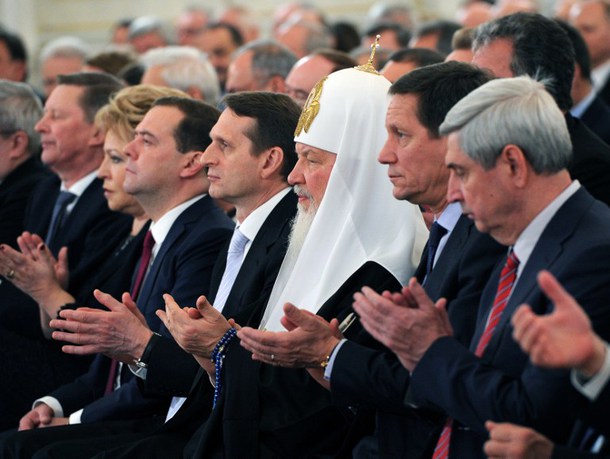 L-R: Kremlin chief of staff Sergei Ivanov, head of the Federation Council Valentina Matviyenko, Premier Dmitry Medvedev, lower parliament chamber speaker Sergei Naryshkin, Orthodox Church Patriarch Kirill, deputy parliament speaker Alexander Zhukov and first deputy head of lower parliament chamber Ivan Melnikov applaud during Russian President Vladimir Putin's annual address to the Federal council (the two houses of the Russian parliament) at the Kremlin in Moscow on December 4, 2014 (Image: AFP/RIA-NOVOSTI) 
Kyiv Post, 4. Dezember 2014,
Der russische Präsident Wladimir Putin benutzte in seiner Rede vom  4. Dezember eine ziemlich aggressive, antiwestliche Rhetorik; alles, was noch fehlte, war der Schuh von Nikita Chruschtschow.
Putin verstieg sich zu der Behauptung, der Westen hätte ohnehin die Sanktionen unabhängig von der Ukraine gegen Russland verhängt – das vermittelt dem russischen Volk eine Botschaft, derzufolge der Westen es immer darauf abgesehen habe "Russland "dranzukriegen".
Da scheint nicht viel Versöhnliches oder Kompromissbereitschaft übrig zu sein – "Die Krim ist für Russland wie der Tempelberg in Jerusalem", d.h. sie war die ganze Zeit "russisch", und die Ereignisse in der Ukraine mit der Euromaidan-Revolution waren Teil einer zynischen Verschwörung durch den Westen.
Es gab einen interessanten Ansatz, dass nämlich die Sanktionen ein Ansporn seien, um zu erreichen, dass Russland seine Ziele erfüllt (die hohen Ölpreise haben nicht wirklich funktioniert, so dass jeder andere Stich willkommen ist). Ich persönlich bezweifle aber, dass verstärkte Bemühungen für Importsubstitutionen und die Dämonisierung des Westens funktionieren werden.
Dann sprach er von Bemühungen, die Wirtschaft von der Bürokratie zu befreien – das Problem ist nur, dass diese Fragen schon lange bekannt sind, man sprach darüber in den letzten 15 Jahren, und nichts ist getan worden dafür, so dass man sich fragt, warum das dieses Mal anders sein soll.
Zur Frage der Straffreiheit für die Rückführung von Kapital – ich glaube nicht, dass die einheimischen Investoren immer noch das Gefühl haben, ihr Kapital sei zu Hause sicher, das Kapital wird weiterhin in die andere Richtung fließen. Dafür wären Reformen und die Gewährleistung der Rechtsstaatlichkeit, gleiche Ausgangsbedingungen, die Bekämpfung der Korruption sowie ein roter Faden nötig – und ich sehe in der Rede nicht viel davon.
Und auch hier sind diese Dinge seit zwei Jahrzehnten bekannt – und es wurde nichts unternommen. Die neuesten hochkarätigen Strafverfahren gegen prominente Oligarchen geben wahrscheinlich denjenigen mit Vermögen im Ausland auch keine "Rückversicherung", dass ihr Geld zu Hause sicherer ist.
Ein Steuerstopp für vier Jahre – die Höhe der Steuern ist wahrscheinlich nicht das größte Problem, aber die Durchsetzung der Besteuerung ist wahrscheinlich das größere Problem. Wieder keine Erwähnung etwaiger Bemühungen dahingehend.
Ein Wachstumsziel in 3-4 Jahren, das über dem weltweiten Durchschnitt liegt – das aber sehr schwierig umzusetzen sein wird.
Wenn Russland bei einem Ölpreis von 100 Dollar pro Barrel nur um 1 Prozent oder so wächst, wie wird es dann um 3-4 Prozent wachsen können, wenn der Ölpreis wie jetzt bei 70 Dollar liegt?
Er rief zu "harten" Maßnahmen gegen die Rubel-Spekulanten auf – das klingt ein bisschen wie Präsident Recep Erdogan in der Türkei gegen die Zinssatz-Lobby. Auch hier kann man nicht sicher sein, dass den Akteuren am Markt diese Art von Rhetorik gefällt, man kann eher von einer geringeren Bereitschaft ausgehen, mit den Märkten zusammenzuarbeiten.
Njet-njet, nicht zu sehen, keine neuen großen Ideen in dieser Rede, die der russischen Wirtschaft helfen könnten, oder wenigstens den Druck des Marktes auf russische Vermögenswerte lindern könnten.
Das ist alte Schule, Kalter-Kriegs-Gerede – fast wie Hugo Chavez – als er noch lebte.
Titelfoto: Von links: der Kreml-Stabschef Sergej Iwanow, die Vorsitzende des Föderationsrates, Walentina Matwijenko, Ministerpräsident Dmitri Medwedew, der Duma-Vorsitzende Sergej Naryschkin, Patriarch Kyrill von der Orthodoxen Kirche, der erste stellvertretende Vorsitzende der Duma,  Alexander Schukow, und der stellvertretende Duma-Vorsitzende Iwan Melnikow applaudieren während der jährlichen Ansprache des russischen Präsidenten Wladimir Putin vor dem Bundesrat (beide Kammern des russischen Parlaments) im Kreml in Moskau am 4. Dezember 2014 – AFP / RIA-Novosti / POOL / MIKHAIL Klimentyev © AFP
Autor: Timothy Ash ist Direktor für Marktforschung für Schwellenmarktländer der Standard Bank in London.
Quelle: Kyiv Post, 4. Dezember 2014
Übersetzung: Euromaidan Press auf Deutsch
Tags: Deutsch, Putin, Russland, Wirtschaft