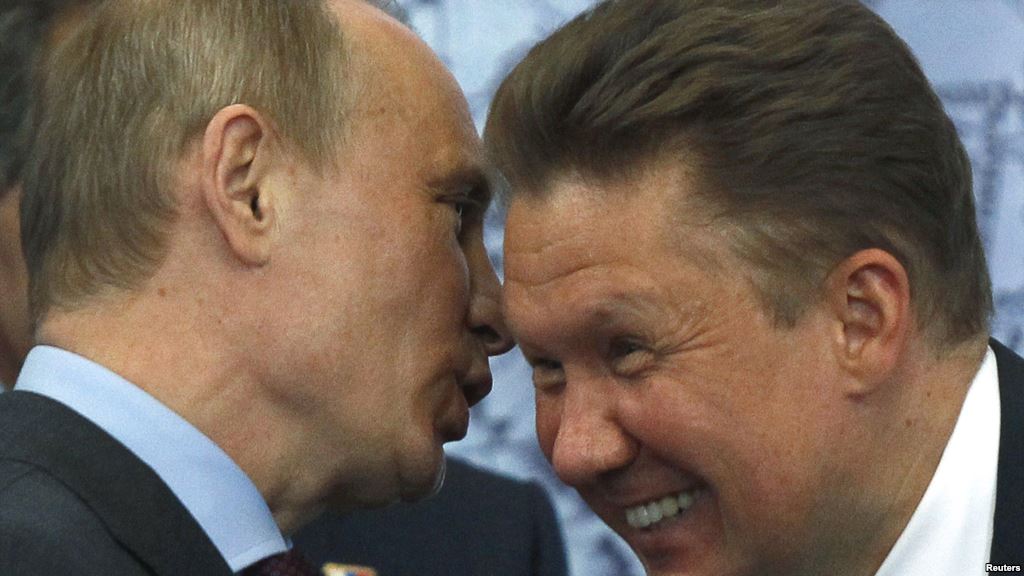 Putin with Miller, the head of Gazprom 
The head of the European Union delegation in Kyiv, Jan Tombiński, has called the gas negotiations between Ukraine, Russia, and the European Union a "soap opera" that is about to come to an end. It is impossible not to agree with this figurative expression by an experienced diplomat. The negotiations are proceeding with such difficulty simply because the Russian government is pondering where to place the punctuation in the formula "cannot agree to freeze" and simply cannot decide.
On the one hand, the Kremlin has a political goal — to freeze Ukraine. Putin is placing great hopes in cold Ukrainian homes and the stoppage of Ukrainian industry. From the perspective of the Russian ruler, who traditionally is quite aware of Ukrainian problems, it is exactly this freezing that will bring about the "third Maidan" and the victory of pro-Russian forces in Kyiv, who will reject European integration and bring Ukraine into the Customs Union.
On the other hand, Gazprom cannot afford to refuse to supply gas to Europe, an (arrangement) that can be compromised by "freezing." Additionally, Vladimir Putin also does not wish to lose the profits from the "energy wallet" made possible by the delivery of gas to Ukraine. We must not forget that for decades Ukraine has been one of Gazprom's most important clients.
Of course, in Moscow Ukraine was loved not for that reason but because, with the help of Ukrainian gas recipients, it was possible to construct various corruption schemes that enriched Russian gas monopoly executives and their Kremlin "handlers." Now, when the possibility of creating new corruption schemes has vanished, Russia is attempting at least to retain the profits — but in such a way that Ukraine still freezes.
It is precisely because it is not clear how to achieve both objectives immediately that Russia is experiencing such difficulty in reaching an agreement with Ukraine and the Europeans. In this sense, the process of gas negotiations does not differ at all from other wars of Vladimir Putin. He always tries to reach maximum goals with minimal losses, especially economic ones. And there is some logic in this: Russia is not so much a state as a business project for Putin and his closest entourage. And when they try to decide political issues with the help of the business project, he spins his wheels each time. If one were to translate Putin's wishes into an exact formula, it would look like this: he wants to freeze Ukraine but have the Europeans pay Gazprom for the effort. So far he has not yet figured out how to do it. The "soap opera" continues.
Tags: EU, Gazprom, negotiations, Ukraine