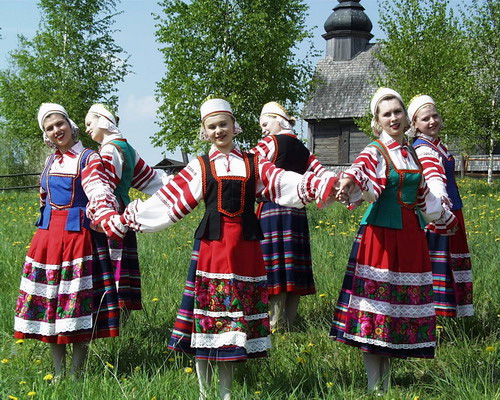 As a result of events in Ukraine, a Kyiv commentator says, "a large number" of Belarusians has "suddenly come to understand that to be a Russian speaker living outside of Russia is becoming dangerous," given that Moscow will send "little green men" to "defend" them even without their asking.
On an NR2.com.ua blog today, Vadym Dovnar says that Ukraine has shown Belarusians that one's own nation and national language can be sources of pride, sparking a volunteer movement in Belarus to train people there, many of whom speak Russian, their national tongue.
That has frightened some Belarusian officials who have moved to shut down such activities, but even if they succeed, they are unlikely to be able to bring Belarusians back to the Russia-centric worldview many of them had only a few weeks or months ago. Ukraine has changed that, Dovnar says.
Belarusians are now taking increasing pride in their language, their history, and their culture. Some are tattooing themselves with Belarusian symbols, others are putting Belarusian flags on their cards, and there have been cases "when Belarusians have stopped cars" sporting Russian national symbols.
Since last spring, even Alyaksandr Lukashenka has been changing his tune, Dovnar says, criticizing Russia and making other comments that can only please Belarusian patriots. But he is so much Moscow's puppet that few really believe that he means what he says or that he will lead Belarus toward a better, freer and more Ukraine-like future.
But his words matter too because they open the way for others to discuss things and to prepare for "the arrival of times" when Belarusians will be able to replace him as the Ukrainians replaced the pro-Russian Yanukovych with someone more committed to the "Belarusianization" of Belarus and the Belarusian nation.
Tags: Belarus, Belarusian language, Belarusians, International, Russia-Belarus relations, Ukraine, Ukraine-Belarus relations