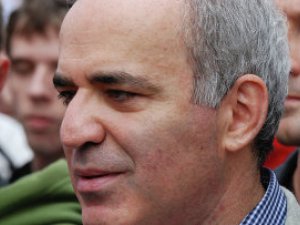 Kasparov: Navalny and Khodorkovsky are 'submitting to the opinion of the majority' and 'preparing for the elections.' 
Russia has to return Crimea to Ukraine in order to rectify its own violation of international law, stated Russian opposition politician, former world champion in chess Garry Kasparov.
When commenting on the scandalous statements made by Alexey Navalny and Mikhail Khodorkovsky that they would not return Crimea to Ukraine, Kasparov emphasized that the conclusion an external observer could reach after this consists of the fact that there is no essential alternative to Putin in Russia.
"Two bright opposition leaders, who in the eyes of many personify 'European Russia,' which until today could have been viewed as such an alternative, made it clear that their differences from Putin in the 'Crimean issue' are solely stylistic, as, just like for Putin, adherence to the norms and principles of international law is no indisputable imperative for them," the opposition politician noted.
"It is characteristic that both Navalny and Khodorkovsky thoroughly emphasize their loyalty to European values, however, their position on Crimea obviously puts an end to Russia's European way. In order to become part of the club, it is necessary to stick to the rules of this club. In this case, the most important rule is respect for the borders and territorial integrity of neighboring states. Without adherence to this rule, it is impossible not only to speak of Russia's integration into Europe, but the elementary normalization of relations with the West," Kasparov thinks.
"It is necessary to understand that from the perspective of international legislation, any change of government does not annul the obligations of the State. Consequentially, if we really strive to build a legal state in Russia, any future leader will have to employ all means necessary to executing Russia's international legal obligations, starting from December 1991. The only way to rectify the violation of these obligations consist of the indisputable return of Crimea under Ukraine's jurisdiction. Another dozen referendums can be held in Crimea, which does not make Russia's annexation any more legitimate, as only the Ukrainian Verkhovna Rada has the right to appoint referendums on the territory of Ukraine, which Crimea is a part of," noted the Russian opposition politician.
"Besides, Navalny and Khodorkovsky's statements give grounds to think that they are ready to submit their political position to the opinion of the masses, which are caught up in pseudo-patriotic hysteria under the careful care of Putin's propaganda. Appealing to the opinions of the majority, grounding themselves in sociological studies and talking about the preparation for the future 2018 elections clearly indicate that the two most authoritative opposition politicians are inside the electoral paradigm," he explained.
Tags: Crimea, Garry Kasparov, Kasparov