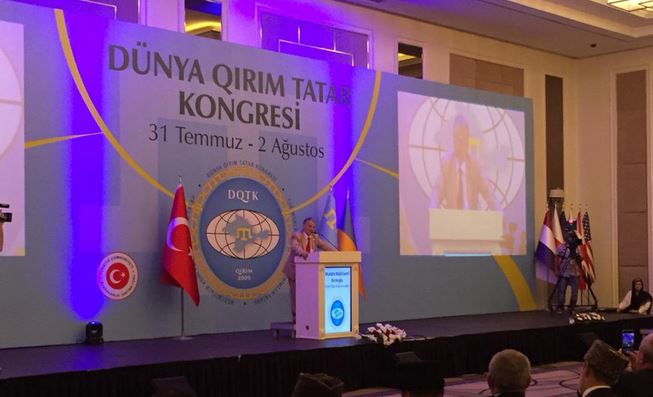 Mustafa Dzhemilev speaking at the Second World Congress of Crimean Tatars 
Speaking at the Second World Congress of Crimean Tatars in Ankara on 1 August 2015, Crimean Tatar veteran leader Mustafa Dzhemilev said that the Crimean Tatars are facing another occupation and a worse repression than during the Soviet regime.
Russia's occupation of Georgia gave fair warning
"Our people have gone through genocide for decades, we have fought for the basic human right to live in our motherland. Nobody expected that in the 21st century a country that has the veto right on the UN Security Council could annex a territory of another country,  send their tanks and troops, cooperate with bandits, and after a fake joke of a referendum, annex a territory of another country."
"Nonetheless, Russian aggression against Georgia, the annexation of its  territories and establishing puppet governments on them should have put some doubts so that they take some measure against it," he continued. "But no measure had been taken, and that encouraged Russia for even more crimes."
Mustafa Dzhemilev mentioned that it were the Crimean Tatars that first felt the possibility of a Russian occupation of Crimea, and expressed this to the Ukrainian government, to no avail: "No matter what the cost, the Black Sea fleet agreement should have been cancelled,  the Crimean agencies should have been disinfected from Russian agents, all separatist groups should have been arrested. Unfortunately, precautions against the illegal activities of the Russian consulate in Crimea, which distributed Russian passports, weren't taken."
He claims that the democratic freedoms which the Crimean Tatars enjoyed all 23 years during times of Ukrainian independence have virtually been revoked: "The first steps of the occupiers in Crimea were to take all the medias under control, to neutralize and isolate all those that were capable of organizing a resistance." In this, Russia's special services stop at nothing: "Multiple searches under the pretexts of searching for weapons and 'prohibited literature,' huge fines for attempts to exercise our democratic rights to demonstrations and processions, arrests on surreal charges, robbing, or, as they call it, 'nationalization' of Crimean Tatar businesses, kidnapping and murders of people without trial, deprivation of all civic rights, including the rights to health services, of those that refuse to receive Russian passports – this is just a brief list of the methods that the occupation authorities use against the indigenous people of Crimea."
After occupying Crimea, Russia has made 150 searches in Crimean Tatar houses, mosques, and even schools. Keeping Ukrainian passports is increasingly difficult, while young Crimean Tatar men could be forcefully recruited into the Russian army with the prospects of fighting their Ukrainian brothers in Donbas. This leads to emigration: despite the Mejlis' calls to stay on the territory of Crimea, at least 10 000 Crimean Tatars had left after its occupation.
Creeping genocide of Crimean Tatars under Russian occupation
In order to solve the "Crimean problem," Moscow is carrying out a plan to settle Crimea with other ethnicities while denying Crimean Tatars the rights to return to their ancestral lands from Central Asia, where they had been deported by Stalin after World War II, Mustafa Dzhemilev continued: "Lots of Russians are being brought to Crimea, 200 000 Armenians have been brought to Crimea, and plans to settle Jews. They invite everyone, but not Crimean Tatars. Crimea was first occupied by Russians in 1783, they started an ethnic cleansing and they are continuing with it. Every year during Ukrainian rule we were receiving 1500-2000 Tatars coming back from Central Asia during time in Ukraine. After the occupation, 76 families came, but they were not allowed to stay and were send back."
In this situation, the significance of the World Congress of Crimean Tatars and its structures in all the countries where Crimean Tatars live will rise, considers Dzhemilev. "I have been to many countries around the world. Many people think that Crimea had a real referendum, and that people live happily under occupation. The World Congress should fulfill the important mission of going against Russian propaganda, and mobilize the international society against Putin's policies and liberate the territory of Ukraine. All our actions should concentrate on liberating Crimea from Russian occupation."
"We struggle not only for coming back to Crimea, and not only for our rights," he continued. "Crimean Tatars have protested against antidemocratic actions during the invasion of Czech Republic by the USSR. Now there is another evil empire – the Russian Federation, and our motherland is under their occupation. We call on all democratic nations to support us."
Dzhemilev calls for Islamic solidarity
Dzhemilev also called on Muslim nations for their support: "The very existence of a small Muslim nation of Europe is under question. For us, it is very strange that on 27 March 2014 only 22 states out of a total of 56 that are part of the the Organization of Islamic Cooperation voted in support of the UN resolution on condemning the illegal annexation of Crimea, with 21 refraining, and two (Syria and Sudan) even voting against. We think that real Muslim solidarity should take the form not of noisy manifestations and terrorist actions against talentless anti-Islamic films, books, or caricatures, which in its essence discredits Islam by violating the democratic freedoms of people, but manifest itself in real help to people of the same faith, and, in general to all people in mortal danger. But in order for the Muslim nations to take action and to at least join the Western nations in applying sanctions against the aggressor, the societies of those nations must at least be well informed about events in Crimea."
Mustafa Dzhemilev suggested the Crimean Tatar diaspora participates more actively in the political life of Ukraine, which would be possible in the case of Ukraine allowing double passports, or if not, by obtaining the status of a Ukrainian abroad, which would give a person almost all the rights of a Ukrainian citizen, excluding electoral rights and serving in the Army.
He also mentioned that Ukraine has decided to create a Muslim battalion under the auspices of the Ministry of Defense, which would serve in the neighboring to Crimea Kherson Oblast, and that it is this region which would be the most reasonable location for concentrating the Crimean Tatars that were forced to leave their homeland. This would allow them to preserve  their national identity, to increase Ukrainian presence in this heavily influenced by Russian propaganda region of Ukraine, and to alleviate their return to the homeland after the occupation of Crimea is over.
Tags: Crimea, Crimean Tatars, Dzhemilev, Muslims